September 4, 2010
Day one
Still struggling with my luggage with the broken handle, I make it to check in, just barely, without the suitcase tipping over every other second.†
A week before leaving, I do the online check in, so I get on that line.† Itís a short wait, no one in front of me.† Just waiting for a available CM.† The normal check in line doesnít seem too busy.† I always check in on Sundays, never Saturdays.
Another minor setback.† When I made my reservations, I requested 70ís first floor. They gave me 80ís 3rd.† So even though I did online check in, the CM made a call, asked if they had 70ís 1st available, they did, and he reassigned me 70ís first floor.† The only problem was the 80ís room was ready, the 70ís wasnít.† They give me my Key to the World card, but not the room number, which they will text message me when the room is available.
I get my welcome information folder, and finished my check in.† I struggle with my luggage to find a someplace to sit and start moving my theme park cameras into a smaller backpack, as I will be checking my luggage at luggage services.†
While waiting to check my luggage, I notice a scale by the airline check in.† One of these days, I really want to weigh what I carry, but not today.
I waited maybe 5 minutes for my next, as they are a little busy with people checking out.† They inquire if there is a laptop or other expensive electronics in either item.† I tell them, yes in my backpack.† They will deliver my suitcase to my room, once itís ready, but I will have to go and pick up my backpack because there is a laptop inside it.† To secure it, they use special zip tags that have serial numbers on it to protect themselves from someone saying something was stolen. If someone tried to open the backpack, they need to remove the zip tags, and since the serial numbers are recorded, they will know if someone removed and replaced them.† I feel this is more to protect themselves from someone claiming they had something stolen.† They also donít want to leave the backpack with a laptop in the empty room, so thatís why they want you to return to claim it.
I usually like to refresh myself in my room, but I settle for the bathroom, since I donít have a room yet.
My first meal on property is ribs at Flame Tree BBQ.† But a couple of weeks before arriving, I find out it will be closed.† What to do?
Cosmic Rays in Tomorrowland in the Magic Kingdom have ribs.† But I find out that Fairfax Fries on Sunset Boulevard in Disneyís Hollywood Studios is now offering ribs too.† Itís too new, so no one has a review on it.† So this is my game plan.† If itís raining, Cosmic Rays since the seating is indoors.† No rain, Fairfax Fries, since all their seating is outdoors.† Perhaps this next photo gives you a hint of where I ate J
<![if !vml]>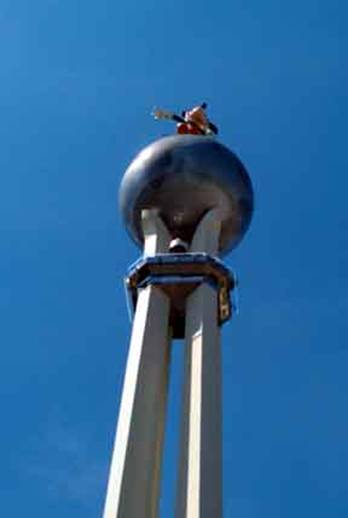 <![endif]>
I find my way to Fairfax Fries.† I order the ribs.† It comes with beans, and cole slaw.† And a small chocolate cake for dessert.
<![if !vml]>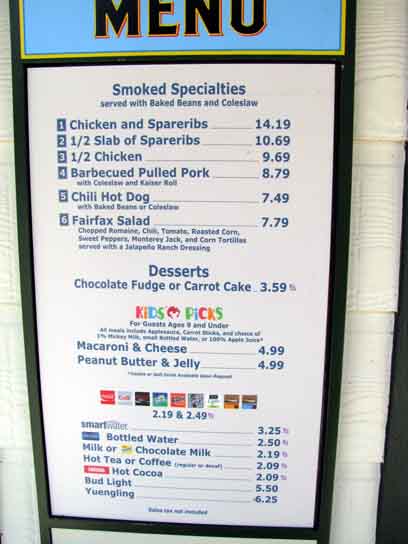 <![endif]>
I am sure I also could have gotten the chicken and ribs meal, but I want the ribs, tradition J
<![if !vml]>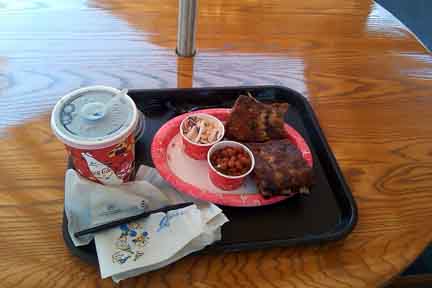 <![endif]>
Like I always tell people,† When ordering a quick service meal on the dining plan, if you just ask for a soda, you get a medium, but if you ask for a large soda, that is no extra charge for most quick service locations on property.† The only exceptions are the quick service restaurants around World Showcase at Epcot.† I get a large soda, no problems.
I miss Flame Tree BBQ. Here is my review on the meal there. The Ribs are too soft, the beans too hard.† J† And the Cole slaw is just like a plain salad without dressing, no liquid with the slaw, itís served dry.
After eating my rib lunch.
<![if !vml]>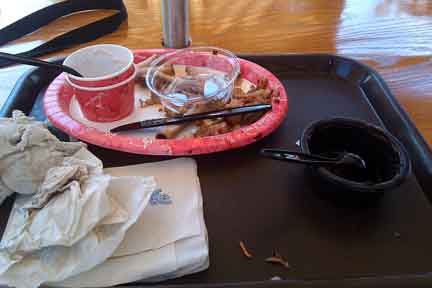 <![endif]>
It wasnít great, but I am hungry. J† And very thirsty as its very hot out.
Now I experience something that will haunt me for the rest of the trip, my cell phone battery is dying.† And they are going to notify me that my room is ready via my cell phone.† Oh well.
One of the people I frequently chat with online is Judy, who also lives in Brooklyn.† She lives about 20 minutes via subway from me.† So where do we finally meet? About 1000 miles from home, at Disney of course. J† She is there with her daughter.
After eating, I am emailing, text messaging, and finally leaving voice mails for Judy.† She is at Epcot now, I am at the studios.† There is a footpath that connects the two.† I wonder how fast I can walk it.† So what do I do after a night of maybe 3 hrs sleep and its hot as heck out?† I decide to power walk and time myself from the studios to Epcot.† From the studios entrance to International Gateway at Epcot, it takes me 21 minutes, 55 seconds J† As I am passing people on the walkway, they are probably asking themselves, what is this nut running to?
Judy emails me that they just got off Living with the Land.† So I head to the Land and start to look for her.† She knows I wear a Yankee ball cap, so she has an idea of what to look for.† I call her, and she sees me, I go over and say hi, meet her daughter.† She surprises me with some fast passes for Soarin.† I have heard in the past that they take day old Fast passes, so I put it in my wallet to hold for later in the week.† I thank her.† We chat for a couple of minutes, then part company.
Its close to 2 pm, the room should be ready by 3, so I get a Powerade from Sunshine Seasons food court, and head back to Pop Century.† My cell phone notifies me that my cell phone battery is now critical.† I have a couple of portable cell phone battery chargers.† They have USB outputs with a built in rechargeable battery.† But I left them in my backpack that I checked back at the resort. L†
I get back to Pop and check if my room is ready, it isnít, so I retrieve my backpack, get my cell phone charger and find an outlet and try to charge my cell phone.† Getting a little nervous as it seems my cell phone isnít taking a charge.† Of all the things I take to make sure I donít have a problem on this trip, I only have one cell phone.
While waiting for my room, I get my refillable mug.
<![if !vml]>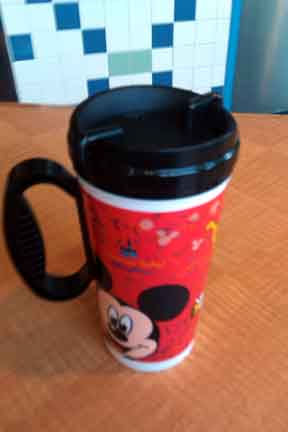 <![endif]>
Diner tonight is at Boma.† Since I checked my luggage, I am concerned if I will have my luggage in my room or not when itís ready. I would like to shave before Boma.† You donít put a sharp knife to your throat on a moving train, so I donít shave on the train.
About , I ask and finally told my room is ready and my room number. Itís by the Mickey Telephone 70's building, opposite end of where the telephone is
<![if !vml]>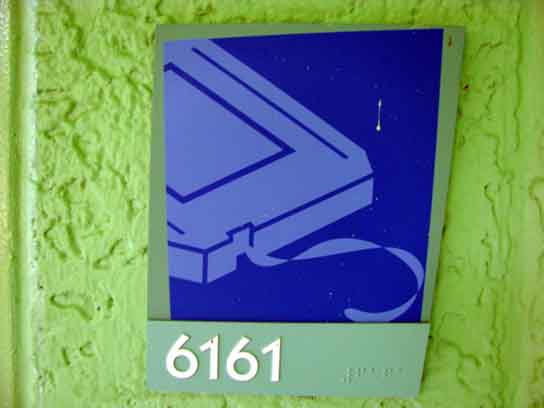 <![endif]>
I noticed while the cell phone is turned on, it wasnít charging, so I turn it off, and notice it is taking a charge.† But I am still concerned if it will last the night using the small portable battery charges I have with me.

My room is a refurbished room with a flat screen TV.
<![if !vml]>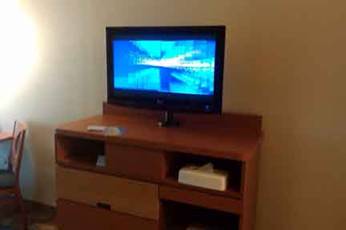 <![endif]>
But no luggage L† I place my laptop and other things into the safe, plug my cell phone into an outlet to help charge it.
After resting for a bit, I head back to the food court for more soda, then to the bus stations in front of the hotel.† My plan to get to Animal Kingdom Lodge from Pop Century is this, whatever theme park bus comes first, go there, then take another bus to AKL.
The first bus I see was for Epcot. So I jump on that. Looking at my watch, I figure I have enough time to do one thing at Epcot, so I decide to ride Spaceship Earth.†
I arrive at Epcot and head towards the bag check line, which is a mob scene.† Fortunately for me, they open a new line, and I am through in under 30 seconds.
I enter the queue for Spaceship Earth and walk up the ramp.† There is no line, but they seat me with another couple in front of me, and place me in the rear seat of the two row car.† The people in front of me are using their camera flash on red eye reduction, which makes the flash last longer.† This is very annoying and against the rules of no flash photography.
There is a game people talk about, called Spaceship Earth Roulette.† You compare what scene you get stuck in for a bit.† I never got stuck till today. J We stop for several minutes with me in front of the ancient Rome scene.†
Watch my You tube Video here
After Spaceship Earth, I head for the exit of the park and head towards the bus station for Animal Kingdom Lodge for my dinner at Boma.
I didn't have a long wait for the bus to AKL.† The trip went fast too.
<![if !vml]>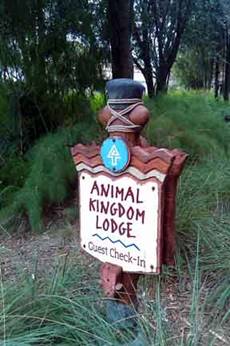 <![endif]>
I went to the lobby to try and upload some more photos to twitter from my cell phone. I think I sent one from just outside, tried to send another from inside, but my cell phone battery life just wasn't that good, more about that later.
My ADR for Boma was for . I check in, according to the receipt at . About , the person in charge of seating came over to me and said I would be sitting closer to my adr time, but that was about 10 minutes away, so no big deal. I was sitting down and relaxing, but a couple of minutes later, my pager went off and I was seatedÖ.. All the way in the back J There was only a group of tables further away, against the window where you can see the pool.
I tried lot of things; this is what made an impression on me the most. The round falafel balls, very spicy, I took two, but only had one.
The kool slaw is great, my favorite cole slaw on property. I wish other places served it.
I had one piece of bbq chicken, no big deal, but was ok.
They had spare ribs, I don't remember from last year if they had them. They were little on the spicy side, but not too bad at all. While the meat almost fell off the bone, it wasn't as stringy like Fairfax ones were at the studios.
I liked the sweet mashed potatoes. While they didn't call it that, I hope that is what it was ;)
I started with a plate of green salad with apple vinaigrette dressing. It was ok, but not my first choice for dressing.
I also had a couple slices of pork loin from the cutting station.
I had just about once piece of each dessert they offered.
I didn't eat till I was too stuffed to walk but till I was satisfied. If I wanted, could have had more, but I know when enough is enough :)
I used the meal plan to pay for the meal, but I charged the tip back to the room.† First time trying it, glad it worked ok.† When I checked in, they didnít have me sign the back of the card.† Later, when I went to see if my room was ready, I asked to make sure that I was able to charge things back to my room. The CM confirmed this and had me sign the back of the card right there.
I head back to the bus stop, same plan as before, get on the first bus I see. I just missed a MK bus. The next one pulled in was from Animal Kingdom, but they weren't picking up passengers as the park was closed.
The next bus was for Epcot, which I got on. We pulled into Epcot and he dropped us off at Caribbean Beach resort which was only 2 bus stations away from Pop Century. I didn't feel like going back into the park. I just felt all yucky.† No sleep the previous night, and that walk I took, took its toll.† I also wanted to make sure my luggage made it back to the room.†
When we pulled in and parked, I saw a Pop Century bus close its doors and pull away. I figure I would have a 15 minute or so wait, but anther pulled in less then 5.
I made it back to my room found my luggage, and dumped everything out of it. Remember the handle extender wouldn't work? Well, there was a zipper lining, which I opened. When you press the button on the top, itís supposed to retract a button inside. Well that button doesn't go inside anymore, but you can push it on and extend it. When I leave, I will probably try and break that piece off somehow, but will worry about that later.
For those who have Hi def camcorders, definitely bring your HDMI cables, as you can plug your HDMI cables into the hi def TV, but you cant use their remote, but on the side of the TV are the input button, every time you press the input button, it changes the input. I watched the video I took of Spaceship Earth. Not my best low light camcorder I have, little disappointed with it. There is a auto function the camcorder. Perhaps if I made it manually low light all the time, perhaps get better image, will see.
I took a nice hot shower and feel allot better. Tomorrow I may do evening EMH at the Magic Kingdom, so I could use my rest tonight.
For those who have Android phones or the latest iPhone, anytime you do multitasking, it eats battery life. And checking email often and uploading photos, distant cell towers, well this type of usage can kill a battery in a couple of hours. But for tomorrow I have a 12 volt 8 amp battery that I use for my camcorder.† I have a USB converter for it. So you just plug in the right cable and I should be good power wiseÖ hopefully J
That's it for tonight.† When I wake up, will see where my adrís are, so I know what park to head to.††