Day 2
September 5, 2010
I wake up and check out my cell phone calendar for my adrís today.† Before leaving, I programmed my phone with all my adr information.† Today the only thing scheduled is a late lunch at Hollywood and Vine, the Fantasmic Dinner Package.† Breakfast is at Pop Century Food court.† Today is a Studios day. Stay till Fantasmic. After seeing Fantasmic, park hop over to Magic Kingdom since they are opened to with extra Magic Hours.† If I still feel like eating at night, see if there are any table service places open, or just go for something at Cosmic Rays, cheese burger most likely, but thatís later.† Right now, heading to Pop Century for Breakfast.† I arrive in the food court by . Itís a little on the warm side inside the food court.† I get my favorite breakfast there.
<![if !vml]>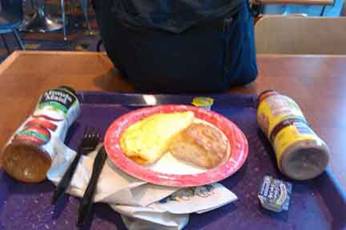 <![endif]>
Cheese omelet (favorite) biscuit, Apple Juice and Chocolate milk.† I heated the meal in the microwave first as the food is just sitting under heat lamps trying to keep it warm, not hot.† I usually like Orange Juice for breakfast, but they just have containers with some pulp, I like no pulp.† They also used to have Apple Cider as a refillable beverage, but no more. Behind the plate is my park backpack.† It has my camcorders, extra batteries, monopod, brita bottle, refillable mug, and my rain poncho.† The mug and bottle are in ziplock bags to keep any moisture away from the electronics.
. I am in front of the resort, I see the bus leaving for the studios, but see me running, and wait for me to get on.
8:24 am, I make it to the Studios entrance, but they are only letting people with ADRís in at this time.† They say they will let people in at . I have 20 minutes and its hot out. I look for shade by the little souvenir stand by the side.†
About , I get in line at the gates.†
8:45, they start letting people in.† Why do I always get stuck behind people who donít know how to enter the gates, by placing their admittance card right? Or forget which finger they used for the finger scan?
I wait and watch the park opening show
<park opening video here>
So are we supposed to walk or run? J
Everyone has the same plan, make it to Toy Story Midway Mania.† Itís the only time of the day when the wait is under 2 hours.† My plan is to make it to the fast pass machines, get a FP, ride it, and hopefully I donít have too much of a long wait to ride it a second time.
The crowd only makes it so far up the road before a group of CMís walk us to Toy Story Midway Mania in Pixar Land.† Behind the CMís, its mass chaos.† I always get stuck behind the wrong group of people.† The people in front of me, want to go left, away from the crowd, so they stop walking to move left.† L† And I barely squeeze around them to make my way to Toy Story.† I make it to the Fast Pass machines, only to be behind one person who gets like a dozen fast passes L
, finally got a fast pass, return time is
<![if !vml]>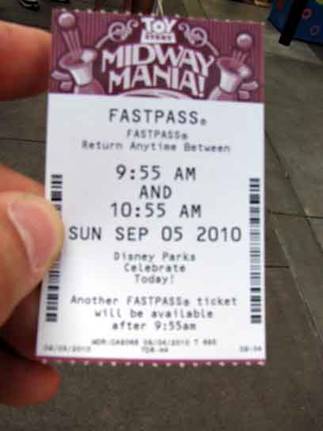 <![endif]>
†I head to wait on the normal line. I have about a 20 minute wait.† Here is my score.
<![if !vml]>
<![endif]>
This was a first.† While riding it, the ride stops for several minutes.† When it resumes, the last target screen is broken, even with the 3d glasses on, its like watching it without the glasses on. Because it was busy, they ask for another single rider and get a person to ride with me.† I exit the ride at .† Almost time to ride it again. So I just wonder around for a bit to kill time before heading back for my return time of .
WhatÖ no cell phone battery complaint?† Nope.† I have this 12 volt USB adapter which I plug into my 12 volt portable battery and used a long USB cable to charge my cell phone.† Someone sees me, and makes a comment about how I am charging my cell phone.
For those who donít know, they frequently give guests a card to bring to the cm when boarding the ride.† It helps them judge wait times. I know some might consider this CM abuse, but here goes the conversation I have
Me: Ď they gave this to me yesterday, forgot about it. Was it important ?í

Cm: (wait two seconds for what I said to register, looks startled) Ď are you,kidding? Ď

Me: Ď yesí J
This time I do better.
<![if !vml]>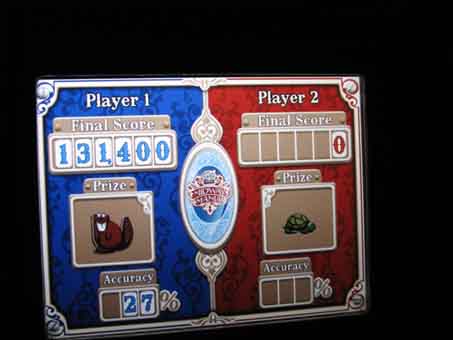 <![endif]>
I should have done better, as I sat alone this time, no competition for targets.
I get another fast pass for a return time of .† Just a reminder, its only .† They do go fast.
. I am in the queue for The Great Movie Ride.† Once inside where they show you those movies on a continuous loop, its 95% full. †I feel this was a mistake, but the line seems to be moving pretty fast.
<insert video part 1 video here>
<insert part 2 video here>
<insert part 3 video here>
now, heading to Muppetvision 3d.† I walk into the ABC Commissary to use the bathroom.† The smell of the food is making me hungry J
After Muppetvision, I get a mickey bar, and roam my way around the park till I make it back to the front of the park and go for the Pop Century Bus.† There is a bus about to leave, but see me semi running for it, and it stays there.† I make it back to the resort and my room by 1.† My adr for H&V is for , which doesnít give me that much time, but I donít mind anyway.
, I am heading back to Hollywood Studios.† I make it plenty early. †They donít open the doors for dinner till , so I wonder around taking photos.† There is the parade going around. The block party bash.† There are very little crowds which is good since the parade gets between me and H&V.
I head back to Hollywood and Vine, check in, and sit and wait.† They are opening the restaurant up for dinner and calling in lots of people.† After a little wait, I get called in.
I get my voucher for Fantasmic.† But the server gives me wrong information.† She tells me to enter the normal entrance area, and stay to one side.† But more about that later.† I have about 3 hours before Fantasmic.† I head towards Voyage of the Little Mermaid.
Knowing that the Backlot Tour closes at sundown, I decide to do that first.† First up is the water FX show.
<insert video here>
<end of video here>
And here is the video of the Back Lot tour itself, including Catastrophe Canyon
<insert video here>
<end of video here>
For those who are familiar with Sid Cahuenga's, they have a chalk board with 5 trivia questions.† Years past, I always got 5 out of 5 and you get a little certificate from them saying you did this, and sign your name in a book.† Here are the questions for this year.
<![if !vml]>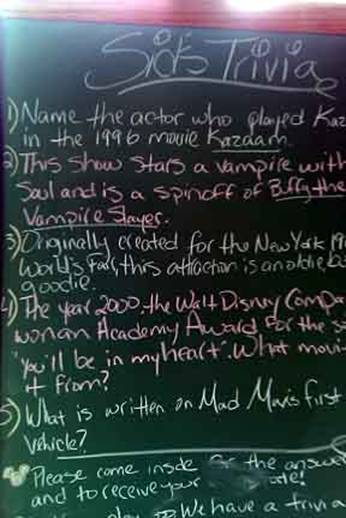 <![endif]>
If you cant read the questions in the photo, here they are:
<![if !supportLists]>1) <![endif]>Name the actor who played Kazaam in the movie of the same name.†† That is Shaq OíNeal
<![if !supportLists]>2) <![endif]>This show stars a vampire with a soul and is a spinoff of Buffy the Vampire Slayer ? Angel
<![if !supportLists]>3) <![endif]>Originally created for the NY Worlds Fair, this attraction is an oldie but a goodie.† There are several attractions from the worlds fair that still exist, basically two, Itís a small world which is at Disneyland.† Disneyworldís one is a copy, not the original† And Carousel of Progress.† Even though after the worlds fair closed, it was moved to Disneyland, when Disneyworld opened, the attraction was moved here, so I am going with Carousel of Progress.
<![if !supportLists]>4) <![endif]>The year 2000, The Walt Disney Company won an academy award for the song, Ďyouíll be in my heartí what movie is it from?† Donít know
<![if !supportLists]>5) <![endif]>What is written on the Mad Maxís first movie vehicle?† Donít know.
I like to thank Terrie who helps answer the questions first:† #4 Tarzan, and said this about #5 Ok, according to Cha cha it was a Ford Falcon XP Coupe V8 351and there was nothing written on it according to a bio written about all of the cars. I got two answers and they both said nothing. So the answer to #5 is nothing.
Will go back to Sidís later to try and answer them.
After the Back Lot Tour, I go back to use my last fast pass for Toy Story Midway Mania.
<![if !vml]>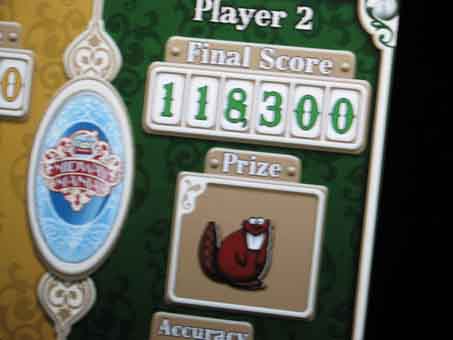 <![endif]>
Best score of the day, but my arm is absolutely killing me from pulling the string.† No more Toy Story ride today.
.† Once outside, its starting to rain, so I work my way to Sunset Boulevard to Fantasmic to find out if they may cancel the show or not.
The CM working the entrance says that so far, Fantasmic will still be shown as the weather thatís causing it to rain right now, it will pass by the time the show starts. I also find out that those with the Fantasmic Dinner Package Pass should enter by the street by Cartway Circle before Beauty and the Beast theater.
I head back to Sid Cahuenga's to get this years certificate.† The only problem is #5, the person who thought of the questions says the answer is ĎPolice Interceptorí †The person I told the answers to didnít even know the Mad Max movie the question was based on.† Years past, if you didnít get a question right, they kind of helped you with it. No luck this year, got nothing L
I head back to the street where Fantasmic Dinner Package holders will wait to get in.† While it lightly rained, I am sitting down on the wet bench.† Sitting is better then standing then worried about sitting on a wet bench.† They will allow people in at .
Itís a long walk from where they allow you in to the theater itself.† I enter the theater and see they now reserve the two right sections, not just the right section like in years past.† I sit down on the wet bench, only to see a CM come with a squeegee push the excess water off.† Too late for me.
The theater is filling up fast.† In 5 minutes it seemed to go from mostly empty to mostly full and people are still coming in.† There are two shows tonight, but it looks like the whole park is trying to see the first show.
I am sad to report, that people still do the wave. I sit and wait for the start of the show.† A CM selling beer yells out, who wants beer, at that moment the wave comes by and everyone stands.† For a moment, the CM thinks everyone wants beer before he realizes what was happening.
Its starting to rain again slightly, so I put away my Sony hi def camcorder in favor of the Kodak water proof one.
I decide to try a test live broadcast with my cell phone on Ustream. I pick it up, as I was constantly charging it, the phone is dead, just the led indicator that it is being charged is the only life I see from it.† I reseat the battery, try holding down the on/off button, nothing at all.† Just the same LED on.† Did I mention, only one cell phone? L† And it appears this one is broken.
I keep trying to let it charge, reseat the battery and try turning it on over and over again till the show starts.† I think to myself, do they sell pay as you go cell phones?
Now one of the things I am doing like in previous trips is sending out live email updates.† This trip I am also tweeting photos. I have close to a hundred people join Twitter to view my photos.† And on my 2nd† of 9 days here at Disney, that all crashed.† I am also worried about how family will get in touch with me now.
The show starts and try to enjoy it. Here is my video
<insert video part 1 here>
<video ends part 1 here>
<insert part 2 here>
<video part 2 ends>
After Fantasmic ends, I stay to the bitter end while others know when they see the last boat with all the characters enter, thatís the end, I wait till its officially over.
While walking towards the exit with thousands of others, I try a different USB charger.† After a couple of minutes, the cell phone turns on.† I feel a deep sigh of relief.† The cell phone works, just wasnít being charged.† I donít understand USB technology, I figure if the charge light is on, the unit is being charged, guess not.
Feeling better about my cell phone not broken, I decide to go to Magic Kingdom after all.† But I never went from the studios to MK.† This is how I found out you do this, take a bus from the studios to the Ticket/Transportation Center and then either the ferry or monorail over to the MK itself.†
When I make it to the TTC bus station, hundreds of others thought to do the same thing, the line is a mob scene.
With my cell phone not working, this is the approximate times.† Fantasmic started at .† Itís a little less then Ĺ hr show, so it ended about .† I took me close to an hour to leave the theater to make it to the park exit, bus to TTC, monorail to MK and I make it to the bag check at .
Now I make it to the bag check tables, open my fanny pack and back pack to discover the guards just left.† Perhaps because it was EMH time or something? Others also looked perplexed about what just happened.
As I approached the turnstiles, I find the guards doing the bag checks there.† Besides carrying the backpack full of my cameras, I also have a fanny pack with my wallet and cell phone. I quickly open it for inspection and enter under the train station just in time for the first shell from Wishes to explode.† I am doing the Wishes dessert party latter in the week, so I donít even bother to look at the action.
I feel hungry, so my plan is to head to Cosmic Rays to grab something to eat.† I walk up the right side of the street, make a right to walk by Tomorrowland Terrace, through Tomorrowland to Cosmic Rays.
Itís strange to walk by masses of humanity looking at the sky and I am just walking, not paying attention.† I order a Angus 1/3 cheeseburger with fries, chocolate cake, and large diet soda.† I bury the fries in cheese and enjoy my meal, wondering what I will do next.
I finish my meal, and walk from Tomorrowland to Fantasyland.
When I walk by the Tea Cup ride, I kind of feel lost.† For all I see are plywood walls.† Its very dark outside.† I see the castle so I figure which way to go.† These construction walls are part of the removal of Toon Town and the expansion of Fantasyland.† The walls are so new, you can still smell the plywood scent in the air.
While walking through Fantasyland, all the waits are from 20 to 40 minutes. So I skip those.
I wind up by the Haunted Mansion with its posted wait time of 10 minutes.
<insert video here>
<end of video>
This hi def camcorder doesnít do well in the dark as my standard definition does.†
, after HM, Heading to Pirates, if I can find it J
I find pirates, enter the building holding my park card as proof I am a resort guest, since this is a EMH night, only resort guests are allowed to ride, a fact that a CM is explaining to a non resort guest why they cant enter the queue.
Here is my video
<video starts here>
<video ends here>
After Pirates, its close to . I feel I just about reached the end of my rope, decide to call it a night, and leave the park, heading to the pop century bus station.
I am so tired, and with plywood fencing all over Fantasyland, I get a little lost before finding my way back to the hub and the park exit.