Day 3
September 6, 2010
I wake up and check my calendar on my cell phone.† adr breakfast at the Wave (The Contemporary) lunch at Kona Cafť (The Polynesian)† dinner at ĎOhana.† I guess today is Magic Kingdom day.
8:25 am, I am on the bus and on the way to the Magic Kingdom.† From there I will walk to The Contemporary.† Originally, I was going to do one thing inside the Magic Kingdom, then leave to go to the Contemporary, then back to the Magic Kingdom.† But I decide against that, I rather not deal with the bag check twice in the same morning.
While walking along the path from the Magic Kingdom to the Contemporary,
<![if !vml]>
<![endif]>
I spot through the trees the train that does the opening ceremony.† Can you spot it here in this photo?
<![if !vml]>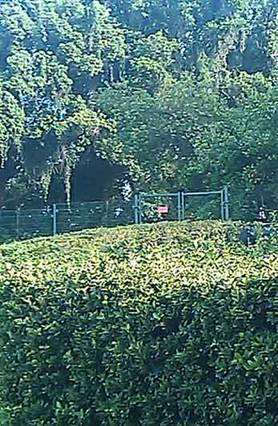 <![endif]>
Trust meÖ its there behind the trees. I hear the engine idling.
It takes me about 5 minutes to walk to the Contemporary from the Magic Kingdom.
<![if !vml]>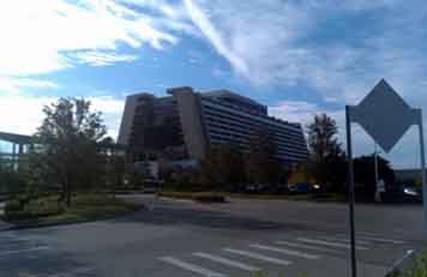 <![endif]>
Itís a little past when I am by the Wave.† My adr is for .
<![if !vml]>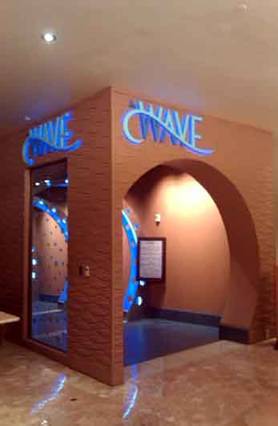 <![endif]>
Unlike most people who wear t-shirts from where they visit, I wear t-shirts from where I live, Coney Island/ New York on them.† Today my t-shirt is of the Cyclone Rollercoaster.† The check in CM used to live in Brooklyn and likes my t-shirt.† I am worried about checking in early, but the place is empty.†
I order the southern meal.
<![if !vml]>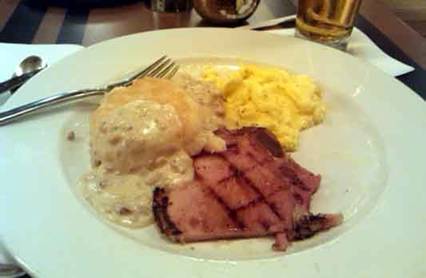 <![endif]>
I get apple juice, with the Southern.† The southern is scrambled eggs, biscuit with gravy, and a pork loin.† Its very good.† But wasnít sure if this comes with dessert or not.† I sign and pay for the meal with the dining plan and walk back to the Magic Kingdom.
, back in the Magic Kingdom, going on Buzz Lightyear.
<![if !vml]>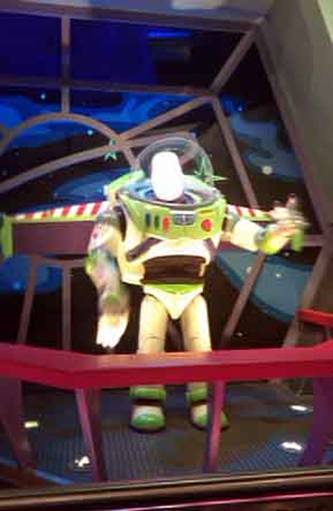 <![endif]>
I only score:
<![if !vml]>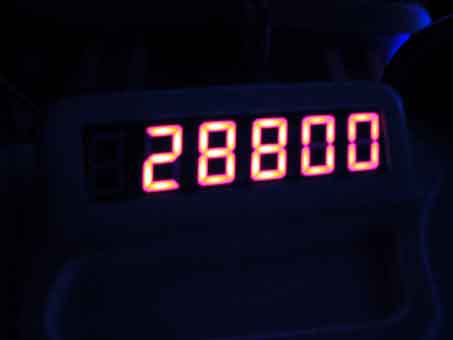 <![endif]>
I have a defective gun, so I ride it again.
I get a better score this time.
<![if !vml]>
<![endif]>
Better gun this time J
One of the new things I am trying with my cell phone is a application for Ustream.† This should allow me to broadcast live events like parades and fireworks.† I decide to try it on the TTA which I ride next.
<insert video here>
<end video here>
One thing I notice when using the app, sometimes frequently, sometimes in frequently, the application stops broadcasting, giving me a messages that it is optimizing its signal.† The above file was actually 6 different events.† From Ustream, I transferred it to my You Tube channel.† From there, I downloaded the snippets to my laptop, where I edited them back together back into one file.† A little post production work.
After riding it once recording it live with my cell phone broadcasting live, I decided to ride it again.† As I approached the station, there was not wait, and they gladly let me ride again.† Here is the TTA ride the second time around, but this time in hi def.
<insert video here>
<end video here>
, Carousel of Progress.† This attraction is not working so well.† During the July 4th scene, the fathers mouth doesnít seem to be moving, but you still hear him speaking, like a ventriloquist act.
. Walking towards Fantasyland.† I rode Winnie the Pooh.
Snow White.
.† I get a fast pass for Peter Pan, the return time and the wait time are both the same, 30 minutes.
While waiting for my Fast Pass return time, I ride Haunted Mansion. I use my standard definition camcorder, takes better pictures in the low light
<add video here>
<end of video>
After Haunted Mansion,† I walked to Pirates of the Caribbean, but it was down temporarily. I get a mickey bar for the walk back to Peter Pan.† Here is my ride video.
<Video here>
<end of video>
Another tradition I have is to shake my fist in anger where the 20,000 Leagues lagoon used to be. That was my favorite ride, and I hate the fact that its not there anymore.† So every trip, I stand there and shake my fist in anger.† Behind the construction fence, see the large mound of dirt.
<![if !vml]>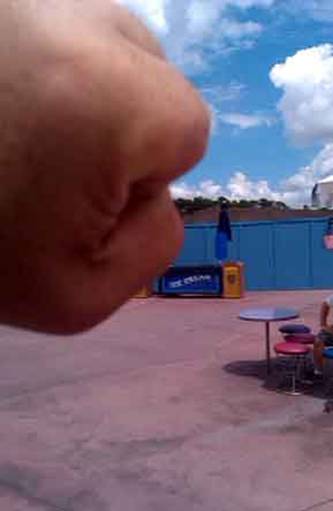 <![endif]>
, I leave the Magic Kingdom and head to the Polynesian for my adr at Kona Cafť.
I am seated almost immediately.† This is the third time eating here.† The second time I remember having the same waitress as the first time.† This time, she recognized me.† It could be the same person, I really donít remember.
For my appetizer I have the Pot Stickers Wok-seared Duck Dumplings.
<![if !vml]>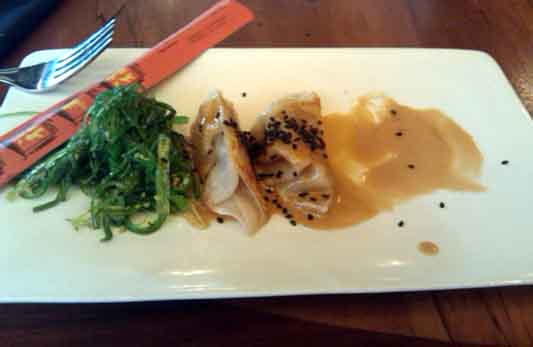 <![endif]>
For my entrťe I get Traditional Hawaiian favorite served with sticky rice and macaroni salad with Grilled Teriyaki Steak with Grilled Pineapple Salsa.
<![if !vml]>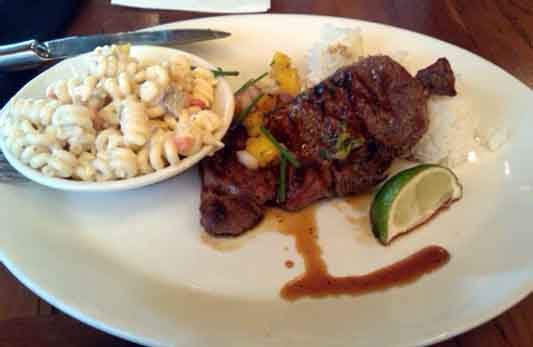 <![endif]>
For my desseet, I sometimes get the Kona Kone, but this time I decide to get the kilauea torte.
<![if !vml]>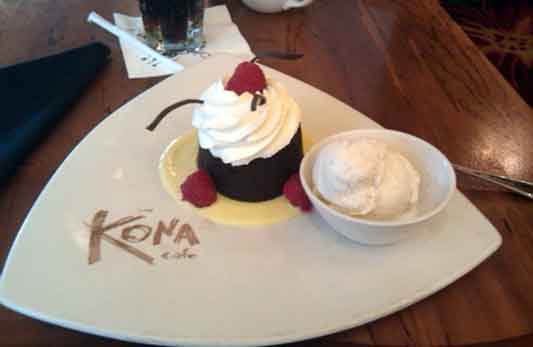 <![endif]>
Itís a nice dessert, even has a liquid center.
<![if !vml]>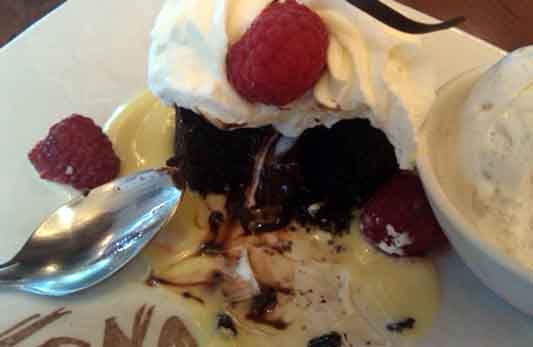 <![endif]>
Its 3 pm. I have my dinner adr across the way from Kona at ĎOhana for 7, 4hrs from now.† What to do?† Probably go back to the room.
Itís a little after 6. I took more then a nap, but a deep sleep. I am tired, but I just have enough time to make it back to the Polyensian for ĎOhana.† Its raining and feels cool out.† I figure the Magic Kingdom will be empty cause of the rain.† I have a rain poncho, which I will wear later.
I make it back to the Poly in plenty of time.† Before leaving Pop Century, I go to the gift shop and pick up some CDís.† They have this special, spend X amount on items, they give you the privilege of buying a towel too.
I am seated right by my adr time, .† This time, instead of bbq turkey pieces, they have bbq chicken pieces.† They donít bring out chips though, but still plenty of food.
They sit me again right by the stage area.† A couple of years ago, I sat in the same area.† I had a bad experience as I was facing the parents taking photos of their kids.† Not a pleasant dining experience trying to eat with people with camera flashes going off every second.† But this time, I am facing the stage, with the parents to my back.† So no problems.
After eating for over an hour, I say enough is enough to myself.† I can stand up and walk, but barely.† Itís more of being up so late last night, then over eating.† But the 5 glasses of soda with its caffeine helps.
I take the boat launch to the Magic Kingdom.† Its my preferred mode of traveling amongst the monorail resorts.† I make it into the Magic Kingdom just before .† Instead of Spectromagic, they are still showing Main Street Electrical Parade.† Here is my video of it.
Here is part 1
<video starts here>
<video ends here>
and here is part 2
<video starts here>
<video ends here>
While it isnít raining, the Magic Kingdom is so empty, so much that right by the train station the street is so empty, that I ask a CM if its ok to sit here, as I think maybe its reserved.† Yes, its ok, and its barely one or two people deep.† I am used to being 4 of 5 people deep lining the parade.
Now, not only am I videotaping it, but broadcasting it live on Ustream through my cell phone application.† I have my camcorder on my monopod, and holding my cell phone too, trying not to cover the camera portion.† I seem to have a decent signal, as it only stops broadcasting live, here is my video of that too.†
Special thanks for Arlene for helping answer what the url is for those who werenít following me on twitter.
Here is my live broadcast footage
<vdeo starts here>
<video ends here>
After the parade, I just head back to Pop, its been a long day.