Day 4
September 7, 2010
I wake up and check out my calendar to see what I am doing today.  adr at Crystal Palace.  Lunch at Grand Floridian Café.  And a decision of where to eat for dinner.  I have adr at Whispering Canyon Café or at 'Ohana.  Then something new to try.  Wishes Dessert party at .  I guess this means its Magic Kingdom day.
Back in my planning phase, I couldn't decide where to eat dinner.  I probably will do Whispering Canyon Café, but right now, its and I am on the bus to the Magic Kingdom.
8:, just checked in right before 15 others got in line.  As many people know, while the Magic Kingdom opens at , you can get an adr for Crystal Palace before 9.  They have a list of adr's and check your name on the list before allowing you into the park. 
Here is a video of me walking down Main Street before park opening.
<start video here>
<end of video>
 Breakfast was good, didn't over eat.  It's a nice way to start the day at the Magic Kingdom.  Eating solo, the characters walk by me, and I just wave.
After breakfast I head to Adventureland to ride The Jungle Cruise. Here is my video in hi def
<video starts here>
<video ends here>
After Jungle Cruise, I walked over to Pirates of the Caribbean, here is my hi def video
<video starts here>
<video ends here>
Then I went to ride the Jungle Cruise again, this time, using my cell phone to broadcast it live, here is the video.
<start video here>
<end of video>
I went to do Country Bear Jamboree, but their first show is at , as this attraction doesn't open as the rest of the park does at 9.  Before the first show, they have this little show in front of the theater.  I watched it, didn't video tape it.  They had a couple of costumed characters from Country Bear Jamboree, and Clarabelle.
Here is my hi def video of Country Bear Jamboree
<video starts here>
<Video ends here>
Tiki Birds next
<video starts here>
<video ends here>
After Tiki birds, I did Hall of Presidents
Here is part 1
<video starts here>
<video ends here>
here is part 2
<video starts here>
<video ends here>
, heading to Grand Floridian Café for lunch
For my appetizer, I had Onion Soup, take a good look at the topping of it, I had another later in the week, and will show you a difference
<![if !vml]>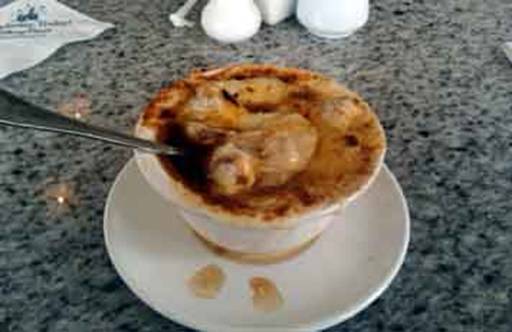 <![endif]>
For my main entrée… what else but steak J
<![if !vml]>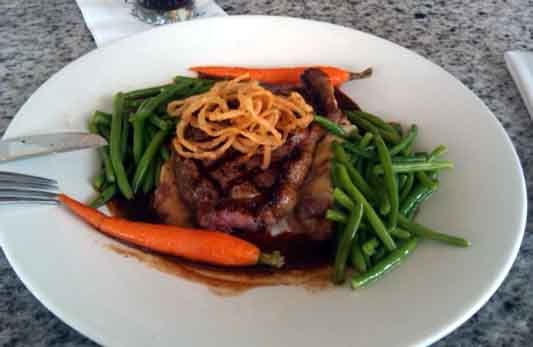 <![endif]>
didn't touch those green things J  But had a orange thing.
And for dessert……Chocolate-Hazelnut Mousse Cake
<![if !vml]>
<![endif]>
It seems I will be fighting two things throughout my trip.  Exhaustion, for me and my cell phone battery.  The two plus sodas I had during me meal perked my up, but wondering if I could rent a room for a couple of hours at the Grand Floridian.  It may take 20 minutes to make it back to Pop Century from the Magic Kingdom, but I first have to get there from the Grand Floridian and I don't think GF would rent by the hour.  So I walk to the boat dock and wait for the next boat launch.
Its when I took this photo of the Contemporary, BLT (Bay Lake Tower) and the Magic Kingdom from the Grand Floridian boat dock
<![if !vml]>
<![endif]>
I leave a daily tip for mouse keeping.  When I got back to the room, they left me a swan towel.
<![if !vml]>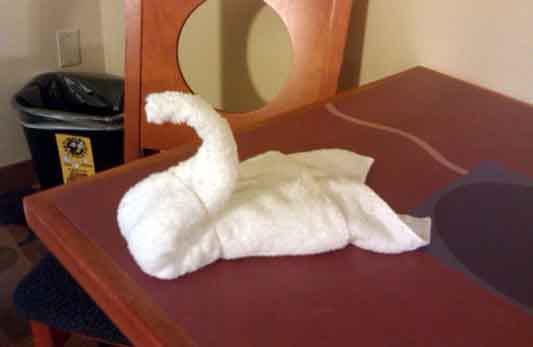 <![endif]>
and also a nice thank you note.  I say this now, because of what happened next.
Sometime between 3 and .  I hear a tapping at my door and someone saying housekeeping.  Now I know my room was cleaned, so I was thinking in my half drowsy state, that perhaps I am hearing housekeeping  knocking on the door next to me.  My room was cleaned, and I didn't request anything from housekeeping, so I continued to lie in bed.
When in my room, I close the bar on the door which prevents someone from opening the door fully You can just open it enough to see someone, maybe a inch or so.  I also use the dead bolt lock.
At some point I realize it is my door they are knocking on, but before I can say anything to stop them my door opens. The person sees me in bed, and quickly closes the door.
I am totally shocked.  The dead bolt was locked, how did someone open the door?  The bar did stop them from opening the door fully, but shouldn't the dead bolt stop them from opening it at all?
I am fully awake now, not knowing exactly what happened, but know enough, something was wrong here.
I have a adr at Whispering Canyon Café.  I figure I would need to get to the bus station by my resort by to go to the Magic Kingdom and then take the boat to Wilderness Lodge.  It's about when I get dressed and get ready to leave the room for the evening. I figure I have enough time to go to the concierge desk to tell them what just happened and hopefully get an explanation.
I go to the concierge desk and ask to speak to a manager right away. I feel the CM manning the desk would call over a supervisor and I didn't want to explain twice what happened.
I explain what just happened to the manager on duty.  He said hold on, he checked something in the computer and came back to me saying he couldn't answer what happened yet.  He tells me, that it takes a special key to defeat the dead bolt lock, which is highly secure, which even he, being a manager, doesn't have access to.  Now I am getting really unnerved.  It's close to , and I need to get going.  He takes my cell phone number and promises someone from housekeeping will get back to me.
About , I just get on the boat for the Wilderness Lodge at the Magic Kingdom, when my phone beeps that I have a voice mail message waiting.  It was the housekeeping manager, she would like for me to call her back, she is leaving at and she didn't leave me a number to call her back.
Swell, how am I going to call her without a phone number?  It will take me about 15 or so minutes before arriving at the Wilderness Lodge.  For the heck of it, I asked the boat captain (we were still docked) if he knew how I could get in touch with my resort.  He surprised me by telling me a central number that they would connect me to any resort.
I thanked him and tried the number, sure enough, I asked for Pop Century, got connected, asked for housekeeping manager, but was too late, she left for the day already.  So I sit back and tried to relax, but was really nervous about the incident still.
I make it to Wilderness Lodge before 5, so I go to their concierge desk to try my resort again.  Surprise, surprise, you really can't call resort to resort easy.  They call the resort and transfer the phone call to a phone in the lobby.
I ask for a manger or someone on duty to talk to.  I finally got an explanation, here it is.
It was a Disney worker, not some stranger looking to steal.  When a room is cleaned, it is checked off.  The person who left me the swan towel and thanked me for the tip, forget to check off that the room was serviced.  So to make sure, they sent someone from housekeeping to make sure.  That was my visitor.  He reported back that he surprised a guest in bed.
Two things I will do.  First, whenever in the room, I will leave the do not disturb insert in the electronic card reader when I am in the room, and two, when I get back home, I am going to write Disney about this and some other incidents.  For this incident, I feel if the dead bolt lock is in use, to defeat it, should only be done in a emergency. Checking on to see if a room was cleaned or not, is not a emergency, even though it shows they take customer satisfaction seriously.
I feel better about the room incident.  Now back to what concerned me about eating at Whispering Canyon Café.  It's a themed restaurant where you are part of the entertainment.  If you ask for ketchup, water, or catch you using a cell phone, they embarrass you.  I want to eat in peace, not be part of the entertainment.  I remember someone telling me to request a 'quiet' table, which I did when I checked in.  They seem to understand what I was asking for, even though I wasn't sure myself.  I got seated all the way in the back, by the kitchen.  Not a bad area, just a couple of tables.
Eating at Whispering Canyon Café, you have a choice a single plate meal, or all you can eat.  They also have refillable milk shakes, not just soda.
I am doing too many all you can eat buffets and 'Ohana, which is served family style all you can eat.  So I go with a single plate meal, but get the refillable milk shake.
My waitress is very friendly and introduces me to the people next to me. They used to live in the Poconos, but now live in Florida.  They had the all you can eat skillet.  They start you off with a little of everything, and you just ask for more of what you like the most.
For my appetizer, I get the Barbecue Pork Spring Rolls.
For my main entrée… what else… J<![if !vml]>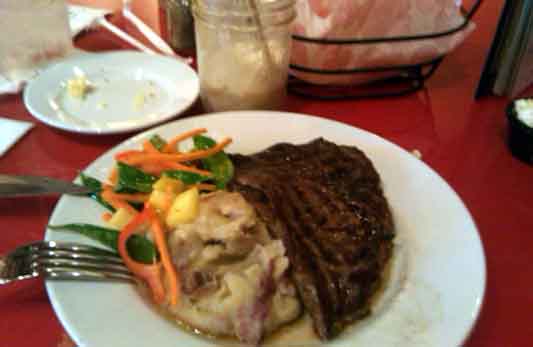 <![endif]>
Grilled Rib Eye Steak - with mashed potatoes.
And for dessert… Apple-Caramel Pie.
 I think it was the refillable milk shake that did it, but this meal, based on the tip, is the most expensive meal I have on property.  More then Coral Reef or Le Cellier are.
I head back to the boat dock to head back to the Magic Kingdom.
, back in the Magic Kingdom, I ride Buzz Lightyear
<![if !vml]>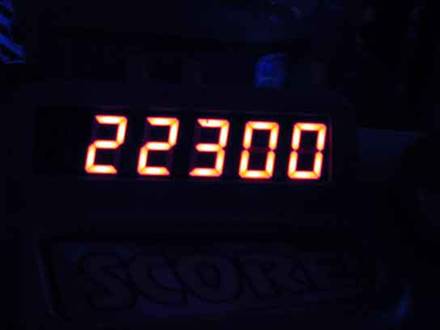 <![endif]>
Why such a low score?  Defective gun J
I head to the Tomorrowland Terrace for the Wishes dessert party.  Check in starts at , Wishes start at 9.  They are still a little confused how this works. I stop by , no one is around.  So I walk around the hub off by Tomorrowland.  I look at one of the pin stations, meet a fellow Yankee Fan CM,  Finally J We chat about who is pitching and stuff.  Then walk back to Tomorrowland Terrace, and finally see some activity of them setting up.
I check in, and escorted to my table. After the CM escort figures out where my table number is.
This is my table number:
<![if !vml]>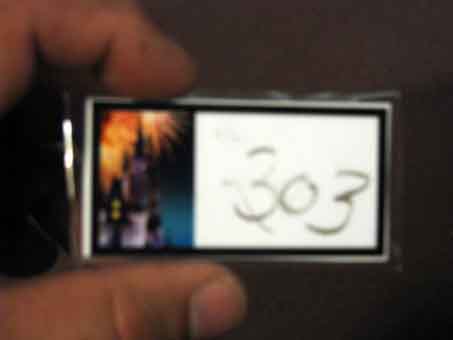 <![endif]>
and here is my name on the table with little metal castles decorating the table
<![if !vml]>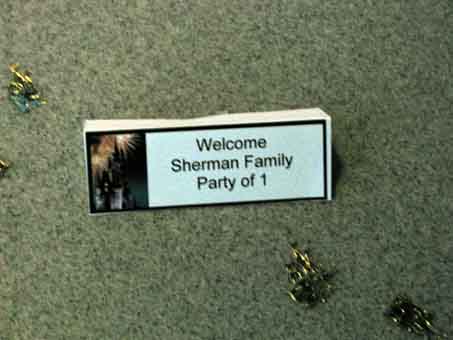 <![endif]>
To drink, I just have some water, even though had other things to drink like lemonade, coffee.  To eat I had a couple of cannoles small cup cakes and such.  I only go up twice to get a couple of things. Again, I am being careful not to stuff myself, but stop when I don't feel hungry, which is easy to do, since I only had dinner less then two hours ago.
I was seated with no one in front of me, which means I could sit and have an unobstructed view, but what are the chances of no one standing in front of me? None.  A couple from Britain were seated next to me.  We both had the same camcorder, but even though there's looked like mine, his was a cheaper model.  We both decided that once it gets close to Wishes, we will have to stand up near the railing so no one gets in front of us.
Again, I am going to broadcast Wishes live through my cell phone app running Ustream. 
I was broadcasting live to Ustream on my android phone.  Due to technical difficulties, my live broadcast cut off often. I downloaded the clips and reintegrated them into one file, uploaded it up to you Tube.  Here is the you tube video of the live broadcast
<video starts here>
<video ends here>
and here is the same video shot with my hi def video camcorder
part 1
<video starts here>
<video ends here>
part 2
<video starts here>
<video ends here>
After Wishes I head out of the park back to my resort and call it a night.