Day 5
September 8, 2010
I wake up and check the calendar on my cell phone.† at The Captains Grille.† lunch at Le Cellier, and dinner at Coral Reef, so itís off to Epcot for the day.
But I can hardly get out of bed, too tired. I finally get up, showered and dressed, and its close to 10, so much for breakfast at Captains Grille.
My first stop is Soarin.† Last Saturday, When I met Judy, she gave me some fast passes for Soarin.† I always heard in the past that you can use old fast passes, but let me put this rumor to bed, you cant, they reject them.
Posted wait time was 10 minutes. Fast pass is 30 minutes, so I grab a fast pass, then go on Living with the Land.
<video starts here>
<video ends here>
After Living with the Land, I have a snack in Sunshine Pavilions court
<![if !vml]>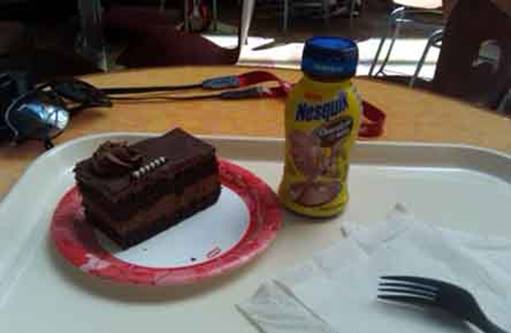 <![endif]>
mummm J chocolate J
used my fast pass for Soarin
<![if !vml]>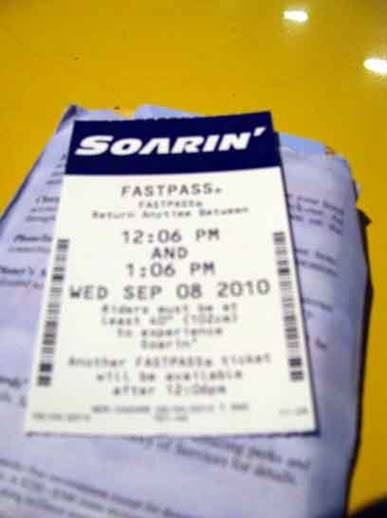 <![endif]>
While waiting in line, they asked for any single riders to help fill a show, so I got right in.
Like I always do, I go on Journey into your Imagination with Figment after Soarin.
<video starts here>
<video ends here>
I was never a Captain EO fan,† I enjoyed Honey show more, but I go to see this anyway.
After Captain EO, I slowly make my way to World Showcase, Canada, for my adr at Le Cellier. I look in some shops, but donít buy anything yet.
At the check in desk, I ask if they do walk ins, they go no, I go, good, I made my adrs 6 months ago, makes me feel good J
For my appetizer, I get a cup of cheddar cheese soup, a signature item here.
<![if !vml]>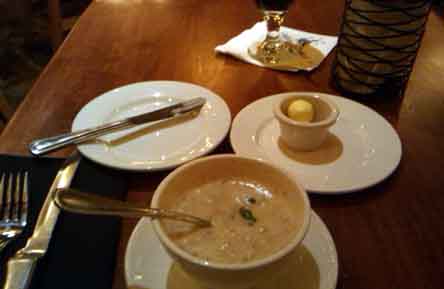 <![endif]>
Now since I am on the deluxe plan, appetizers are still included.† I can get a cup or a larger bowl. I go with the cup, donít need to eat so much.† This is one of the few things I would still get if I paid for it out of pocket.
For my entrťe? NY Strip steak
<![if !vml]>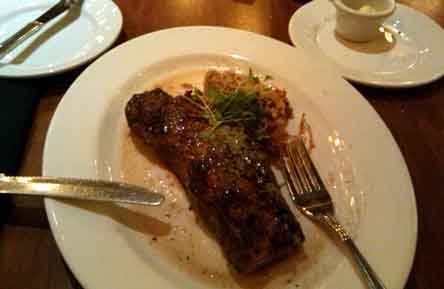 <![endif]>
For dessert, another signature item, Chocolate on Chocolate Whiskey Cake.
<![if !vml]>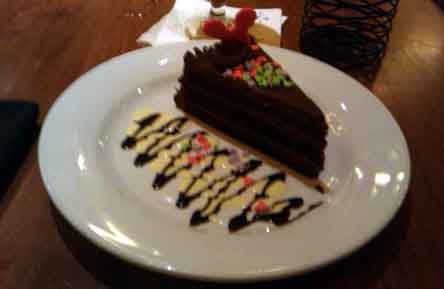 <![endif]>
I see for dinner, they have a new item Veal T bone.† I have a dinner adr on Friday, canít wait to try it.
I make my way back to Future World to ride Test Track.† There are no lines, no waiting.† They sit someone in the first row, and me in the second, no one else.† So before we move, I ask if I can sit in the front, told yes, so I quickly jump over to the front row, and try and buckle before we hit the belt check area.
<video starts here>
<video ends here>
After Test Track, I go on Mission Space.† Something new here.† They ask if you consumed any alcohol.† I mentioned I ate at Le Cellier, they asked if I had the cheddar cheese soup or chocolate cake, I answer yes, they assign me engineer.† I canít be anything else because the alcohol I consumed impaired my judgment. J† Am I serious, you decide J
After a quick trip to Mars, I go on Universe of Energy.
Then I go back on Spaceship Earth, I do a live broadcast, here is the video
<video starts here>
<video ends here>
After the ride, I try to look for my video souvenir, but couldnít find it. At this time, I just figured the computer messed up.† More about this later.
I head to Coral Reef, for my adr.
For my appetizer, I get the steak and shrimp, look at it, will tell you how much it cost after J
<![if !vml]>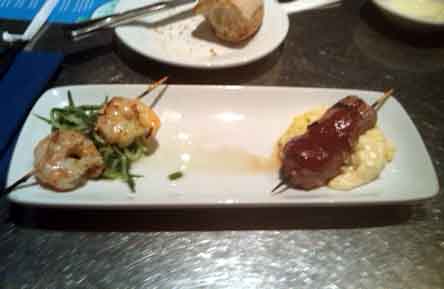 <![endif]>
Thatís two pieces of shrimp and two pieces of steak.† Does that look like $12 worth of food? It sure is J
Main entrťe?† NY Strip of course
<![if !vml]>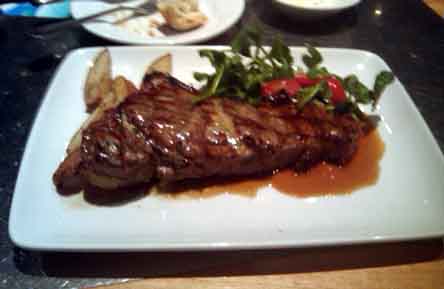 <![endif]>
And for dessert, their signature dessert, The Chocolate Wave
<![if !vml]>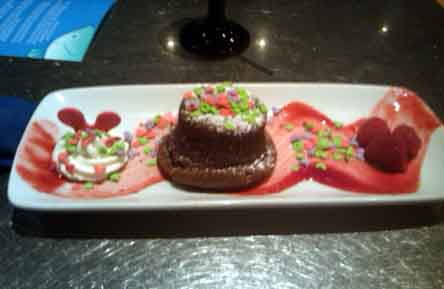 <![endif]>
Itís a upside down chocolate cup cake with hot chocolate sauce inside.† See the mouse ears on the whip cream?† Years ago, when I first had it, I thought it was chewable, but was very hard, thought it was just a decoration, and never tried it again.† This year, I noticed someone else eating it, and it was edible J who knew J† I guess the one I tried years ago was just old or something.
My server asked how my meal was, I told him it was so good, I will be back here on Friday J
My plan now is to head back to my room, do a pit stop there, then go to Downtown Disney to look around.
Its about , when I find and look around Ridemakerz.† I like remote control cars, and here you pick out parts to build a custom car.† I am just walking around feeling so overwhelmed.† Everything is a la carte.† From different styles of same body, to all kinds of add-ons from stickers to all types of lighting and such.† Just donít know what to do first, so I donít do anything, except walking around.
I figure to stop by later in the week, once all this tends to sink in.† I am looking for a place to get some liquid refreshment, Powerade fruit punch.† Itís a little hard here, as not all places take the dining plan for snacks.† I find a place, a chocolate store, and make my way back to the bus station, but its close to 11, and all the stores close.† I didnít know they close at 11, so I head back to my resort.