Day 7
September 10, 2010
Wow, its Friday already, trip is going too fast.  Like I said, today is Animal Kingdom day.  I have a adr at Yak N Yeti, and dinner at Le Cellier at .  So I guess I am park hopping today.  Since I don't have a breakfast ADR, I am going to sleep late and grab a breakfast in Pop Century's food court.
I get the breakfast wrap, apple juice and chocolate milk
<![if !vml]>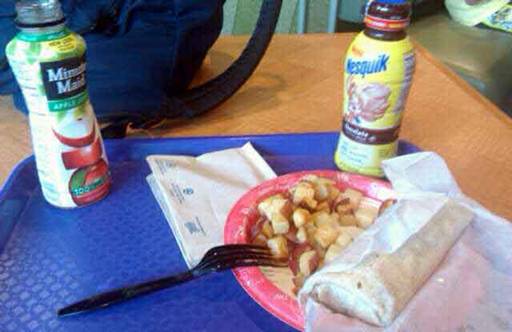 <![endif]>
Its about , and heading to Animal Kingdom
I walk around for a bit, before heading to do Kilmanjaro Safari.
Here is part 1 of my video
<start video here>
<end video here>
Part 2 video here
<start video here>
<end video here>
After Safari, I check in early to Yak N Yeti.
For my appetizer, I get the Pork Pot Stickers.  My main entrée is Baby Back Ribs.  They are good, but being ever mindfull of overeating, I only eat a little more then ½.   Because I wanted to save room for dessert, Fried Wontons - Skewers of fresh pineapple and cream cheese wontons, vanilla ice cream, honey vanilla drizzle.
<![if !vml]>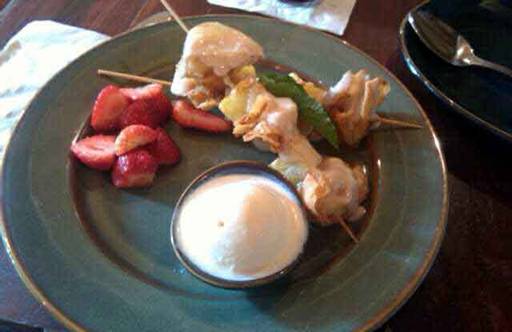 <![endif]>
This has to be my favorite non chocolate dessert on property J  Ok, I don't touch the strawberries or pinapples J
For this trip, I invested in a waterproof camcorder in case of bad weather, but so far, I didn't get a chance to use it yet, well, that's going to stop now, cause I am going on Kali River Rapids.
I am not a thrill ride kind of person.  But I remember on my first visit to Animal Kingdom with my family, we rode this, and it was so much fun, that when we approached the dock, there was no line, so we asked and were allowed to ride again without leaving the raft.
So I find my way back to Kali and the wait isn't that bad.
I started to ride it, but I left my finger on the pause/record button, which didn't help, because unconsciously,  my finger tensed up and I stopped recording.  Took me a little effort to record again, here is my video
<video starts here>
<video ends here>
So I exited the ride totally, got back in line so I can record it better this time.  This time, keep my finger off the pause button. J
<video starts here>
<video ends here>
So after I got off the ride for a second time, there was no line, so why not ride it again? J  it was hot and the water felt good.
<Video starts here>
<video ends here>
Now I just want to get as wet as I can.  For those unfamiliar with how this ride operates, and judging by the people I rode with on the ride, most people don't.  If you are at the top of the raft going up the first hill, you will get soaked.  You see the water shooting high up in the air?  When you raft cuts off the spring, all the water that's up in the air, falls down on you.
Here is ride number 4
<video starts here>
<video ends here>
I rode it one more time, but I just sat back and enjoyed it, no videotaping.
I never felt I got wet enough, but I am dripping puddles while walking up the path from Kali.
I go see 'Its tough to be a Bug' next, but I have concerns about being so very wet.  I ask the CM if its ok to sit down and see the show because I am so wet.  They say its ok.  I forget that they use water as part of the experience.  But I do forget how cold someone can get soaking wet in air conditioning, but I survive.
I always heard if there is a slight malfunction in show, they shut it down for repairs.  I am surprised the show goes on and the AA Hopper figure doesn't make its appearance.  I hear him talking, but don't see him.  I even talk off my 3 d glasses to make sure.  I make a comment to the CM leaving and told 'Hopper wasn't feeling good today' J
I have the same thought about getting on the bus, but its mostly empty so I just sit down leaving another puddle of water.
Once back in the room, I change what I am wearing for a dryer version, including sneakers.
I head out to the bus station, to grab a bus back to Epcot.  Its , my adr is for .
For my appetizer I get a Caesar Salad
<![if !vml]>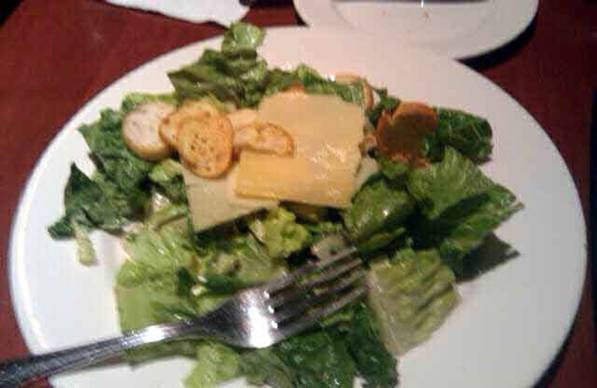 <![endif]>
And my entrée, something that had me thinking about this meal all week J
Veal T-bone
<![if !vml]>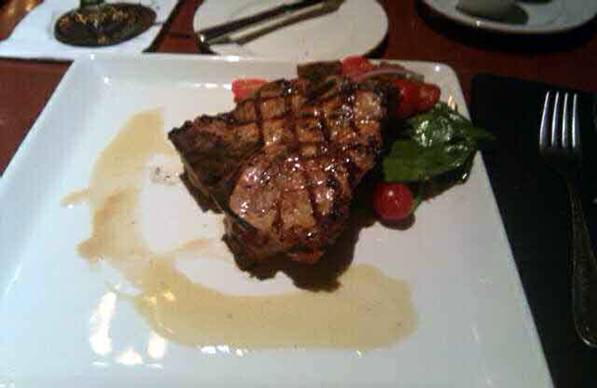 <![endif]>
Its one of the few items they serve for dinner only, not for lunch.  For dessert Crème Brule
<![if !vml]>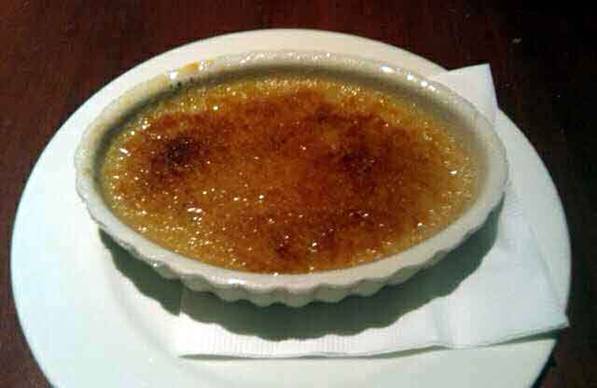 <![endif]>
After eating, on go on Mission Space.  Less intense… if anyone needed to ask J
After Mission Space, I walked around Future World.  Skies look pretty bad right now, storm wise.  I hang out in Mouse Gears while it utterly pours.  And I sit on a bench by Mouse Gears waiting for the rain to stop.
I then broadcast live using Ustream walking around Future World and World Showcase.  Here is the video of that
<video starts here>
<Video ends here>
I head back to the resort and setup my laptop in the food court.  Big mistake, I am drinking Coke Zero which has caffeine in it.  This keeps me up almost all night L