September 11, 2010
Day 8
Last night, I was sitting in the Pop Food court using my computer and drinking Coke Zero.† When I went back to my room I had problems falling asleep.† Evidently Coke Zero has caffeine in it, which kept my up for most of the night.
When I did finally fall asleep, I overslept, or more like it, didnít care about my breakfast adr at Kona Cafť.† I have a lunch adr at Crystal Palace for and diner at Grand Floridian Cafť at .† So I guess today is Magic Kingdom Day.
Also this is my last full day as I leave tomorrow.
Since I skipped breakfast, I went to Crystal Palace to check in early.
Another Yankee hater incident occurred.† At the carving station, a new CM took over the duties as I approached.† She saw my NY Yankee hat and proclaimed nice hat.† Before I could think of something nice to say in return, she produced a cigarette lighter from her pocket, wanting my hat to burn.† I was very taken aback and shocked by this.† I have run into lots of Yankee haters over the years, but this person, who said she is part of RSN (Red Sox Nation), was the most vocal that I ever met.† I never went back for more food because of her.† She really bothered me.
After I finish eating, I went on the Jungle Cruise. There was no line, just walked right onto a boat.† No video, just sat back and watched.
Haunted Mansion, my first video of the day. I used my digital camera to take a video.† I used software to upgrade the video to hi def.
<Haunted Mansion video starts here>
<HM video ends here>
Another one of those secrets that isnít written down by Disney but is spread by word of mouth is this.† Outside of the Haunted Mansion is a Pet Cemetery.† All the way in the back is a statue of Mr. Toad, as in Mr. Toads Wild Ride.† Here is a short video of his statue.
<Toad Statue video starts here>
<toad statue video ends here>
Another walk on I did next was Pirates, as they had both sides working.
For those familiar with Pirates, in the beginning, there is a fog screen that they project a image of Davy Jones, but it wasnít working.† What a time to stop video taping everything, but sit back and enjoy.
I walk to Fantasyland.† I go by Peter Pan.† The wait time is listed as an hour, fast pass return time is 1 hr, so I get the fast pass.† I go do Philharmagic.
Now this is funny.† I walk to Winnie the Pooh.† The line looks long, so I look for the fast pass machines. I canít find them so I ask a CM working there, where they are?† They are back at Philharmagic, L† So I walk back to Philharmagic to get the fast pass for Winnie the Pooh.
I get a fast pass for Winnie, and a surprise fast pass for Philharmagic, something I just done.
When I get back to Winnie the pooh, no line.† Got a little frustrated J
<video starts here>
<video ends here>
After Winnie the Pooh, I sit down in Cosmic Rays for a bit and watch Sunny Eclipse.† Its my last day, and definitely exhausted.
<![if !vml]>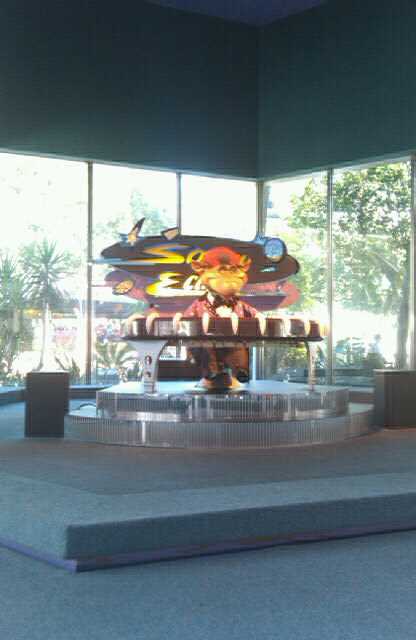 <![endif]>
After watching Sunny Eclipse for a bit, I went to ride Buzz Lightyear.† The line is out the door, but posted wait time is 15 minutes.††† I decide to go on Carousel of Progress instead.
Earlier this week, when I rode COP, father mouth wasnít working in one of the scenes, but is fixed now.
I head to Aloha Isle for a orange soft serve ice cream snack.†
Doesnít it seem I am crossing the same real estate too much today? J
Somewhere, sometime , I donít remember when, or how, or what I did before or after, but I used the Peter Pan Fast pass, According to the videos I took it was between Haunted Mansion and Winnie the Pooh J I didnít post when I did it, but here is the video I took.† Again, I used my digital camera and upgraded it to hi def.
<Peter Pan video starts>
<Peter Pan video ends>
Its about now, so I start to head out of the park and head to Grand Floridian for diner at Grand Floridian Cafť.
Remember me meeting Judy from New York at the start of my trip? After she left, she posted to the group for a recipe at Tonyís Town Square, zucchini fries and dipping sauce.† In case people donít know, if you find something you like while eating at a Disney restaurant, you can ask for the recipe, so I stop by Tonys and ask for it.† They donít have copies of it, so I leave them my email address and they will email me it.
To travel around the monorail resorts and the Magic Kingdom, I tend to take watercraft as opposed to taking the monorail.
For my appetizer, Onion Soup, main entrťe isÖ. Well.. take a guess.. what does this look like to you?
<![if !vml]>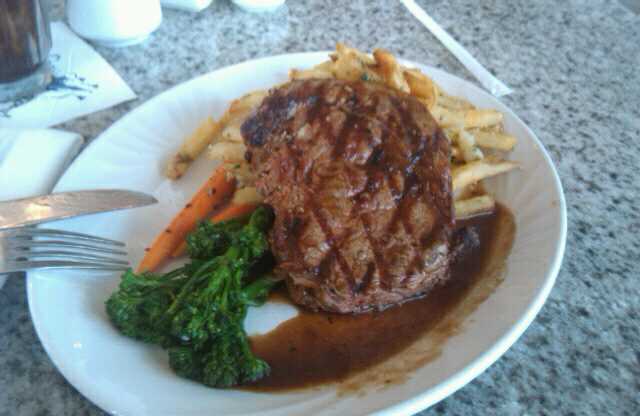 <![endif]>
Steak, grilled Rib Eye.. what else do I eat?? J
Dessert is Chocolate-Hazelnut Mousse Cake
Now this is beginning to feel strange.† What are the chances of sitting at the same table twice in the same week?† Same location, maybe even the same table as last year, year before that even?† Is there a unofficial Dress code ?† They want to hide me in the back?† Who knows? J
I took the water craft back to Magic Kingdom to catch the bus back to Pop Century. I toyed with idea of going to Epcot for an hour or two, but came back to the room.
While I was on the boat to the Magic Kingdom, I saw several lightening strikes over the MK, bad lightening storm. Tonight they were holding Night of Joy special ticket party event.† Originally thought tonight was going to be Not so Scary Halloween Party.†
I am back in the room right now.† Every so often room I see the window light up from lightening bolts.
It is still early.† If the storm passes, maybe go for a swim.
The storm does pass so I get into my bathing suit and head for the pool.† I thought I knew what I was doing but get a little lost. But I find my way and enjoy a swim for about 10 to 15 minutes.† I head back to my room and start packing.† I leave tomorrow.