The trip to Disneyworld
September 3, 2010
Surprisingly enough, I am able to sleep. I wake up early in the morning anyway.† I check Amtrak and weather.com websites.† Amtrak shows no canceled service.† Weather.com shows no storm warnings on the east coast south of the eastern edge of Long Island.† I call Amtrak just to make sure the Silver Star is running and yes they confirm the Silver Star is still scheduled to operate today.
My mother will ride with me on the subway to Penn Station, so I call her to let her know Amtrak is still running and I am still going, and to meet me down by my building a little after 8 am.† Train leaves , but my tickets said , no big deal. I like to arrive early and hang out in the Acela Lounge.
<![if !vml]>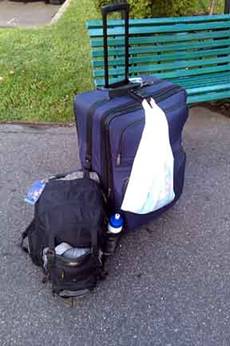 <![endif]>
That is my luggage by my building.† The Purple piece contains my clothes, and other vital things like Yoo Hoo, Bathroom tissue, and that bag on the outside?† Garlic/Onion potato chips.† I have two bags, one for each trip, going and coming.† I also have honey roasted peanuts, caramel candies.† Other things I take I take, and never seem to use are microwave pop corn and flavor packets for bottles of water.† Packing the suit case, I always wonder where to put the yoo hoos?† I put them on the bottom, figure my clothes arenít that heavy, and wonít crush them, and if I put them on top, perhaps make the luggage too heavy and tip over, so they are packed at the bottom.
The backpack contains all my electronics for the trip, which includes heavy duty rechargeable batteries, camcorders (3 donít ask J), digital cameras (besides the slim line I will use when traveling, my better one is packed), and all the accessories for them.† This trip to help keep the cables getting tangled with each other I put all the accessories in zip lock bags, and labeled the bags.† I also remembered to punch a couple of holes in the bags, as I donít need them airproof, just to help keep track of them all.† Notice the brita bottle, nice to have.† Notice the Disney name tags on both pieces.
On the train, I will take the backpack with me to the dining car.† One of these days I want to weigh both pieces, but perhaps I donít want to know the answer.† That backpack is as heavy as it looks.†
<![if !vml]>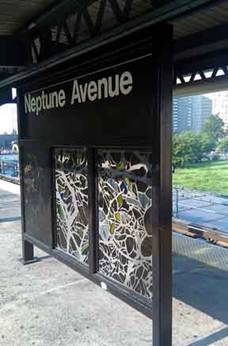 <![endif]>
This is where I board the first train I will be on today, Neptune Ave station on the F line.† In the background is the top hill of the Cyclone.
<![if !vml]>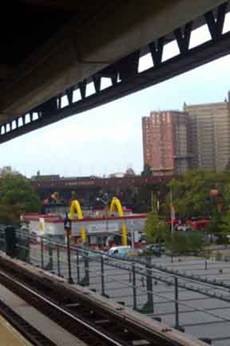 <![endif]>
I live near one amusement district, Coney Island, in the background of the above photo is the top hill of the Cyclone Rollercoaster.† Here is a blow up of the same photo.
<![if !vml]>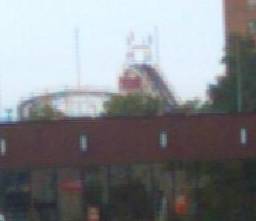 <![endif]>
Here is another photo of Coney Island showing all the major rides, including the Cyclone.
<![if !vml]>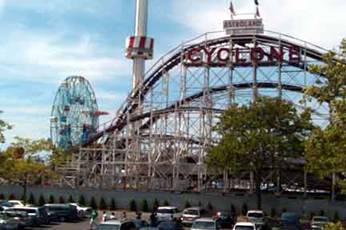 <![endif]>
Just like to show my neighborhood J
Anyone, I am on the F train.
<![if !vml]>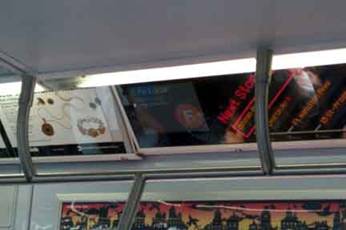 <![endif]>
I transfer at Jay street from the F train to the A train to continue my trip to Penn Station at 34th street and 8th avenues.
<![if !vml]>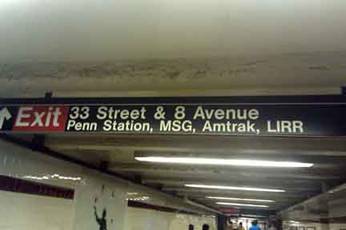 <![endif]>
I exit the train station and head towards the Acela Lounge in Penn station.
<![if !vml]>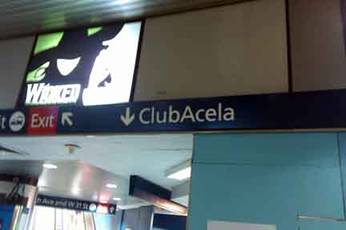 <![endif]>
Ok, so its called Club Acela, I call it the Acela Lounge J
If you fly Continental Airlines and use NJ Transit to get to Newark Airport, or take Amtrak first class, you can wait inside.† Since I am in a sleeper room, I qualify as a first class passenger.† They have soft drinks, juices, coffee, and snacks available.
<![if !vml]>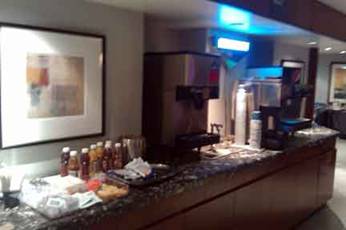 <![endif]>
I make it into Penn Station by . I check in at the desk. They take down my train number so they notify me what platform I will be boarding on when the train pulls into the station from the train yard in Long Island City.† I often walk by this train yard and wonder which train goes to Orlando, wishing I would be on it.† They will make a announcement for everyone in the room.† So I sit and wait for an hour and a half before my train is due to leave.† I have some soda, juice, muffins, and soft batch cookies.† I donít finish the cookies and take them on the train with me.
At , they make the announcement that those who are waiting for the Silver Star, it is now entering the station and head to.. forgot the platform as I am writing this, but this is my train car/ home for the next 23 hours.
<![if !vml]>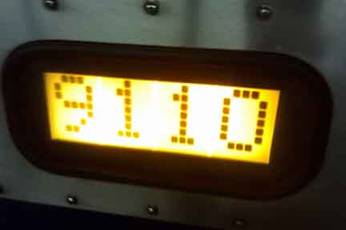 <![endif]>
The Silver Star starting in New York Penn Station terminating in Florida is train 91.† This is sleeping car 10.† Here are some photos on the sleeping compartment.
<![if !vml]>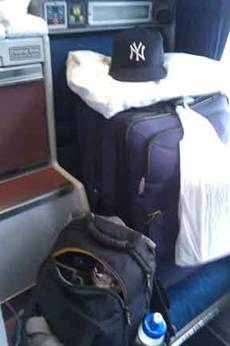 <![endif]>
Since I travel solo in a compartment meant for two, I keep my luggage with me.† I will sleep on the upper bunk, and my large piece will stay on the second seat.† My backpack is on top of the potty that you need to raise the cover.† Above that and back more is the fold down sink.† There are three spigots, hot, cold, and drinking water, but they supply you with bottled water to drink, just like the airlines do.
<![if !vml]>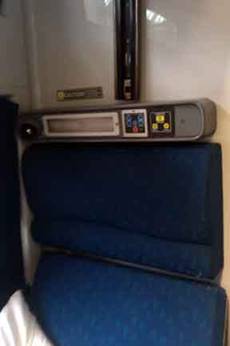 <![endif]>
There are many lights in the room, as you can see from the buttons above the seat.† There is a major light for the room, that is also a night light or can be turned off.† There is a reading light and another light.
All the photos you are seeing, I am tweeting.† I am also sending out email updates.† A issue is starting to take hold, one that I will be fighting it seems for the rest of the trip, for before I boarded the train, my cell phone battery is almost exhausted, and its only , but I figure I will charge it once on board the train. I begin to worry about keeping my cell phone charged during the day at the parks, but I have a plan, will talk about it later.
We pull out right on time, , and our first stop is Newark Penn Station, .
11:42 am, we are currently traveling through Edison, NJ.† I am in room #1, no one in #2 yet. I wonder who will be there.
I have a reservation in the dining car.
<![if !vml]>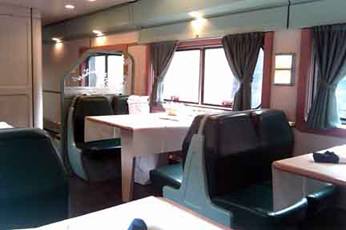 <![endif]>
This is one of the refurbished dining cars. More room then the older ones. I take the backpack with me and keep it by my legs.
I had my usual Angus cheeseburger meal, with potato chips, no deep fryers on board the train. J
<![if !vml]>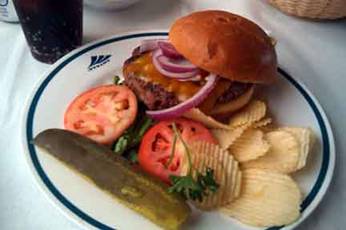 <![endif]>
One of the things about eating on the train is you eat with strangers, sometimes itís a good thing, sometimes a bad.† This time was good.† I sit with an older man who just got off the Queen Mary and a woman who is visiting family in Florida.
I ordered for dessert Tiramisu, but I got chocolate chip cheese cake instead by mistake.† It was good though. This is first time in a long time eating cheese cake.† Since I have a sleeping room means I am riding first class, which means my meals are comped. I just have to leave a tip. Some people donít though.† They just sign the bill get up and leave.† I put a couple of dollars for my tip on the table, and I head back to my room.
I take some DVDís with me, and watch Barney Miller on my laptop.† They will be going asking later what time I want to eat dinner.
, we are leaving Baltimore.† There is a sign on the fence I always find humorous, a directional sign saying New York that way, Washington this way.† No photo of it this trip as my car window doesnít face it.
.† We are pulling into Washington DC station.† Here we will switch locomotives, from an electric to a diesel engine,† actually a pair of diesel locomotives.† While one is more then sufficient to pull a train this size, they add a second one incase the first one fails.† With Amtrak on CSX tracks, CSX canít afford to have their freight trains delayed by a stuck passenger train.
3:, having switched to the diesels, we are pulling out of Washington station.† While I canít get clear photos of the things we see, I can make out the capital, Smithsonian, Washington and Jefferson Memorials.
At the next stop, I can get a clear photo of the Washington Masonic Temple
<![if !vml]>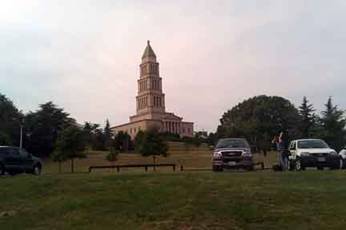 <![endif]>
.† We must be passing through Lorton, Virginia as I see the Auto Train terminal.
, I head to the dining car where I am seated with one gentleman who has his head buried in a Kindle.† Another hardly spoke.† I chatted with the lady next to me a little.† I was the only person at the table who had a sleeper room reserved. The others were in coach, so they paid for their meal.† The lady next to me didnít know about the availability of sleeper rooms. She asked about the availability of a sleeper room after she boarded the train, but they had none available, but if they did, it would have cost her $400 since she is going all the way to Miami.† I bought my train tickets back in February and the upgrade cost me only $198.† The basic coach fare was $102 each way.† While we both will have breakfast in the morning, she will be on the train longer, having lunch and dinner too.
Dinner starts off with a salad and roll.
<![if !vml]>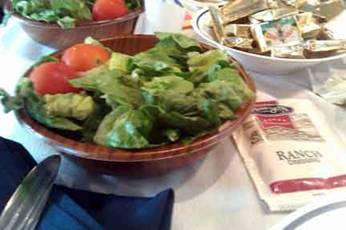 <![endif]>
For my entrťe, I got steak with mashed potatoes.
<![if !vml]>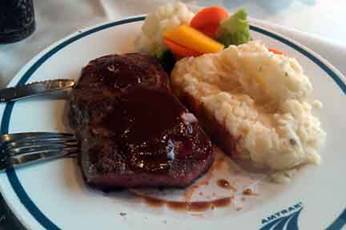 <![endif]>
For dessert, I asked for and got the Tiramisu.
<![if !vml]>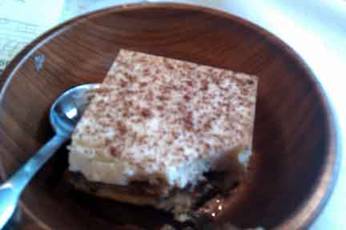 <![endif]>
I actually liked the cheesecake I had for lunch better, go figure J
I retire back to my room, to watch either The Sopranos, The Simpsons, Barney Miller, or Get Smart.
Now this is unusual.† Since my luggage is taking up part of the lower bed, I will be using the upper bunk. I usually lower it myself when I am ready to go to sleep, but my sleeping car steward says she must lower it, a safety issue.† I guess some people hurt themselves and Amtrak doesnít want to be sued.† So I let her lower it, make it up, but I stay watch some video in the lower area.† When I do retire to the upper bunk,† I look out the window and even try to sleep, but sleep is something I hardly get, too excited. J
This is my seventh trip on Amtrak to Orlando, and I am starting to recognize the small towns we go through during the night. I usually travel over Saturday night to Sunday morning, but this is my first trip that is over Friday night to Saturday morning.†† There is no nightlife in these towns as it seems all the stores and restaurants are closed.† We do pass few cars waiting to cross the train tracks.† Once we leave Washington DC, we seem to travel street level, so lots of crossing gates and horn blowing warning cars of our approach.
7 pm. I Setup up the GPS I use in my car to see where I am and how fast we are going. We are in Garysburg, NC. We are going 60 mph and about 160 feet above sea level.
, we are pulling out of Rocky Mount, NC.† Across from the train are some preserved passenger car equipment, like this car, a former Seacoast Line Passenger car.
<![if !vml]>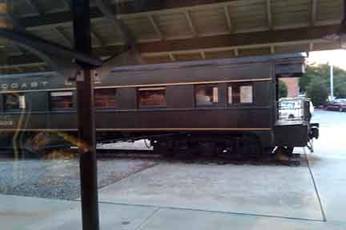 <![endif]>
8:45 pm, we are pulling in to Raleigh, North Carolina.
One thing worth mentioning at this point in my journey.† Remember what scared me for days before I was due to leave?† The approaching hurricane?† Well, not even a single rain drop hits my sleeping car window so far.† I am sure by this point, if we were going to be effected by the storm, it would have happened already.† So much for my worries.
update.† We are in Sanford. North Carolina.† We are traveling slowly as we are going through lots of crossing gates.† The locomotive is constantly blowing his horn as a warning to traffic.† We are 375 feet above sea level.
<![if !supportLineBreakNewLine]>
<![endif]>
Except for last September, the train is made up like this, first the locomotives, then the baggage car, sleeper cars, dining car, then coaches.† It seems like the sleeper car passengers complained about the sound of the locomotives horn, that they couldnít sleep, so they changed and put the sleepers in the rear of the train.† Last year I was in the last car and I felt the train car bounce more then I usually do, since there was no car after us to help smooth out the ride.† I prefer to be in the front of the train, not the rear.
, just pulling out of Hamlet, North Carolina.† 12 hrs, 12 minutes into my journey.† Going to try and get some sleep now.