September 10, 2011
Day 8 aka last park day
Today is my last full day at the parks.† I have no adrís for Breakfast.† Lunch is at Yak N Yeti, dinner at Le Cellier.† So my day will start at Animal Kingdom, then finish at Epcot.
With no place to head for breakfast, I decide to sleep. I leave my room about , heading to Animal Kingdom. My only plan is to do Kali River Rapids, besides that, will see.

When I left my room, it felt very hot, but now feel a cool breeze waiting for the bus.
Todays Yankee incident.†† Entering the Animal Kingdom, a security guard yelled out a negative
comment about "that Yankee FanĒ L
I ride Safari now
After safari, I went to check into yak n yeti. Had pot stickers,
<![if !vml]>
<![endif]>
strip steak with battered fried shrimp,
<![if !vml]>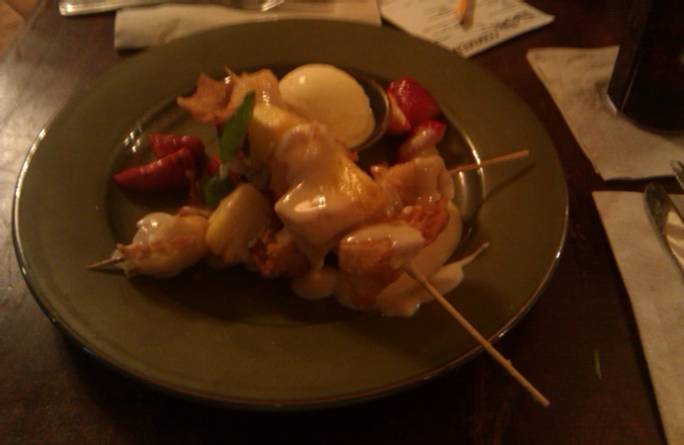 <![endif]>
and cheese wontons with ice cream.
<![if !supportLineBreakNewLine]>
<![endif]>
After eating, I went on Kali River Rapids.
There was a nice long line for Kali, but since I had the GAC pass I had about a 5 minute wait.† Now here is a ride spoiler J It used to be the person at the top of the raft would get soaked first, now itís the person at the bottom.†† When I went to get my scooter after the first ride, the CM asked if I wanted to go again, said ok, so I got back in line.† The second ride, got me wet enough that my cloth pants were pretty wet the rest of the night, felt damp, but it was ok.


After waiting on line for the second time, the CMís were warned about pending weather front moving in, so I decided to leave after the second ride anyway

I left the Animal Kingdom and boarded the bus to Epcot.
There was a light quick rain shower passing over while on the way to Epcot.

Did Spaceship Earth.
No hat issues this time.† HummmÖ. No problems during the day, only at nights.
Here is the Your Future post ride postcard.† The hat is unedited, but no sound L see the previous video for sound.
Then I did Soarin, then living with the land.
Did imagination next. They made everyone remove things like hats and sun glasses from their heads. Odd
I rode around World Showcase. I did NorwayÖ..
†and Mexico boat rides again.
I still have about 45 minutes before adr at Le Cellier.
I squeezed in Mission Space and made it to Le Cellier 7 minutes early.

They had something new for a appetizer, pork buns with cucumber and spicy mayo, so I went with the cheese soup again.† Today I notice they only have the bowl option, no cup.

Had the steak , t bone.

And they don't have the whisky cake for dinner, just lunch now. They have a trio of chocolate dessert which includes a small piece of the whisky cake

I say goodbye to the theme parks for this trip and head back to my resort to drop off the scooter and head to Downtown Disney.
I got off at the first stop, The Marketplace and start wondering into one shop after another.
I stop into The Art of Disney Store. I see they have this light box sculpture of Captain Nemo playing the organ.† I was always intrigued by these items, but always wanted a 20,000 Leagues themed one.† I canít find a price on display, so I ask a worker there.† After a minute of looking in the stock room, she tells me its $90.† Most of the others were in the $65 to $75 range.† I am so tempted to get it, but I donít.
Why am I going to Downtown Disney, without the scooter? I donít even know why I was going there at all.
Why not take the scooter? Its one of the few bus routes to or from Pop Century that the bus could be full, and you could wind up waiting for multiple buses that can handle a scooter.
I stopped into Baby Cakes, and try out a donut with a snack option.† The receipt said I only had one left. I thought I should have two so I called my resort and they looked it over. The register at the place didnít double charge me, even though she appeared to have problems entering it, it took her multiple swipes of my card to deduct the snack credit.† I then looked for a store that sold red PowerAde that takes the snack plan. After being directed by a store to a cart outside. I found the cart and asked if they take the snack dining plan said they took it, charged me my last snack credit, then she almost couldnít find it. but finally found one And I finished it off in a minute or two.
Walking around downtown Disney, they had lots of entertainment going on, but I was just content on walking. When I looked at the Adventurers club, it looked like they removed the name from the building, but the building is still there.
I then headed to the Pleasure Island bus stations.
The way they set up the signs for the bus stations, itís a little confusing. So I asked what resort they are waiting for, to make sure I was waiting in the right place.† The return bus was full. There were two scooters, and they are probably still waiting. Lucky I didnít take the scooter.† Just donít ask how my leg is feeling L
When I got back to my room there was a message on my roomís phone thanking me for staying there, letting me know checkout is . I thought checkout was earlier? But when I did online check in, I indicated I was checking out at 11 am. So I guess I get to enjoy the room for a little longer.
Laying in bed, I almost donít want to go to sleep, because when I wake up, my trip will be over, well the Disney portion, still have another train ride to look forward to.