September 5, 2011
Day three
I have a adr at Kona Cafť in the Polynesian, so I am taking the bus to the Magic Kingdom.† After getting off of the bus, I head to the monorail resort line, and I am at the Polynesian resort pretty quick.† I check in and seated quickly.
I order the steak and eggs, with apple juice.
<![if !vml]>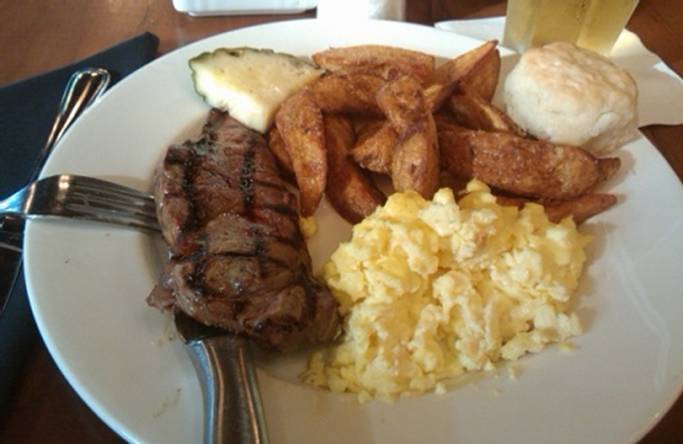 <![endif]>
I asked for a second glass of apple juice, only to be told, it isnít included in the dining plan, oh well.
Heading to the Magic Kingdom.
I stopped by City Hall to collect my general Fast pass, I see the time is close to , and go over to watch the recently rehabbed Tiki room in Adventureland.† They removed the under new management and rebuilt it back to almost opening day version.† They allowed us to enter after the preshow was over, so I will try and tape the preshow another time.
For wheelchair parties, they allowed us to enter first, to the back of the show and let us sit in the scooters and then they let in everyone else.† I do miss the late Phil Hartman and Don Rickels preshow.
I walk around the corner and head to Pirates of the Caribbean.† At this ride, they tell you to leave the scooter just outside the ride, so I walk down to the boats.† No line here.† Of course I am in a boat with someone who doesnít understand what no flash photography means.† Not that a flash will help light up this dark ride.
The restaurant across from the entry used to be called.. and I will use the English translation, the Pirate and the Parrot, its now called Tortuga Tavern, just like in the movies.
<![if !vml]>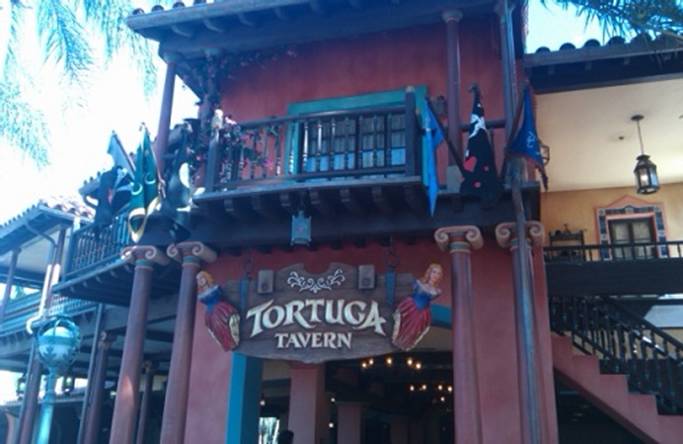 <![endif]>
I go watch Country Bear Jamboree next.† CBJ is one of the few attractions that wheelchair parties sit in the front row.† Most shows you are in the last row.
Ok so I decide to do Peter pan next. They see me on the scooter and direct me to park it. Then open a rope to stand by to load.
<![if !vml]>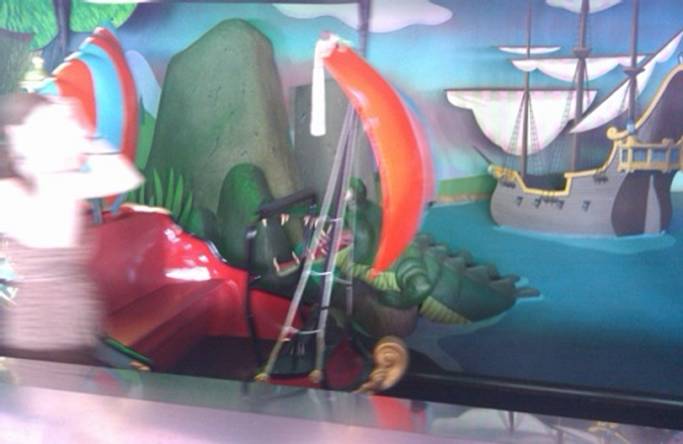 <![endif]>


And I stand, and stand, and stand. Finally a cm asks, are you waiting for someone. I go yes. Thinking a cm, she probably thinks another member of my party.

And stand some more. Finally I say waiting for someone to let me on the ride, oh she goes, your standing in the wrong place, I need to use the fast pass line. Grrrrrr
I go across the road from Peter Pan and do Itís a large planet, not the name of the ride, but you can figure out its true name J† When I get to queue, I see the wheelchair gate, but there is no CM there to help hold it open, but another guests sees my problem and helps me out by holding open the gate.
<![if !vml]>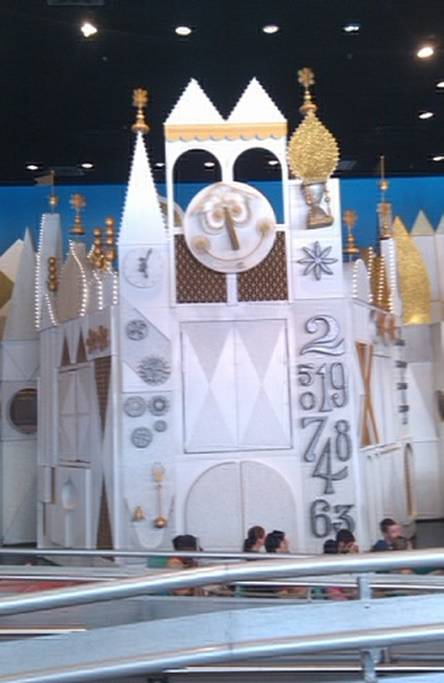 <![endif]>
I do Snow White next.
I then go on Winnie the Pooh. I park the scooter outside the ride and with my GAC card, I get on the fast pass line.† I see the new enhanced interactive queue line, looks neat.
<![if !vml]>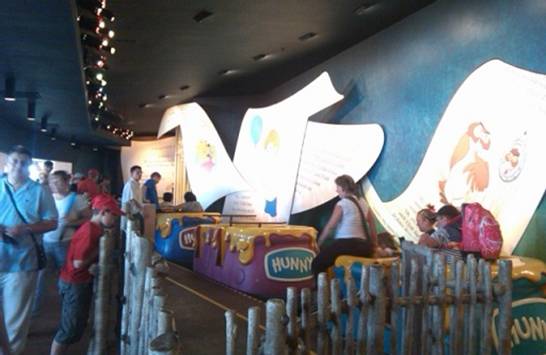 <![endif]>
I head to Tomorrowland.† Here is a photo of the Fantasyland expansion taking place.
<![if !vml]>
<![endif]>
Did buzz, got 50 k even,
<![if !vml]>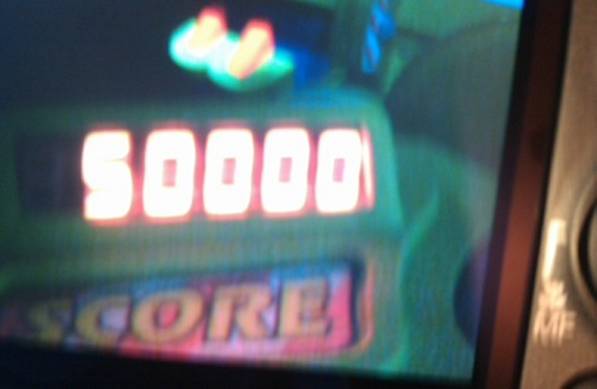 <![endif]>
† I then did carousel of progress. Felt like I almost fell asleep twice. Got an hour before lunch at,
I do some window shopping to waste time before going to Crystal Palace to eat lunch.† I check in early at .
After eating, I head back to Pop Century for a couple of hours rest.
Here are some photos of the towel animals mousekeeping left in my room.
<![if !vml]>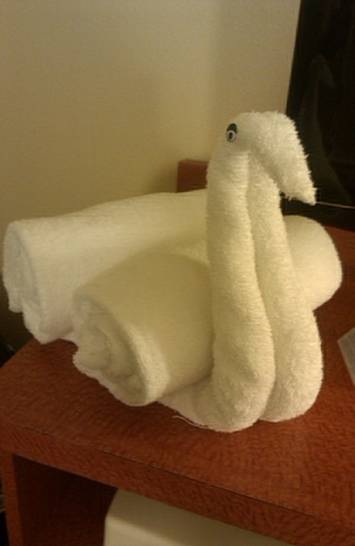 <![endif]>
<![if !vml]>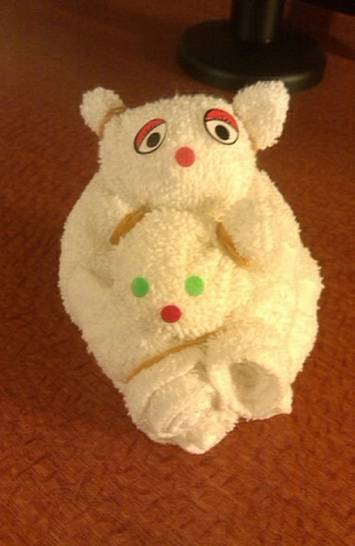 <![endif]>
And a bow tie around my bathroom tissue
<![if !vml]>
<![endif]>
And they even do something cute with my hair brush and razor
<![if !vml]>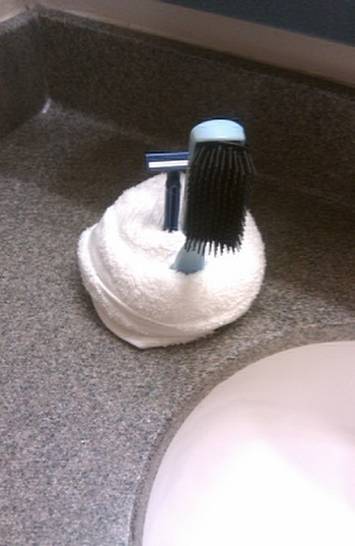 <![endif]>
I try hard not to fall deeply asleep, but I did, so I have less then an hour to get to Grand Floridian Cafť for my adr.† This is a repeat of this morning, going to the Magic Kingdom, then the monorail to the Grand Floridian.† I usually sit all the way in the back, but this time, I am seated mid restaurant.
They have either a NY strip or rib eye steak, I get the rib eye.
<![if !vml]>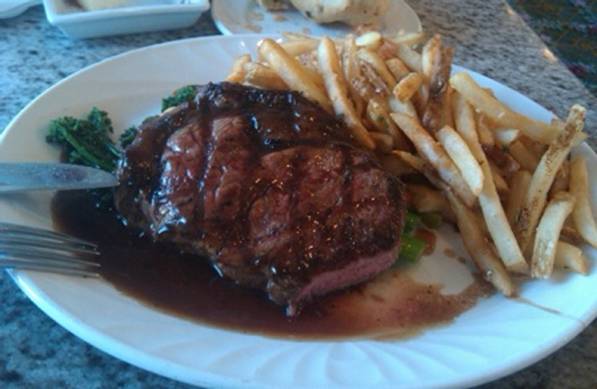 <![endif]>
and for dessertÖ well guess what this is J
<![if !vml]>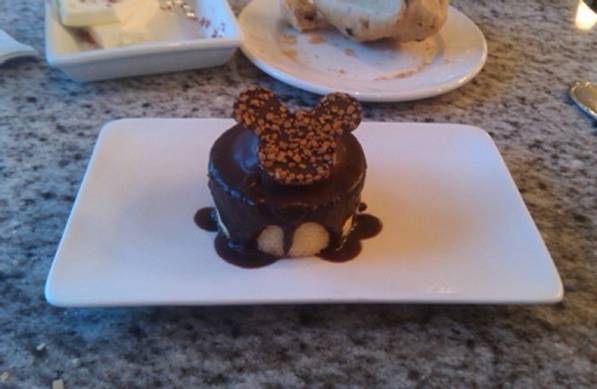 <![endif]>
Chocolate-Hazelnut Mousse Cake
Its almost , Finished eating, trying to decide what to do next. Obvious answer would be mk, but I will be here tomorrow too, and I got lots done today. Thinking about going to epcot, dtd or early day back to resort. Sitting on throne :), trying to decide
I decide to go to the Magic Kingdom after all.† Its and the Main Street Electrical Parade starts at 9, so I decide to hang out for the parade.† I spot is just inside the park after entering under the train station.† I am right next to a garbage can, and a walkway, so I should have a clean shot to watch the video from.
I tried to broadcast MSEP live with my cell phone and Ubroadcast app, but had so many problems with it cutting off, and since only one person tried to watch it, I stopped.† I will only try this again if people ask to view it, otherwise I probably wont, but donít be shy, if you want to see, Illuminations?
After the parade, I walked up to catch a spot for wishes. I first watched that memory castle thing. I didnít have a good view of the castle, and I didnít know what to expect, maybe try to record it again as early as tomorrow. I did videotape wishes, then left the park.
Here is my story for the night. Pop bus station is 17, just about the last bus station there is. I think there is a 18, but not used.
A CM asks where I am going and tells me where to go, remember I am on a scooter. There is one other person who is returning a wheel chair to the bus station. The same CM helps me out. I ask him, why is the wheel chair lane chained off? He told me too many guests were using that line too. I told him yesterday, I didnít know what to do. Meanwhile the other gentleman just pushes the empty wheel chair just inside the wheelchair lane, and walks away, blocking me. The CM sees this, goes, moves and folds the wheel chair so I can proceed to the waiting area. He also tells the CMís at the gate, I am there, donít forget about me.
As I am sure judy Y will mention, she is also at the MK, but in another section. We email each other, but thatís as far as it gets. She text messages me, and I call her back. We chat for a bit, till her bus arrives where she is staying. She leaves tomorrow, so so much for meeting this time.