September 4, 2011
Day two
I get up early prepare my backpack of electronics for the day. I have a10 am adr at Boma, so I have a little time. Today I† am using the scooter. My leg is ok, but aches slightly more then usual.
<![if !vml]>
<![endif]>
My scooter and my backpack on the bus
Again, itís the same issue of going from one resort to another, cant do it without a transfer at a theme park.
I went to the bus station for animal kingdom, saw it almost full, so I didn't want to get anyone angry, so I waited for the next one, which pulled up while the first was still loading.

As the first bus pulled away, I entered the wheelchair line. The second bus driver didn't see me, and started loading the passengers. I went and mentioned I was there; he stopped loading people, asked those sitting in the wheelchair seating to kindly move. This was a bus that I can drive on. He helped me out to drive on, strapped me in and we were on our way to animal kingdom.

I had a short wait for a bus for akl. I arrived at the lodge at for a adr. I walked around for a bit before checking in at . They buzzed me at . It was the same waiter from last night. He remembered me because I didn't want him to forget about me sitting all the way in the back. He joked, no diet Coke now :)

Food was typical breakfast except for corn beef from the carving station which was good. I tried the special Boma juice, it was ok, but prefer Apple juice instead.

It was interesting to eat Here, but not worth the effort of getting here.

Next stop the studios.
I enter the studios (Disney Hollywood Studios) and head to Guest Services for the priority pass and Guest Assistance card.
The line for guest services is out the door.† And I am thinking how can I stand for all this time, but I donít know what else I can do, so I stand in line and wait for my turn.
I get aÖ.. I donít know the correct termÖ Exchange CM from Disneyland Tokyo?† So there could be a little bit of a language problem.† I explain that there is some sort of Ďpriority passí under my name in the system, thatís all I can say.† I am at one kiosk, she tries to look it up, then tells me we need to go to another one.† Now I had the paper from guest services at Epcot from yesterday that supposedly has the correct number on it.
She does find the correct file (?)† and I ask a Fast Pass for Toy Story Midway Mania.† Unlike yesterday, where they just hand write a pass for anything, here I get a special print Fast Pass that says Toy Story on it.
<![if !vml]>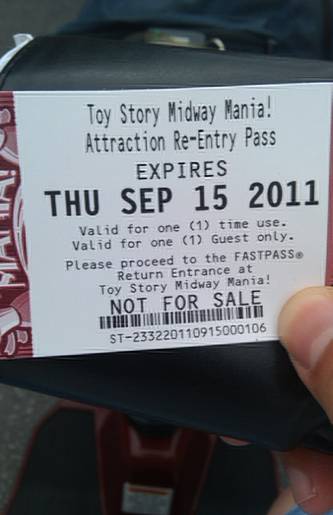 <![endif]>
I ask about the GAC card, and here is where the language problem gets in the way, she doesnít understand what I am asking about.† With my leg bothering me from standing, I go, ok, and leave.
I go next door and check out the questions at Sids.
<![if !vml]>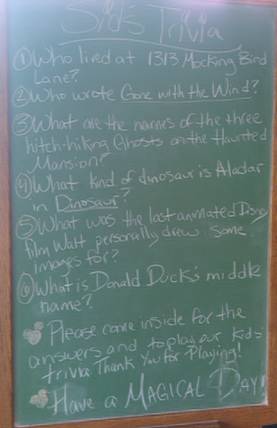 <![endif]>
<![if !supportLists]>1) <![endif]>Who lives at 1313 Mockingbird Lane?† The Munsters
<![if !supportLists]>2) <![endif]>Who wrote Gone with the Wind?† Margaret Mitchell
<![if !supportLists]>3) <![endif]>What are the names of the three hitch hiking ghosts at the Haunted Mansion? Donít know
<![if !supportLists]>4) <![endif]>What kind of Dinosaur is Aladar in Dinosaur?† Donít know
<![if !supportLists]>5) <![endif]>What was the last Disney film Walt personally drew some images for? Donít know
<![if !supportLists]>6) <![endif]>What is Donald Ducks middle name? Fauntleroy
So I need some help, I place the photo on twitter and wait for help.
Terrie replies back iguanodon for number 4. But I need the others too.
I head to Toy Story.† I see a CM moving baby carriages around, and I ask her, about what should I do with the scooter I am riding.† She tells me to park it there.† Wasnít sure what else I could do.† I head towards the fast pass return line, show them my pass and go right inside, walking.† When I get to the place where you pick up the 3d glasses, I see they have a special ramp for people who enter on their scooter.† As I take the normal route, walking up and down the stairs, with my leg aching, I also think I got a mosquito bite right in the area where I hurt my muscle. I know I did this wrong. I should have entered the queue riding the scooter.† I score 128,400.
<![if !vml]>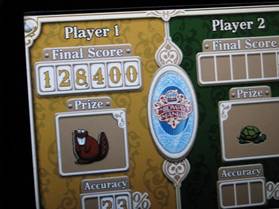 <![endif]>
Riding away from Toy Story, I see the fast pass machines are closed, they are out of FPís, its .
I do the Backstage tour next.† I am waiting to video tape when they bring out the guests for the water fx portion, but there are no guests.† They show all the effects without guests, bummer.†
I head to Muppets next.† There is a CM manning the entrance, I ask about what I should do with the scooter, he says just go right inside with it. When I get inside, I see there is a special section for scooters to the right, but no one indicates that I should be there.† This is getting to be a familiar theme, no CMís to help me with where to go.† So I back up and go to the special section for scooters and wait for the preshow to end and head into the main theater.† There is another person riding a scooter, but she is on the wrong side, so I let her enter before me to the last row.† The 3d effects in the last row seem pretty good.
After that, I head to the Great Movie Ride.
<![if !vml]>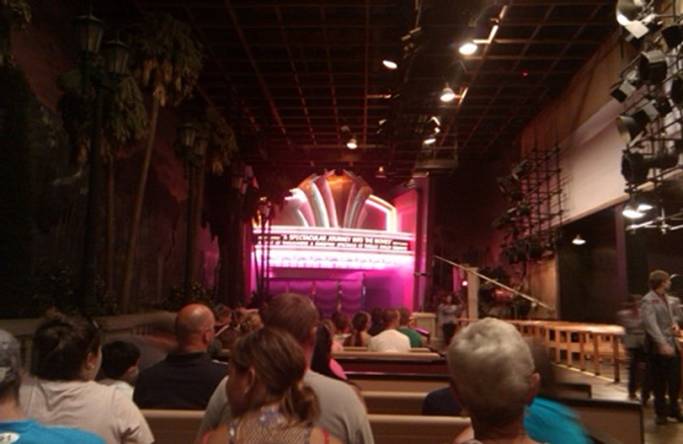 <![endif]>
†On the way, I am stop and listen to Lee Majors sing Unknown Stuntman from the TV series.† Its one of those moments that makes you smile. J
I enter the queue and they head me to the special boarding area for wheelchair parties.† As usual for wheelchair parties, I am in the last ride vehicle.† Not the best seat in the house.† We seem to be stopped for a long period of time entering the final room where they show you the movie clips.† When we do enter, the clips already started and are almost over.† And I notice that CMís are manually opening and closing the doors.† So I guess that explains the earlier delay.
I have about an hour before my adr at Hollywood and Vine.† Trying to figure out what to do in the meantime.
I try and check in a little early, but you cant check in too early.† For my adr, can only start checking in at , since the restaurant doesnít open for dinner till .
I wander around and take some photos of the refurbished props from the Indiana Jones movies.
<![if !vml]>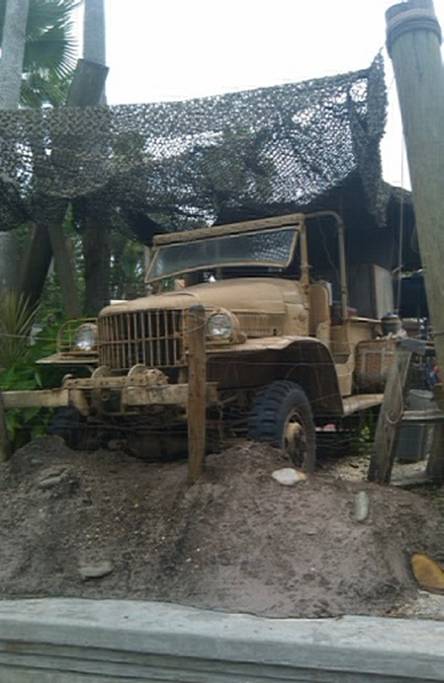 <![endif]>
There was a parade that people started to take seats for, but it didnít interest me. They had a guy walking up and down Main Street (Hollywood Blvd?) asking guests a trivia question. There was a family near me, got picked and blew the question. I wonít answer it now, but letís see how many people would know the answer?
What was the first feature length movie that Walt Disney made? Was it a) Steamboat Willie? b) Snow White and the 7 dwarfs? c)..... (forget the answer, but this gives you a 50-50 shot :)
A photo from the parade
<![if !vml]>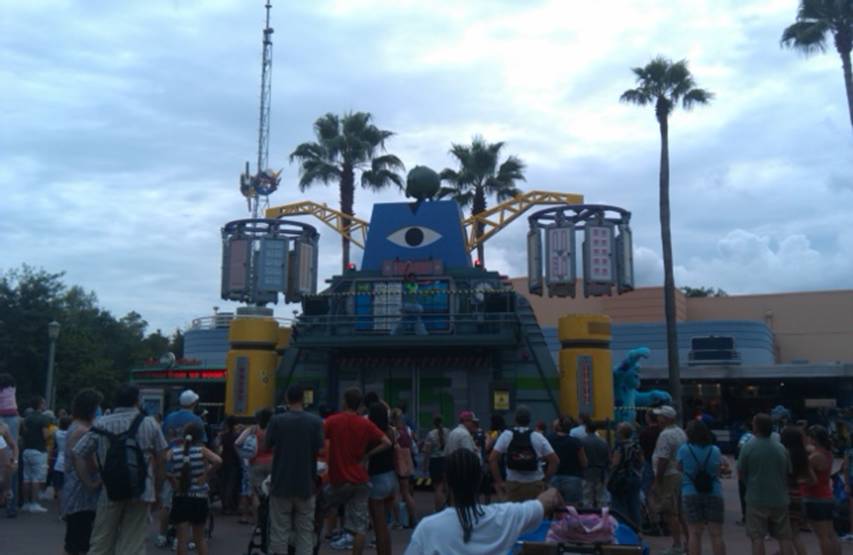 <![endif]>
Anyway, I go to check in at the podium of h&v, they cant find it. They have one Sherman listed, but their first name was Alan (the famous Alan Sherman is dead, no relation :) I have the confirmation number on my cell phone, try to show them that, but it doesnít help them.† So much for the time I spent doing entering the information on my cell phone. She calls over someone, and they tell her, just enter my name in the system, problem solved. Less then a minute later, they call me in. I see the waitress has the Fantasmic pass in her hand, I smack my head, this was supposed to be the Fantasmic Dinner package, and they just re-entered my name as a normal dinner guest, or so I thought. The waitress says, donít worry, this is my pass.
She explains to me there is a new entrance. It hasnít been Oscars for years, they donít do it through the normal entrance anymore, nor it is by Beauty and the Beast Theater. You enter on Sunset Blvd past Tower of Terror. Donít ask me anything else, as that is all I know at this point.
Now back the lost adr. For those that donít know. You need to guarantee your Fantasmic Dinner package (oh yea, on the receipt, it does say Fantasmic Dinner Package) with a major credit card. So in case you donít cancel, and donít show up, they penalize you. So now, I am wondering, if the wrong name was entered in the system with the right credit card, and I didnít show up under the wrong name, will they penalize me? I hope not, but keeping the receipt just in case.
<![if !vml]>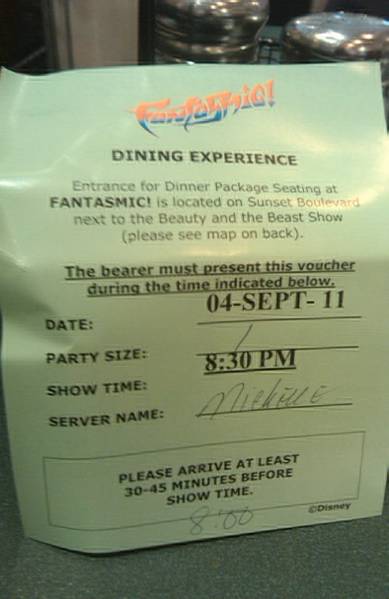 <![endif]>
I am hearing thunder now, and just looked out the window, its pouring. I wonder if they will have Fantasmic or not? If this is just a passing shower??
I head back to my resort for a rest.
Just some added thoughts from today.
At Boma this am, a young couple (no children) were having a argument. The husband was talking a little loud, the wife, couldnít hear her speak. the complaint was about a ride that was broken, and she was blaming him for it or something. didnít make sense.
A family leaving Muppetvision, the parents were having a little disagreement. It seems at first, the parents thought the 3d glasses could be kept. Then the husband finds out, they have to give them back. The kids are a little unhappy about this, and want to keep them, the wife says, just lets keep it. the husband returns it, or so I think he did.
Similar subject, I parked my scooter by the hat, and notice sticking out of someone unattended bag, a pair of 3d glasses sticking out.
Battery life I used the MIfi device in the parks, and it really saved my battery, but the mifi battery died fast. Right now, charging up all my cell batteries. because later.. if they have Fantasmic, may try to do a live broadcast, so keep your eyes on your tweeter account about or so, show starts at .
Thatís it for now.
Oh.. first full feature length movie Walt Disney made was Snow White and the 7 dwarfs.
Its about and I am back at the Studios, they posted new questions at Sids.
<![if !vml]>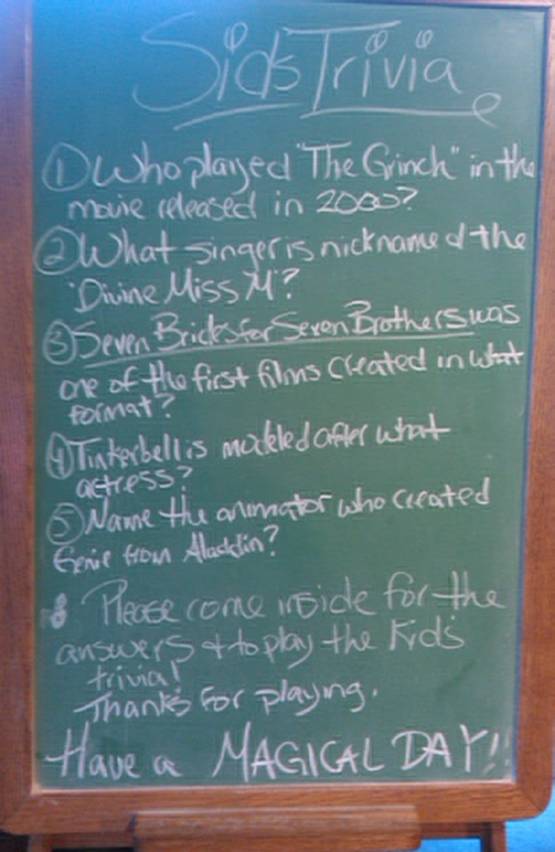 <![endif]>
1)Who played the Grinch in the movie released in 2000? Jim Carrey?
†† 2) What singer is Nicknamed the Divine Miss M? Better Midler
†† 3) Seven Brides for Seven Brothers was one of the first films created in what format?† Not sure
†† 4) Tinkerbell is modeled after what actress? Not sure
†† 5) Name the animator who created Genie from Aladdin?† Not sure
So I head to Sunset Boulevard, head pass Tower of Terror, and I see signs pointing you to Fantasmic Dinner Package holders.† Itís a trip, as you head backstage a little, and I enter the theater.† I leave the scooter all the way in the back, and sit down about 1/3 of the way from the bottom, second section from the right.† They have me move over towards the center before the show starts, but I short people in front of me. I try to do some test live broadcasts on Ustream, but is still breaks up, so I give up the idea of doing a live broadcast of Fantasmic.
Some photos from the theater
<![if !vml]>
<![endif]>
<![if !vml]>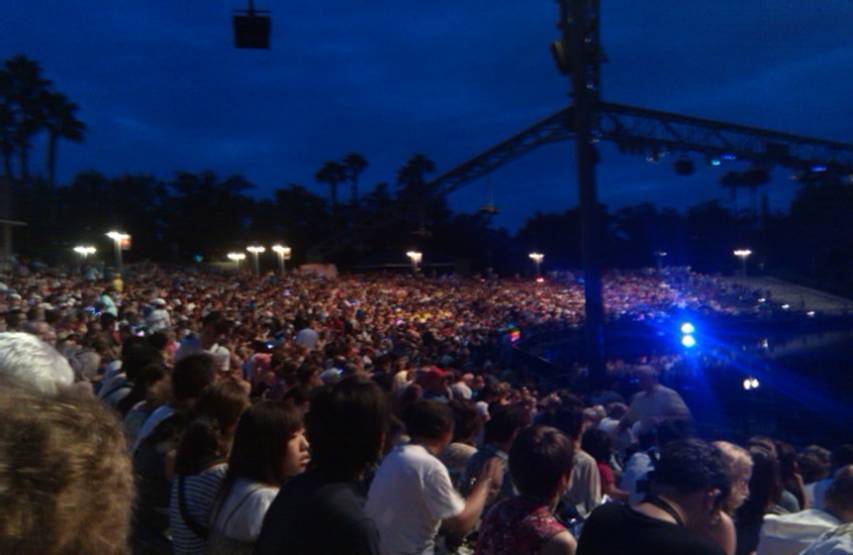 <![endif]>
They start making announcements that due to bad weather, the show might be canceled.
Its , Ĺ hr to show time, and Terrie replies back with the answers from the new questions.
1 Jim Carrey
2 Bette Midler
3 Cinemascope
4 Marilyn Monroe
5 Eric Goldberg
I never would have guessed #4.
They still do the wave here, but I just sit.
Fantasmic does start and I do broadcast it live, but I only notice someone is watching it towards the end of the broadcast, but I donít know who.† Here is the video of the live broadcast.† Quality is poor because of ustream.
I stop by Sids and get 4 and 5 wrong L† Two years in a row now that I donít get the certificate from Sids.
Now I may be nuts, but I decide to park hop to the Magic Kingdom, to have a late dinner at Cosmic Rays.
Ellen from the travel-wdw yahoo group emails me that she did watch the broadcast, so I donít feel so bad. J
After waiting to get out of the studios which took forever because thousands of people are trying to exit at the same time, and the street isnít wide enough to handle the crowd.

After finding the bus to the ttc, and waiting for the bus.

After finding my way to the ferry.

After waiting to board the ferry.

Ok the trip across the lagoon was quick, but.....

After waiting in the bag check line.... that was too narrow for me to get through the tables.

After trying to make it up main street while everyone else on earth was trying to leave.

After waiting on a long line at cosmic rays.

After going to the toppings bar, only to discover, this side was missing the cheese.

I am finally eating :)† its after at night.† I started to leave Fantasmic theater at , took me over 90 minutes to do this.
<![if !vml]>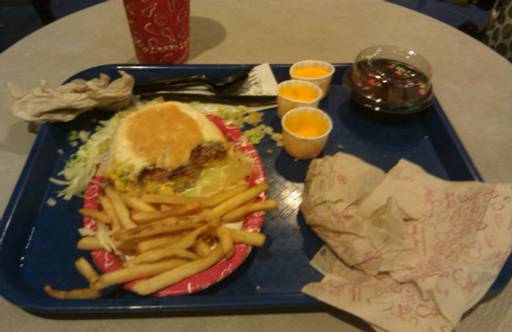 <![endif]>
Even though I did not eat by him, I stand and listen to Sonny Eclipse for a minute.
<![if !vml]>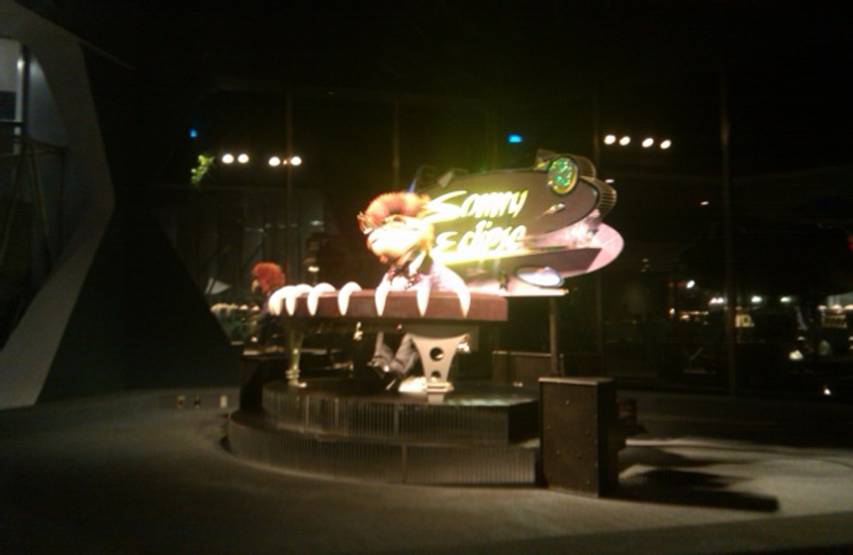 <![endif]>
After eating, trying to decide what to do.† I head towards Fantasyland then Liberty Square and decide to ride Haunted Mansion.† This is the first time going on this with the new queue.† Wheelchair parties usually get escorted to the servantís entrance.† Not anymore.† They send you on the normal queue line.† At one point there is a fork in the line, this way for the grave yard, that way to bypass it.† I make the mistake and go on the graveyard part, which takes forever.
When I make it into the stretching room, they CM directs me to this side of the stretching room.† So while everyone else heads toward the hallway to get on your doom buggies, I am directed to this hallway where I am told to wait.† And I wait.. wait.† Starting to think, did they forget about me?† Finally another CM comes, opens a rope, tells me to park the scooter by the tombs, which is the exit of the ride, He walks me to the room where people usually exit their doom buggies, this is where I enter the ride cars, so I am in the doom buggies going to the room where people usually ride.† There are no guests. Waiting to board.† I am guessing more people will be entering when they cycle through the stretching room.
After the ride, I decide to head back to my room.