September 2, 2011
The trip down
I do get a good nights sleep.  I wake up before the alarm goes off and take a shower and get dressed. My clothes were laid out the night before.  For the train ride down, I wear my I  (hidden mickey shaped heart) NY t-shirt.  Kind of tells where I am going and where I am from.  This is a photo of my luggage down by my building.
<![if !vml]>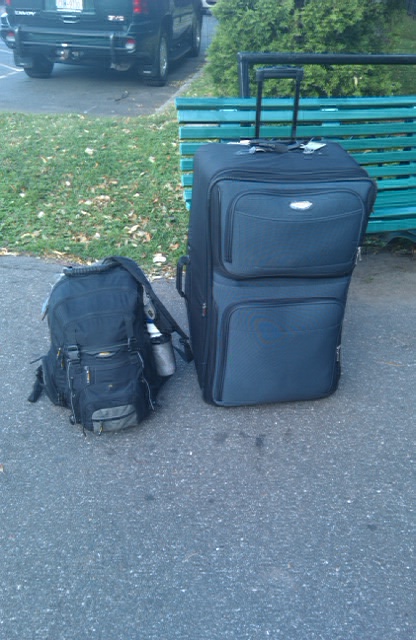 <![endif]>
Like I said, My father would be driving me to Stillwell Ave station in Coney Island.  I can walk there, but my father will drive us.  My father drove up and I was just able to get my large piece into the back seat without tearing the seat.
A couple of minutes later, we were at Stillwell Ave Terminal.
<![if !vml]>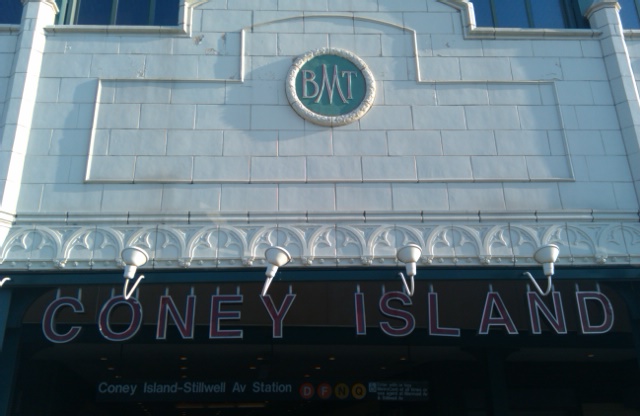 <![endif]>
We boarded the F train.  Its .
<![if !vml]>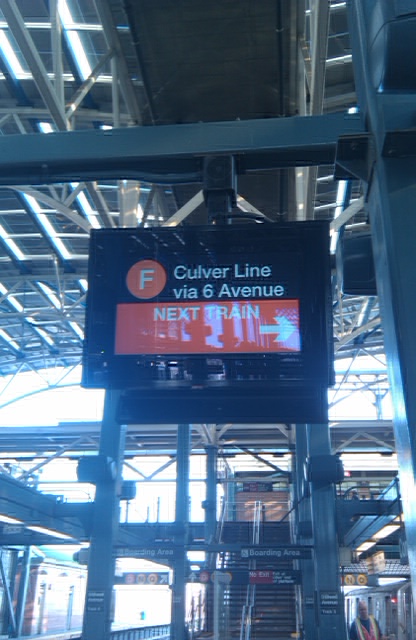 <![endif]>
 and here is the sign on the train showing the station stop I usually get on.
<![if !vml]>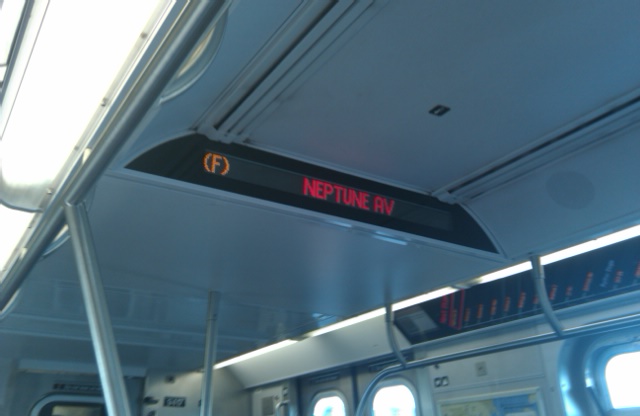 <![endif]>
Now I usually transfer at Jay Street station from the F to the A train.  But since I am traveling rush hour during the week, I will stay on this train, get off at 34 street and 6th Ave.
I get off the train and ride up the escalator to the platform, and look for the elevator to street level.  From there I walk to 7th Avenue and go to Amtrak station.
Somewhere along the ride into the city, I realized I forgot my anti-perspirant spray.  So I stop into a drug store in Penn station and buy a can and stuff it into my luggage.   Here are some photos of Club Acela room.  Its .
<![if !vml]>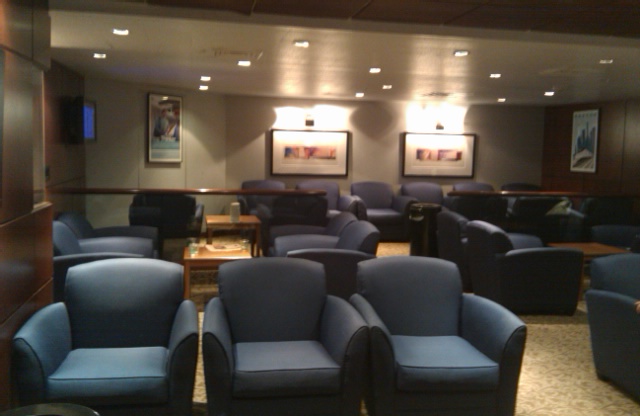 <![endif]>
<![if !vml]>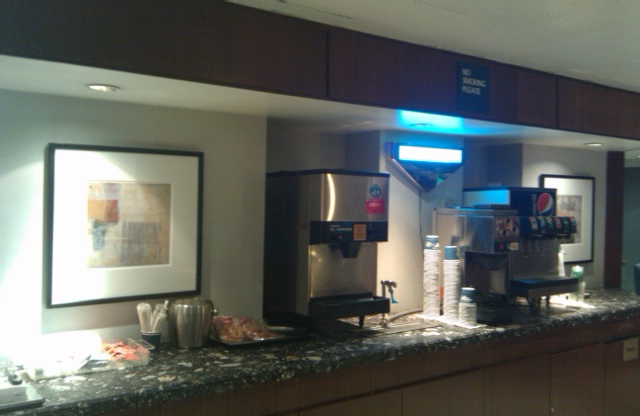 <![endif]>
Next to the soda machine they usually place out some snacks, potato chips, cookies, muffins, or danishes.  But all I see this time are muffins, blueberry and chocolate chip. 
I get there about with the train leaving about .  They usually start boarding people about 20 minutes earlier.  I usually watch the Warriors, but I don't have allot of time to watch it.  So I sit back and relax for I figure I have a little over an hour to wait.
There usually is free wifi in the lounge, but it isn't working, so I switch on the Mifi and use that for internet access.
This is something new that they do.  Usually they notify people in the lounge first what gate they line up for.  But this year they have someone escort you down to the train.  First he takes you down to the lower level, then he turns on the escalator down to the train platform.  It seems the other people waiting for this train in the lounge went to the normal gates as it is just about me and another person. 
As usual, the sleeper car attendant sees my large piece and goes, where are you going with that?  I simply say, I am a solo in a sleeper room, then she goes, sleeping on top? I go yep.  Here is a photo of my luggage in the room.
<![if !vml]>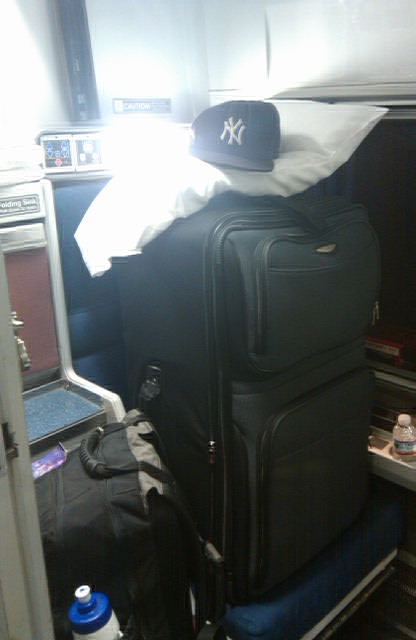 <![endif]>
My sleeper car is car 12, which means to get to the dining car, I have to travel through car 11 and 10.  We leave exactly on time, as the only clue to any movement is looking outside the window and seeing the platform moving.  We slowly move out to daylight and wait before heading through the trans Hudson Tunnel to New Jersey.
pulling into Newark Penn Station.
, we are pulling into Trenton, here is a photo of a bridge by the station.
<![if !vml]>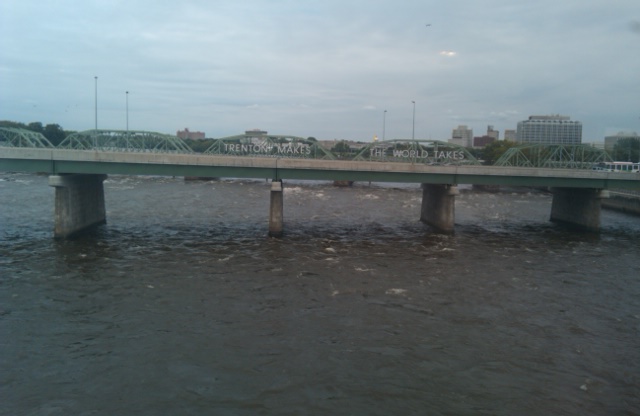 <![endif]>
The sign on the bridge say "Trenton makes, the world takes"
While in Trenton I head to the dining car and have my usual meal for lunch, Angus cheeseburger with chips.
<![if !vml]>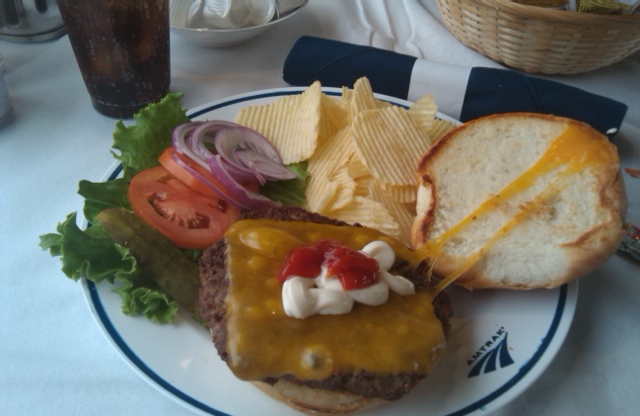 <![endif]>
and for dessert, oreo cheese cake.
<![if !vml]>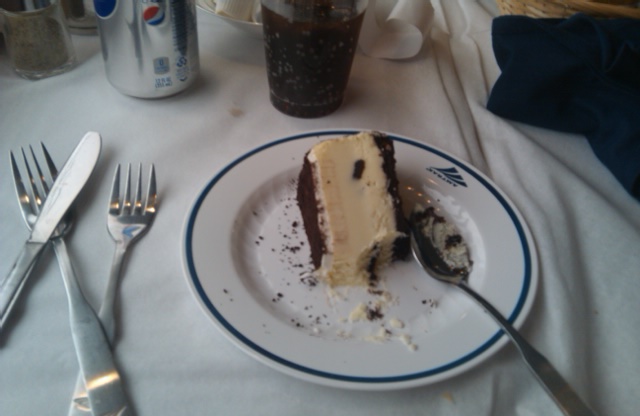 <![endif]>
At this point, I change my cell phone battery, first one was dying, and its only .
Its , finishes eating lunch, As we were pulling into 30 street station in Philadelphia.  I unpack my electronics and watch the warriors on my laptop.
At , we are pulling into Willmington, Delaware.  According to the GPS, we were doing 110 mph.
, we are in Elkton, Maryland.  Looking for something in my luggage, I find two cans of deodorant, the one I packed, the one I bought :)
We are pulling into Baltimore, where they have this sign for directional challenged engineers which way is New York and Washington.
<![if !vml]>
<![endif]>
, we are pulling in to Washington DC Union station.  Here they will remove the single electric locomotive of a pair of diesels.
, we are leaving Washington Union station under diesel power.
Alexandria, Virginia.  Here is a photo of the Washington Masonic Temple (or something like that)
<![if !vml]>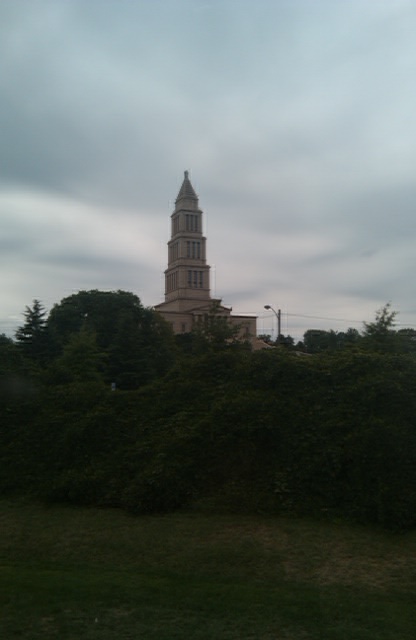 <![endif]>
Its about 4;15. My dinner adr... excuse me.. reservation for the dining car is for
At washington, a couple who are from England flew into Washington, boarded the train to go to Ft Lauderdale for a cruise, then back up to Orlando to stay off site.
I am using my MIFI device on my laptop as we travel through Fredericksburg Virginia. Before, was using just my cell phone, which explains how if I don't proofread it, some words are substituted for others.
There are two types of dining cars, this is one of the refurbed ones, feels more comfy to sit at.
When we first crossed into NJ from NY, think it was Bergen County?? We went over a overpass which was totally flooded, so were some houses near the intersection.
Its cloudy here. back to watch some more classic Star Trek :)
Approaching Richmond, Virginia station at 5:05 pm. Looks like we are on time. We are due to arrive at .
I pack up my electronics and head to the dining car.  Dinner starts with a salad
<![if !vml]>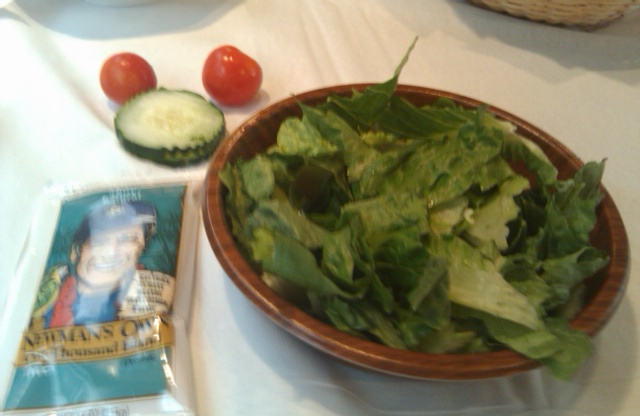 <![endif]>
And for my main entrée, NY strip steak
<![if !vml]>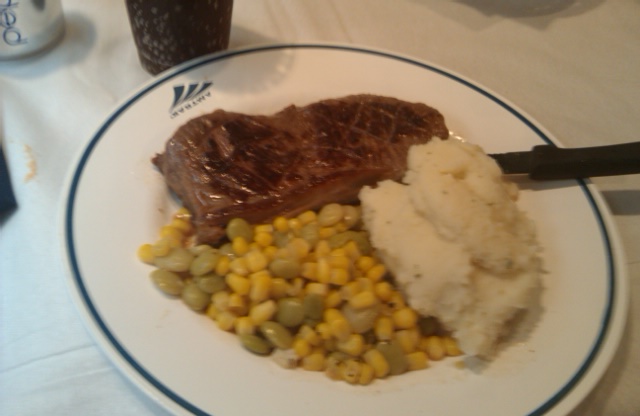 <![endif]>
And for dessert
<![if !vml]>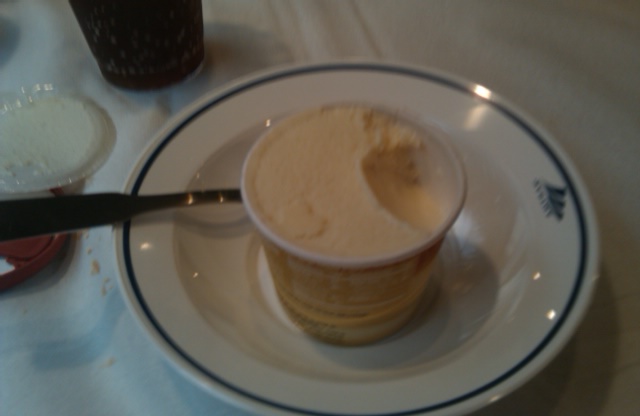 <![endif]>
Small cup of Vanilla ice cream.
Service seemed slow. Back in roomette now. It's . And we are in Halifax. North Carolina.
Rocky Mount, North Carolina.  Here is a photo of some preserved passenger equipment
<![if !vml]>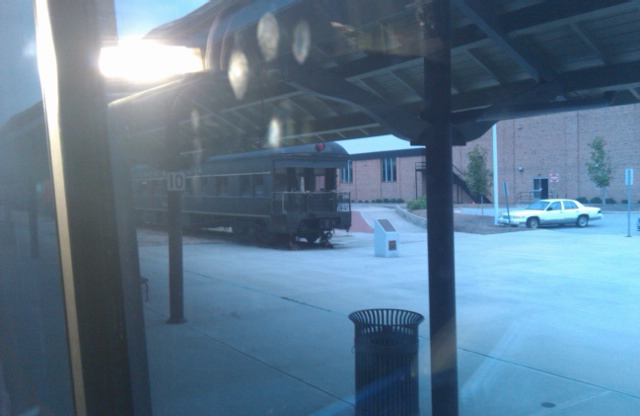 <![endif]>
Stopped in Raleigh, NC. Was due to arrive 9:13.
It's . We are now in the station. We stopped before the station for a bit. I don't know why.
Southern Pines, NC. Running about 6 minutes late.
Its about , trying to decide what to do, read a e-book (20,000 Leagues under the sea) or try to sleep.
I read a little and try and sleep.