Day one
September 4, 2016
When planning this trip, I wanted a early flight.† I like to travel in the mornings.† Sooner to get there, sooner to enjoy.† So we picked a flight leaving JFK at .† We are taking Access a ride, my mother is eligible for it.† For a 8 am flight, the airline recommends getting to the airport 2 hours before the plane is due to leave.† That means needing to be at the airport at .† Access a ride wants to pick us up at to be at the airport by 6.† To be ready to leave by , need to wake up at .† I donít mind.
Another problem this time of year, the threat of a hurricane impacting my trip.† This years hurricane was called Hermine.† As we will be traveling south, it is heading north.† The question is, when will it hit new york, if at all??† Late Saturday nite they are saying the outer parts of Hermine will hit New York Sunday afternoon to evening.† We plan to be in Orlando by that time, so I feel a bit better.
I go to sleep by the night before.† I wake up on my own around .† I lay in bed, but cant fall back asleep for a couple of hours, so I get up and make myself breakfast, eat, and clean up, and trying to rest some more by 2 am.† My mother calls me around to let her know she is up.† She wanted me to call make sure she was up.† Myself, I set my alarm clock to to play my Disney streaming music station.† And for backup, I have the light in my bedroom on a timer too to turn on .
I finish my packing which is just my laptop and shaving razor.† I close my luggage and head downstairs to walk over to my mothers house where Access a ride will be picking us up.
Walking across the street, it seems the only other things up at this hour are the sprinkler heads.
<![if !vml]>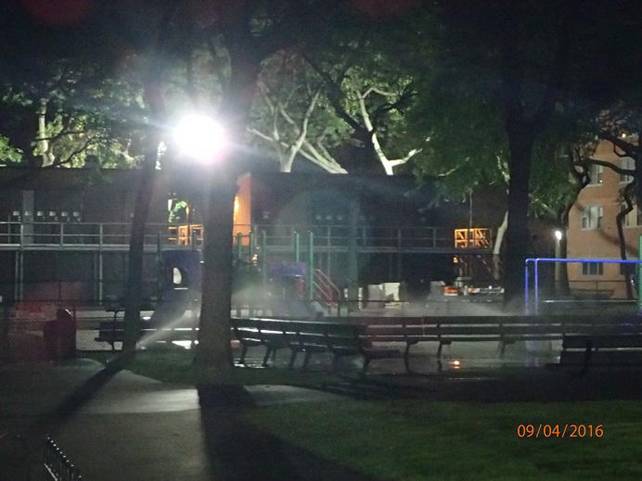 <![endif]>
Access a ride is right on time at , and we are his only stop to the airport. Listening to the radio when I was taking a shower they reported there was a accident on the Belt Parkway, all lanes are closed. Not good, but shortly before I left, they said they started to open up lanes.† No problems making it to the airport. Not even raining.
We check our baggage with the Magical Express tags, the place is so very empty.
<![if !vml]>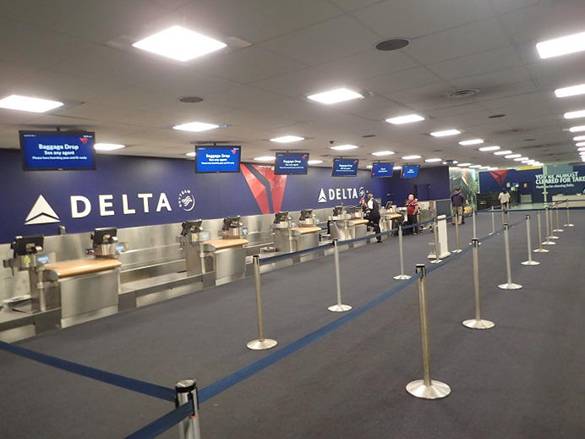 <![endif]>
We go through security and make it to our gate 3 hours before our flight is due to leave.
<![if !vml]>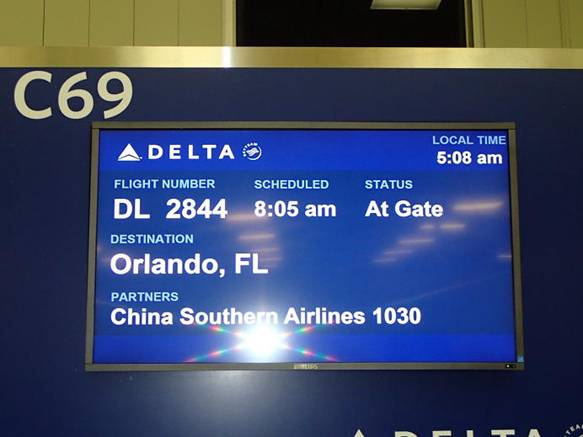 <![endif]>
†The airport was empty.
<![if !vml]>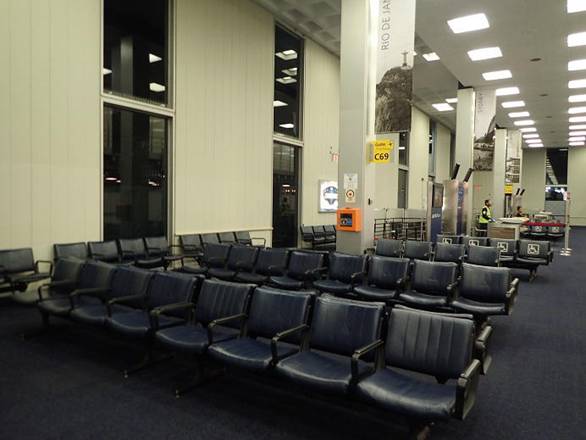 <![endif]>
†Our plane is still sleeping by the gate.
<![if !vml]>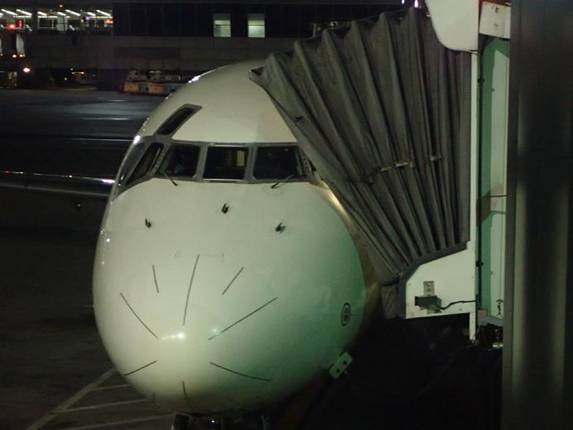 <![endif]>
Good Morning.
<![if !vml]>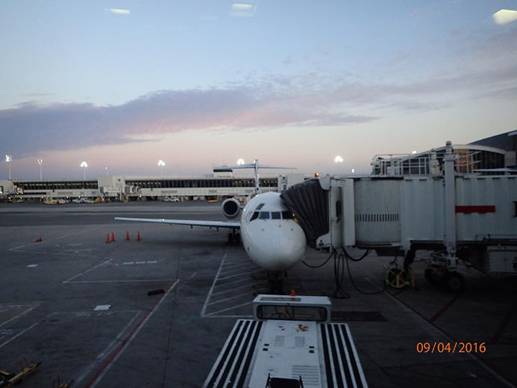 <![endif]>
When they board us, the plane has plenty of empty seats, another reason I like a early flight, not too many other people do
They do mention that due to weather, they will be taking a longer route to Orlando around the hurricane.
Our flight path takes us near Coney Island, can see the amusement district from my window.
<![if !vml]>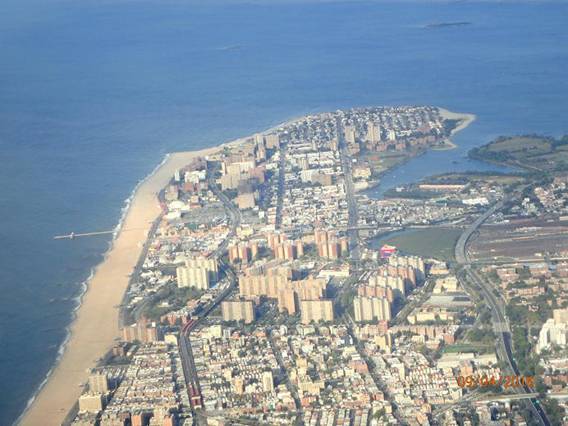 <![endif]>
<![if !vml]>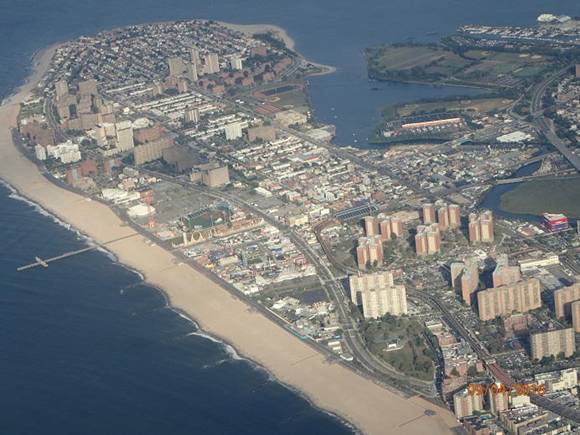 <![endif]>
I watch a movie on my tablet using earphones I take with me.† And look out the window at the clouds and other sites along the way.
<![if !vml]>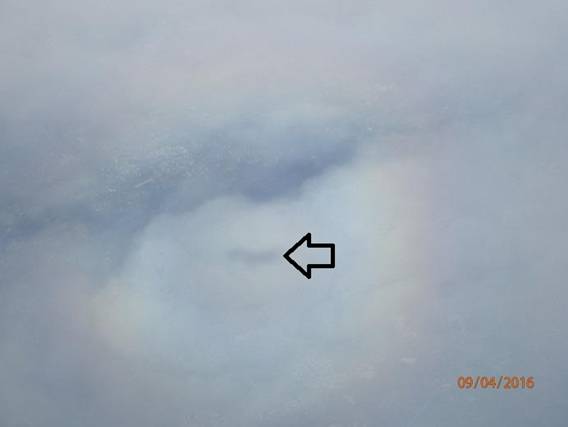 <![endif]>
See the slight dark spot near the middle in the above photo? Our plane is making a shadow on the clouds.
<![if !vml]>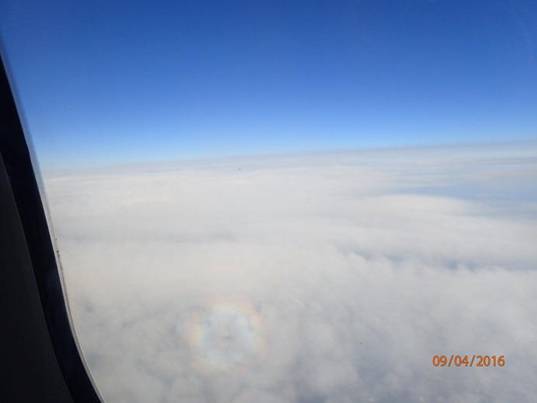 <![endif]>
<![if !vml]>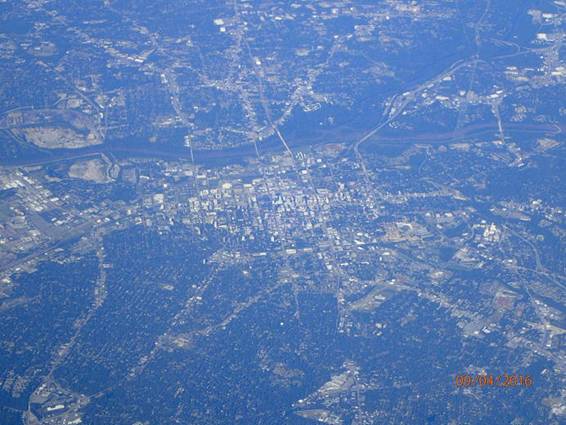 <![endif]>
<![if !vml]>
<![endif]>
<![if !vml]>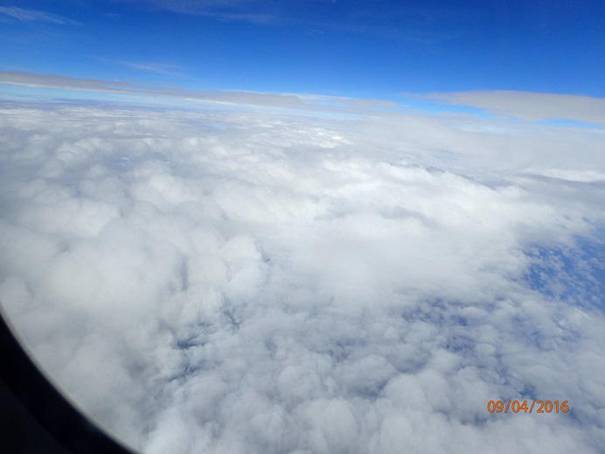 <![endif]>
<![if !vml]>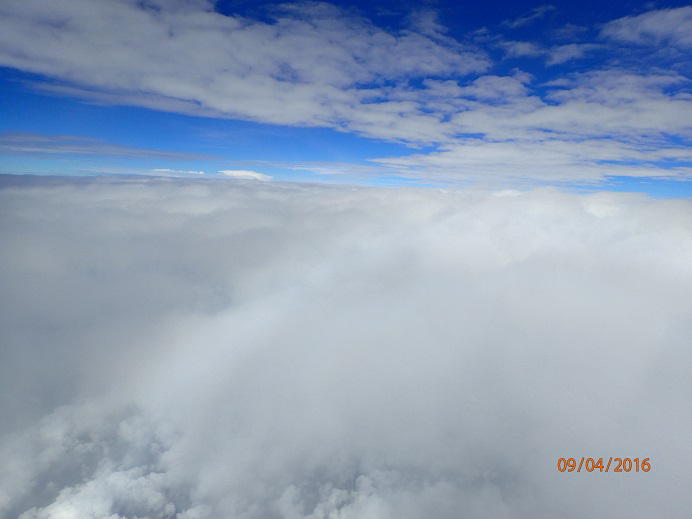 <![endif]>
<![if !vml]>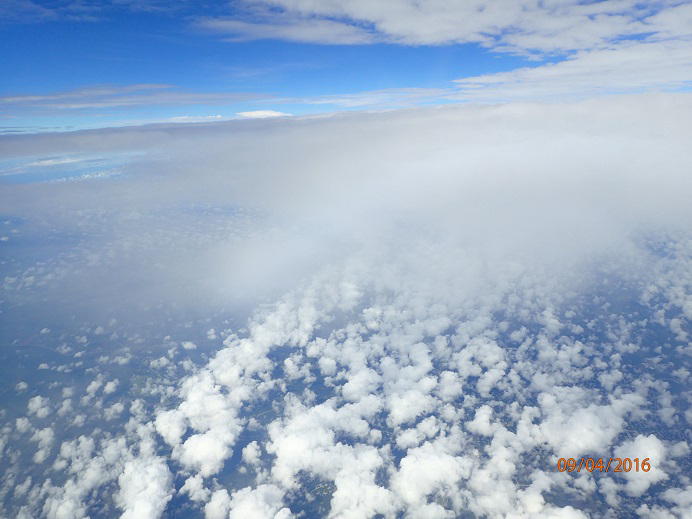 <![endif]>
<![if !vml]>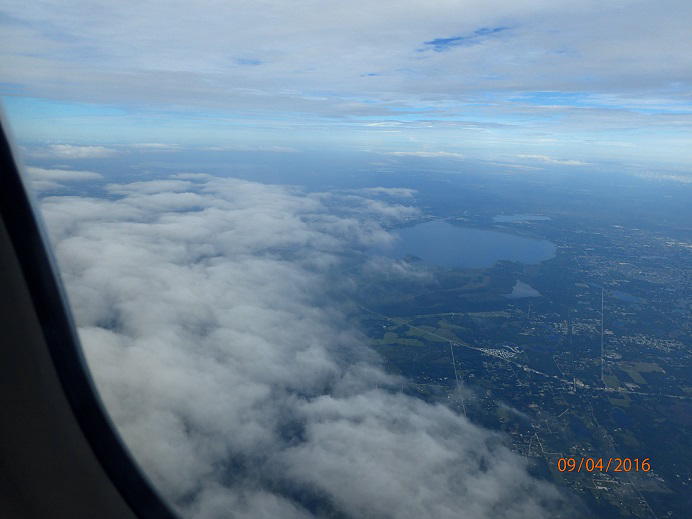 <![endif]>
<![if !vml]>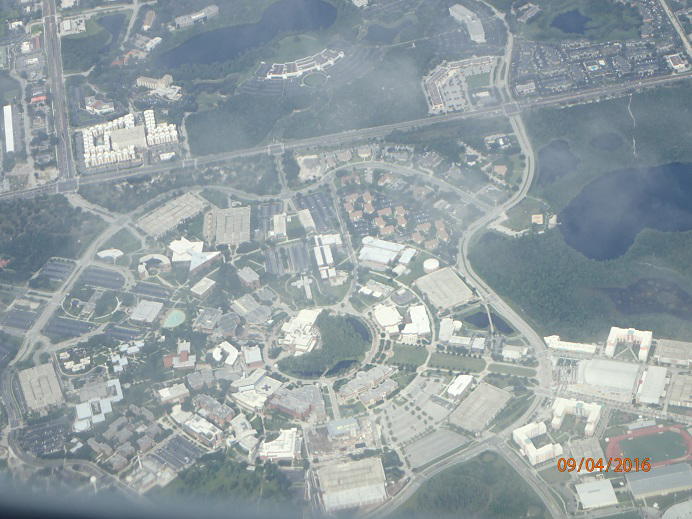 <![endif]>
<![if !vml]>
<![endif]>
<![if !vml]>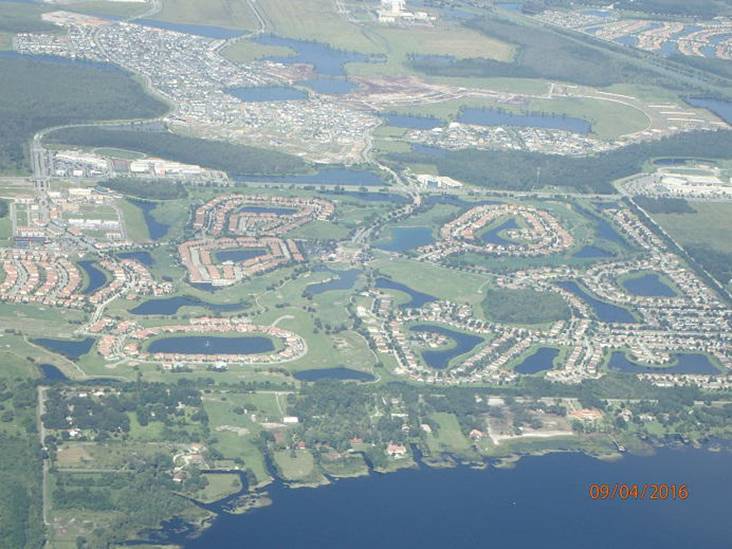 <![endif]>
<![if !vml]>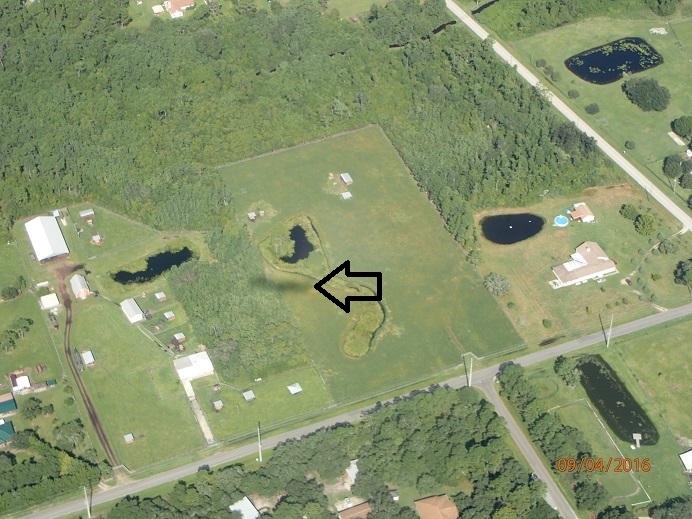 <![endif]>
That arrow is pointing to another plane shadow on the ground.
.. touchdownÖ. He-lo† Or-lan-do
<![if !vml]>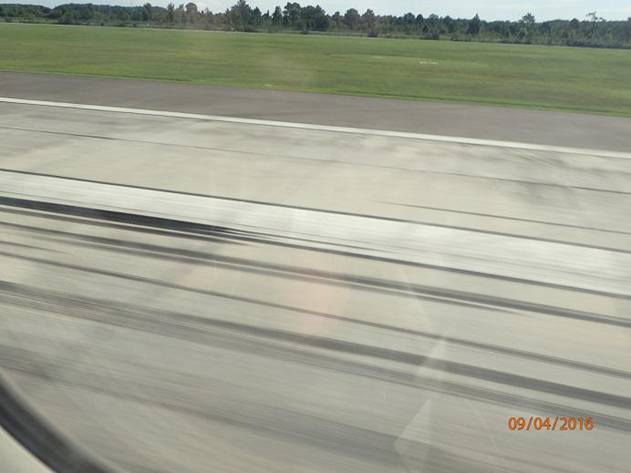 <![endif]>
The descent down was a little tough on my ears, my right ear is all clogged up.† We exit the plane and start walking towards the monorail to the main terminal.† I remembered about taking the escalator to my left once we leave the monorail in the main terminal, but not much else.† We were on level 3, now on level 2,† I ask for some help and told we need to go one more level down to go to level 1.† So we walk to the elevator and take it down to 1.† We walk towards the Magical Express at the end of the terminal. We check in with our Magic Bands and are assigned a row 5 to queue up on the bus for the trip to our resort.† We sit almost in the back of the bus.
We make it to Art of Animation resort and I look for the online check in counter.† I didnít get a text message with my resort room number yet.† Good reason, the room isnít ready yet.† We check in, showing my drivers license and travel agent id.† The problem is when I check in, my ears are so clogged, I can hardly understand him when he is saying that there is no room request associated with my reservation.† I tell him, my name screams Finding Nemo, Bruce for the shark, Sherman for the dentist.† After waiting in the check in area, we check our carry on luggage and head to a park, Disney Hollywood Studios.
First thing I had to do was purchase my reserved Travel Agent discounted ticket. No Ďwill callí ticket booth at the studios.† After asking, we are directed to the normal ticket booth. I show him my email.† The gentleman in the booth has some trouble till he finds the will call number.† I pay for my ticket and he gives me a normal ticket media. I ask about adding the ticket to my Magic Band and he tells me I need to do that at Guest Services, they donít allow him to do that anymore.† She had a problem trying to do it.† She issued me a new ticket media card,
<![if !vml]>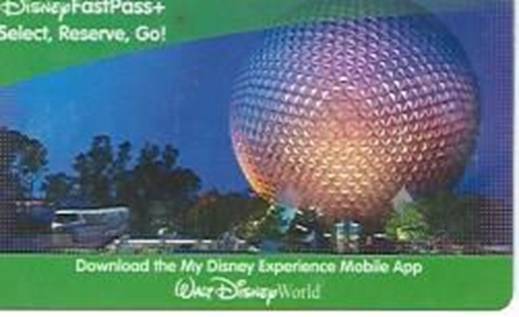 <![endif]>
I do like Spaceship Earth the best out of all the park icons
It still didnít work.† She then got some help, and the ticket was finally transferred to my Magic Band. Next job was to match the fast passes I set up for my mother weeks earlier to me.† Some passes she could do on the system, some they had to write me a golden ticket as the system wouldnít let them.
Once in the park, we checked in early for Fantasmic Dinner Package at Hollywood and Vine.† At first they told us there were so busy, we would be waiting about a Ĺ hour, but they called us in about 10 minutes.† I placed a low/no salt diet restriction on my dining plans for my mother.† A chef came out to offer my mother no salt dishes she would cook for her.† Chef mentioned how about some grilled chicken? Salmon? Veggies? Mash potatoes.† My mother is impressed, doesnít know what to get.† Chef goes.. this is a buffet, bringing you all the above.
<![if !vml]>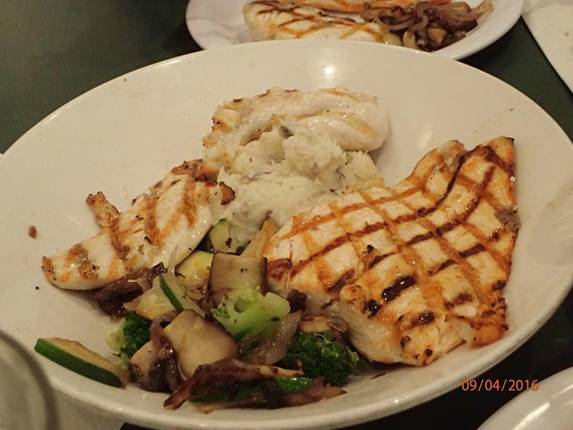 <![endif]>
†I even had some of the chicken, tasted very good.† She couldnít finish it all.† Disappointed here.† Two new items is no longer being served.† They had a pasta station and fondue dessert station.† Both no longer being offered.
<![if !vml]>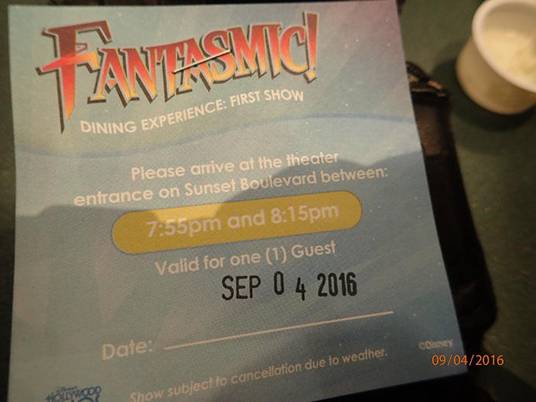 <![endif]>
<![if !vml]>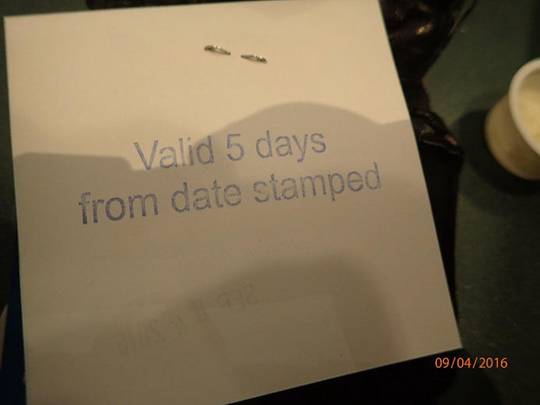 <![endif]>
While eating I received my text notification that our rooms are ready.
<![if !vml]>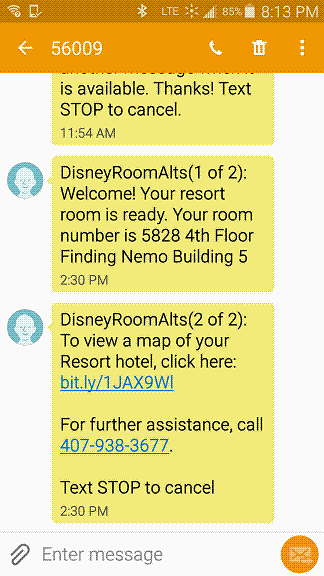 <![endif]>
See the previous time, ?† That was when I was notified my room was ready in July, 2015.†† I get my requested building, Finding Nemo building.
<![if !vml]>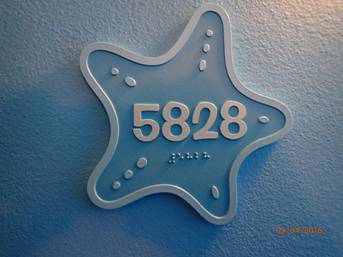 <![endif]>
When we enter the room the luggage is there.† The view from my window, another wing of the resort.
<![if !vml]>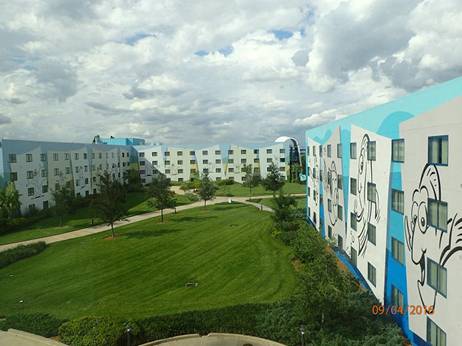 <![endif]>
Interesting thing about the sink in the living room/Kitchen areaÖ see the color on the knobs??
<![if !vml]>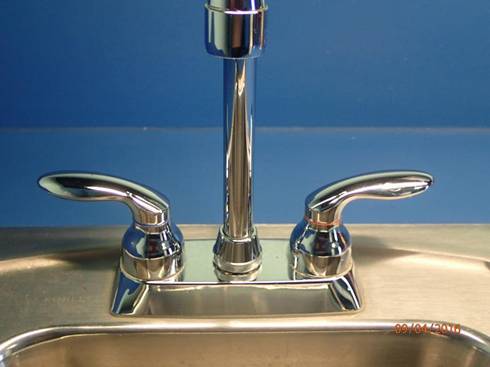 <![endif]>
The knob on the left is labeled blue, right red.† So which knob has hot water??† Wrong.. the blue is hot water, red is cold.† The plumbers got the pipes backwards.
I go back to luggage services, we get the scooters we ordered and the carry on luggage.† Funny problem with the scooters.† My mother made the phone calls and reserved them.† They spelled our last names with a ĎCí, not a ĎSí.† To make sure there is no issue to get the scooters, we call the scooter rental company, Best Price Scooters, explain the issue.† They had a person at our resort and correct the last name issue. †We head back to the studios without the scooters as our fast pass plans include rides in the studios and Fantasmic tonight too.
Back in the studios, doing Toy Story Midway Mania.† We made it back to the studios after the Fast Pass had expired, but either they didnít notice or it was broken.†
<![if !vml]>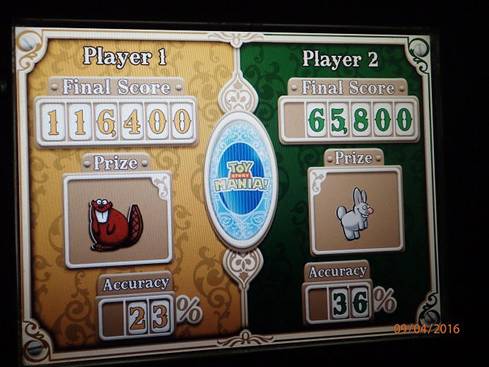 <![endif]>
my score on the left
The same for our next attraction Voyage of the Little Mermaid.† While walking to Voyage of the Little Mermaid it was raining but not too heavy in the rain. While waiting in the queue we can see it was raining heavy.
I am using a new camera to record this.† A pair of sunglasses that is water resistant.† I learnt afterwards that there is a flap that closes charging port that also records the sound.† So the video is very quiet.† Afterwards I was pretty sure I had Fpís for Muppetvision. I walked by Sci fi to cut across the plaza to Muppetvision, only to be greeted by plywood construction walls. We had to walk by Star Tours to get to Muppetivision. We didnít even need FPís to enter. The CM gave me one that expires the end of Sept even.
Again, sorry for the silent video. Leaving Muppetivsion, we see some of the new plywood construction fences showing what is currently being built.
<![if !vml]>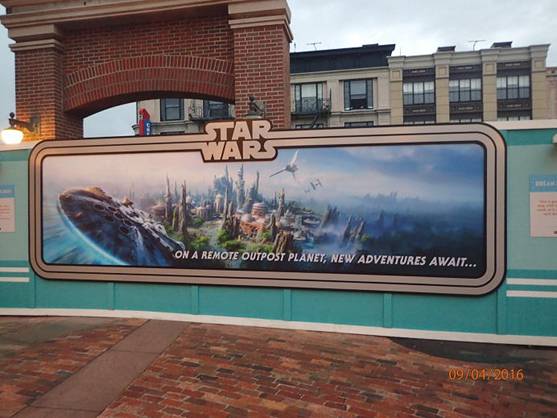 <![endif]>
This was Pizza Planet, now being themed for the Mupppets.
<![if !vml]>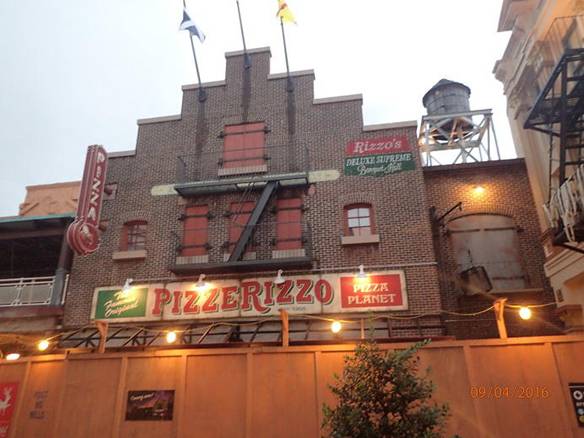 <![endif]>
†it was raining very heavy. we made it as far as ABC Commissary to wait for the rain to slow down. It was a steady rain. My friend was streaming live on Facebook the falling rain by Universal, so I did the same for the Studios.
Having spent time in the stadium where Fantasmic is shown, I donít think they will be doing the show in this rain.† So I stopped by Guest relations. Since I did the Fantasmic Dinner Package at Hollywood and Vine, it says it is good for 5 days from the date of issue. I looked over my schedule and I was due to be back at the studios on Friday, but that is 6 days, I think. So I asked at guest relations. said no problem, stop by guest relations and they will issue me new tickets. So we went back to the resort, got our refillable mugs and went back to the room.
<![if !vml]>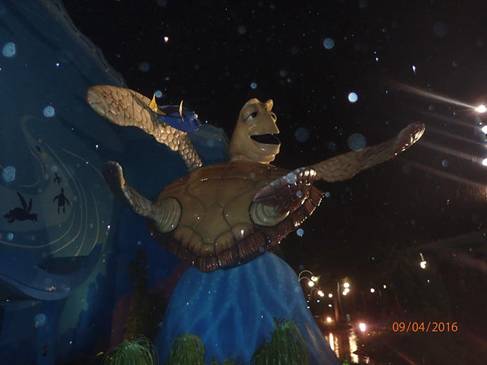 <![endif]>
Crush in front of our resort building, in the rain
<![if !vml]>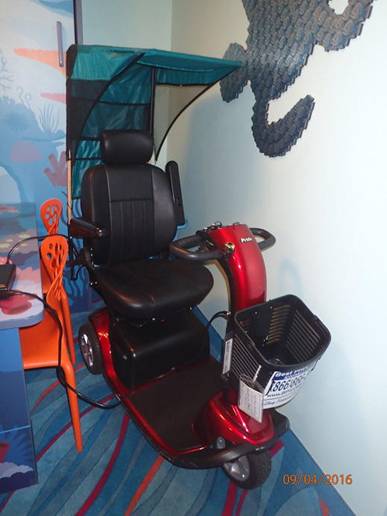 <![endif]>
my scooter being charged overnight
Again, like last year, I gave my mother the master bedroom which has its own walk in shower while I was going to use the sofa bed.
end of day 1