Day seven
September 10, 2016
Shirt of the dayÖÖ
<![if !vml]>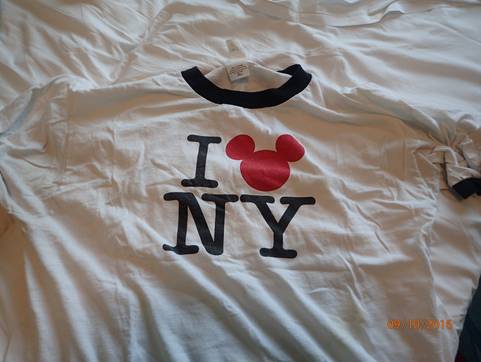 <![endif]>
Whenever I wear the shirt, people comment and ask where they can get it.
Another nice day out.
<![if !vml]>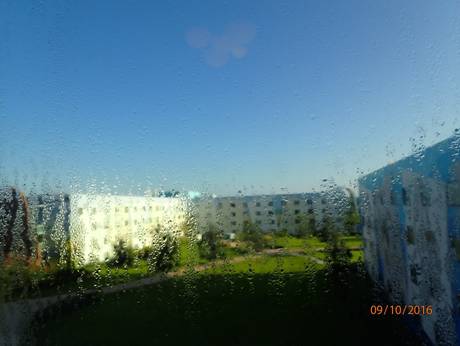 <![endif]>
<![if !vml]>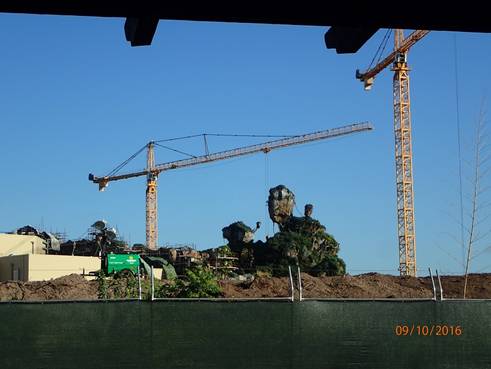 <![endif]>
Construction at Animal Kingdom
We have a breakfast ADR at Boma.† So we are taking a bus from our resort to Animal Kingdom, then transfer to a bus heading to Animal Kingdom Lodge.
Stupid Disney Bus System.† We had problems making it to Animal Kingdom Lodge.† We arrived at Animal Kingdom ok.† The bus station for Animal Kingdom Lodge, where Jambo House is, where Boma is, is station 10.† So a bus pulls in station 10, but doesnít board us.† I ask, arenít you going to the lodge? She goes no, the bus in Station 9 is.† Sure enough, the bus says Jambo HouseÖ. As it pulls away.† I am sure he saw us, but didnít think to ask where we are going.† Truly unmagical.

Another bus pulls into station10.† This bus is also going to Kidani Village, not Jambo House. I talk to the bus driver and he says the bus behind him going to Jambo House.

The third bus pulls into station 10.† They switch drivers.† The new driver doesnít know where he is going yet.† He asks and told he is going to Jambo HouseÖ. Finally.
Still more transportation issues.

i get on the elevator first, i go to hold the door open for my mother to enter, and the door keeps closing, button doesnít work. When i returned to the floor, she was still there. We park the scooters by the elevators and we go in to eat.
We get a decent table, not in the back.† I get the usual items, made to order omelets included.† I always enjoy those.

After Breakfast, we went to Animal Kingdom. First ride I went on was Kali River Rapids.
I am using a camera that is enclosed in a plastic water proof case.† It can be immersed in water, like I did at Typhoon Lagoon.† It deadens the sound a bit, but can take a direct hit of water.† Actually rode it twice.† The first time using my Fast Pass Plus, the second time, I exchanged Magic Bands between my mother and I, and used her Fast Pass Plus selection. i did ask the cm if it was ok.† She said technically no, but they donít ask if the person on their screen is the correct person or not. when i entered the second time, the cm said hi barbara, ny mother's name. I got soaked by a wave the first time. important to note, they donít have the center area for items anymore. they said for safety reasons. they do have lockers, dont know the cost.
My second ride.
after kali, did tough to be a bug, then Kilimanjaro safari.
Had lunch finally at Flame Tree BBQ.† Taking the food to the table was a bit of a challenge.† There was construction to the seating area.† There was barely enough room for a scooter.
<![if !vml]>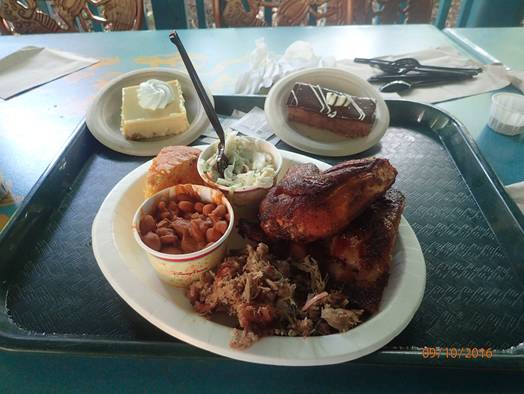 <![endif]>
combo meat meal, ribs, chicken, and pulled pork
the extra dessert is my mothers
I made two trips from the counter to the table.† First was with the food, then the drinks.†† I didnít care about the pork really.
On the wait out of the park.† I was becoming less and less happy about eating at Yak N Yeti.† Especially since we planned to be at Epcot for our last night.† So I stopped by guest services about trying to change my dinner reservations.† They had a opening at Tappen Edo.† I asked if I will be charged for not showing up at Yak N Yeti since it would be just hours till we were supposed to eat there.† The CM said no problem.† So we now will be eating at Tappen Edo, never ate there before.
Once back at the resort, took a dip at the resort pool. I recorded the music you hear in the pool under the water with my underwater camera.† With the sun still out, I entered the pool with my shirt on.†† It was still wet from Kali anyway.† Here is a small clip of the music the camera recorded while immersed in the water.
After a quick dip in the pool, I changed into clothing that was dry, even sneakers. What I was wearing was still soaked from Kali River Rapids. †I wore my spare pair sneakers.† †Second shirt of the day.
<![if !vml]>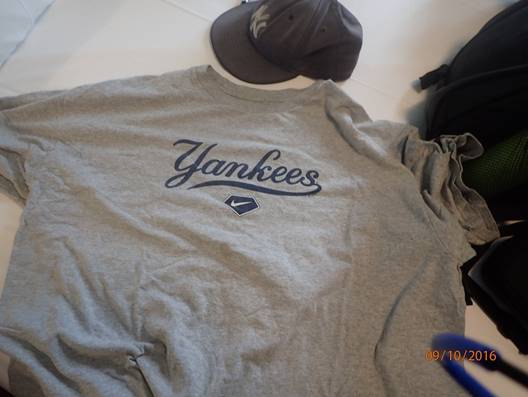 <![endif]>
Years ago, I booked Tappen Edo by accident.† There are two restaurants here in the Japan Pavilion, Tappen Edo and Tokyo Dining.† Tappen Edo is communal dining.† And the food is prepared right in front of you.† Tokyo Dining is traditional waiter served food.† I wanted Tokyo Dining, but booked Tappen Edo.† I was able to change it years ago the last minute.
We checked in downstairs, they gave us this buzzer, and as soon as we arrived upstairs, it went off.† They gathered our group of diners together and brought us to the table with the chief would be.† They took our orders.† The chef came out, confirmed our orders and started to do his show for us.† The first thing they do was give us our salad.
<![if !vml]>
<![endif]>
Part of the show is the chef builds a volcano out of onions on the grill.† Then pours water in the middle and we see steam coming out.† I was able to get this photo before he chopped the onions.
<![if !vml]>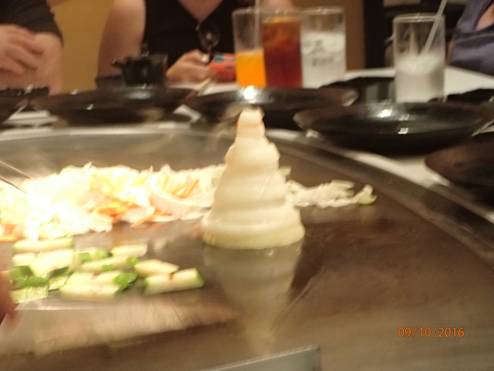 <![endif]>
The Chef wears his knife like a gun.. in a holster.
<![if !vml]>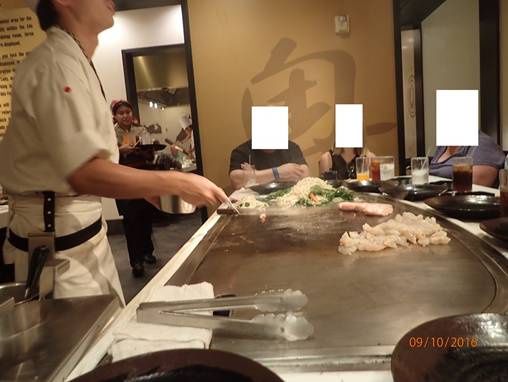 <![endif]>
They served us some rice and veggies before the main meal.
<![if !vml]>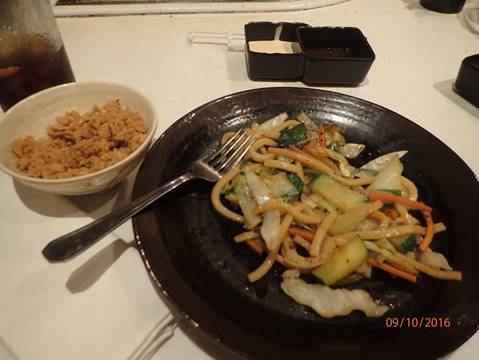 <![endif]>
Some people ordered their steaks rare, that is just about how much they cooked the meat.
<![if !vml]>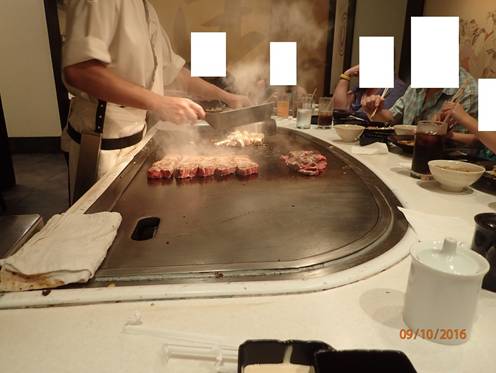 <![endif]>
I had the teriyaki beef for my main course.
<![if !vml]>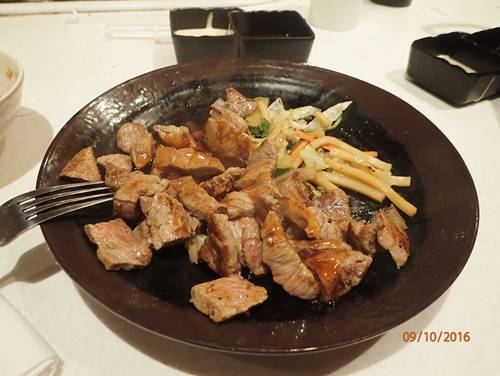 <![endif]>
sorry.. no photo of my desert, forgot what I had too.
I enjoyed it.† But I like Coral Reef and Le Cellier better.†† I usually donít have three meals at Epcot.† Will see in the future whether I will eat here again or not.
After eating we went to the Handicap reserved section to watch Illuminations.† First we watch the Star Wars Fireworks show from the studios again.
†
Then Illuminations again.

After Illuminations ended, we just went back to the resort.