Day two
September 5, 2016
Today is Epcot day, having dinner at Coral Reef, so that means one thing.. my shirt of the day is……
<![if !vml]>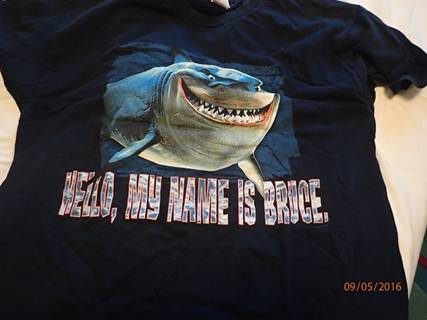 <![endif]>
So far only once has a CM gotten it and said Hi Bruce to me.  This shirt was from my niece.  She was there and saw the shirt and bought it for me.  When I was there previous to her, I couldn't find the shirt in my size.
Judging by the moisture on the window.. looks very humid outside.
<![if !vml]>
<![endif]>
One thing my mother likes about staying at Art of Animation is their food court where they have a create your own omelet station.  I have the standard 'Big Bounty Breakfast'. 
<![if !vml]>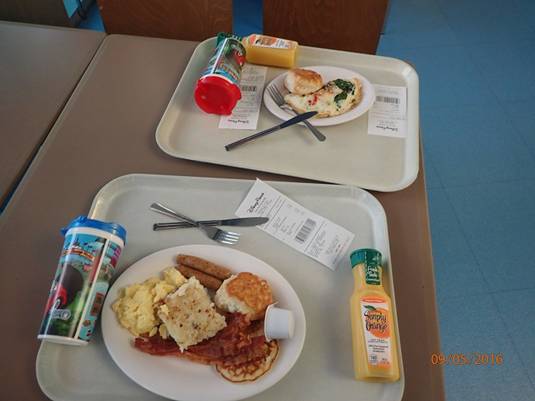 <![endif]>
Something new this year, instead of home fries, they have a potato pudding.
After having breakfast at the food court here at Art of Animation, heading to Epcot.
<![if !vml]>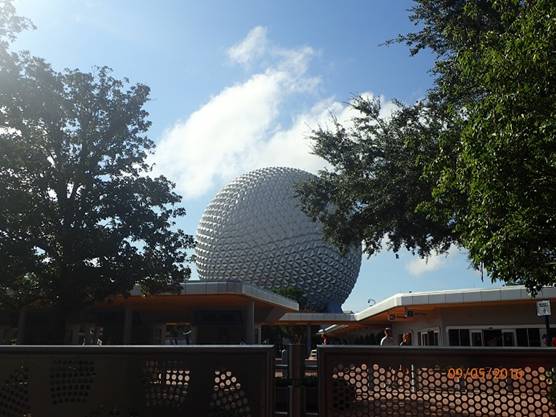 <![endif]>
Spaceship Earth, my favorite thing to photograph at Epcot
I had a little problem at the bag check.  Not with security, but with my mother.  I couldn't find her.  And the lines to enter was just crazy.  I finally called her on the cell phone, she already entered Epcot.  I kind of cut a line, which I would have been on if I wasn't looking for my mother.  I make it inside.  First job is to get my DAS added to my Magic Band.  I go to guest services.  They simply ask me when was the last time I used it.  I told them last July which was the truth.  They took my photo, added my mothers Magic Band (after I had to look for her again) and we were on our way for our first attraction.
We went on Mission Space
, then headed across the plaza to the Land to get a GAC return time for Soarin.
After securing a return time for Soarin, we had a snack in Sunshine Seasons, then headed out to ride Journey into your Imagination with Figment.
What is wrong with this picture??
<![if !vml]>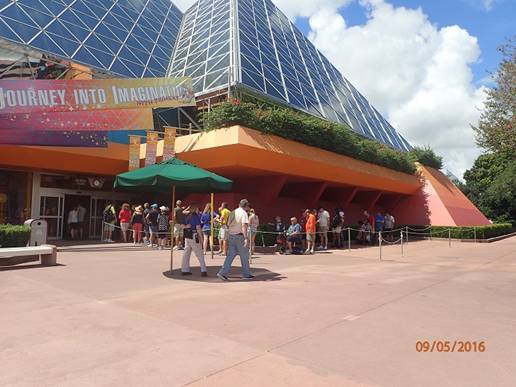 <![endif]>
Journey into your Imagination with Figment… with a line out the door.  Kidding around with the CM by the door, I ask where is the ride? She goes right here.. I go.. never seen a line here.  I guess I forgot that today is Labor Day.  All the locals must be in Epcot today.  Since I have a Fast Pass for it, we go to the head of the line anyway.
After riding Jiyiwf, we go back and ride Soarin.  For the second time ever since I started to wear the Finding Nemo shirt, has a photo of Bruce the Shark and it says "Hello, my name is Bruce".  The CM manning the Fast Pass entrance sees my name on her screen, sees my shirt….she got it, and laughed.  The preshow with Patrick is the same,  The movie itself is different.  The music is the same.. but it sounds different.  The ending this time is you wind up at Epcot.  The old film you end up at Disneyland.  I guess its more appropriate for Soarin around the World.
We go for lunch at Katura Gril in Japan.
 My mother is noticing power problems on her scooter.  It is dropping down.  Mine is still showing full power.  Once in Japan, we look for a power outlet to charge both scooters while we eat.  We stop a CM and he directs us to a outlet.  He seemed to be passing through the area.
I get a meal to share with my mother.  Chicken and Shrimp teriyaki.  I also get two waters.
We went to American Adventure, but the next show is too long to wait.  So I figure to go get a DAS for Frozen ever After
<![if !vml]>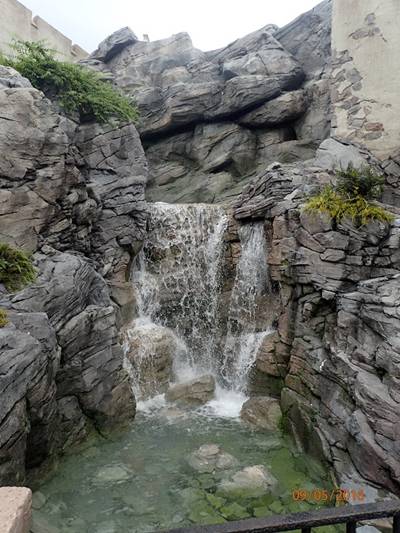 <![endif]>
remember there used to be a opening here from the ride?
Before we entered Mexico,  My mother had a little accident with the scooter.  She scrapped her leg so we went to first aid by the old Odyssey Restaurant.  While inside, it poured.
After the rain was slowing down, my mother was feeling better, we went back to Mexico and ride the Gran Fiesta Tour.
We went back to ride Frozen Ever After with my DAS return time.  Problem recording it, battery died towards the end.  I didn't think the battery would die that fast. I will go back later in the week and see it again, record it again.
We made our way to do Spaceship Earth.  They didn't use our face photos, big surprise, so I didn't bother looking for the post ride video to send to myself via email.  I recorded it anyway.
They took us early at Coral Reef.  They first tried to sit us about ¾ away from the tank.  My mother spoke up and sat us right by the tank.  It didn't seem that busy to sit us that far away.
<![if !vml]>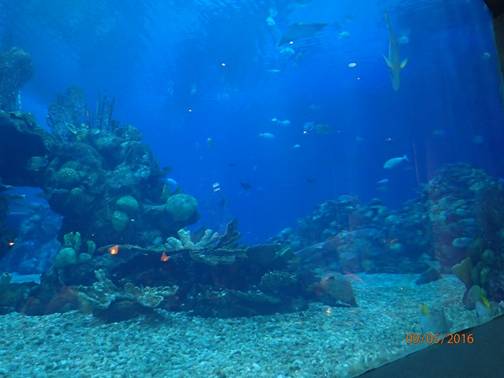 <![endif]>
the view from my table
<![if !vml]>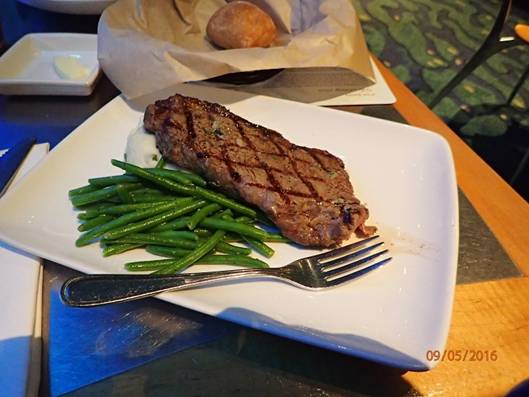 <![endif]>
I had my usual steak here.
after dinner at coral reef, I headed back to the room. It was raining lightly. After dropping my mother off in the room. I went to Disney Springs, aka Downtown Disney.
When I got off the bus, I didn't recognize anything till I saw Planet Hollywood, but still didn't recognize much. I wanted to go to Disneyquest. When I went there two years ago, I had a fun time. Spent about 1/2 hour there before heading back to my resort.
Well, I had to ask several times before starting to recognize things and find my way to DQ. As I am checking in, the CM is telling people they are closing in 12 minutes, the time.. . I didn't bother to enter. But I did swipe my Magic Band so it looks like I entered.  The second thing I wanted to do was do some shopping at Art of Disney, World of Disney, and the Toy store. So I started to walk a familiar route.
I stop in to the Marvel and Star Wars stores, but nothing interested me.
I pass by familiar places like T-Rex,
<![if !vml]>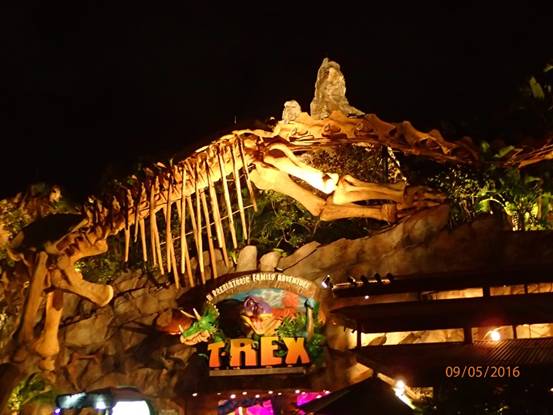 <![endif]>
new places like Paradiso 37 (don't remember seeing that before).
In the distance I see Rainforest Café blowing flames into the sky, don't remember that before.
<![if !vml]>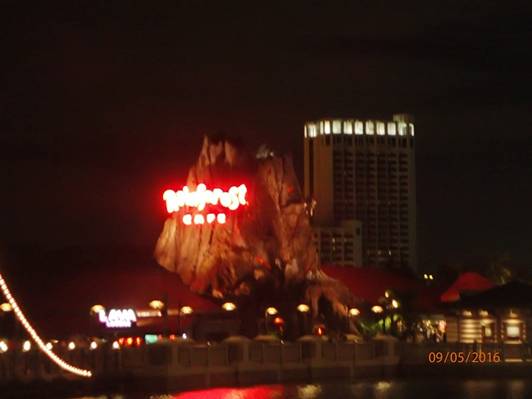 <![endif]>
missed it
<![if !vml]>
<![endif]>
got it
Had my first Mickey Bar
<![if !vml]>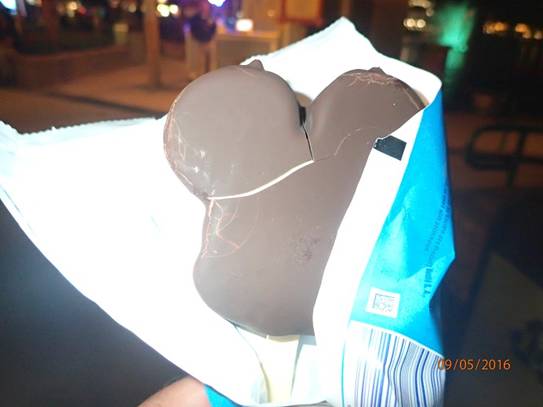 <![endif]>
 I check out World of Disney quickly, Toy place even faster. I find the Art of Disney and find nothing interesting. I know there is a bus station near that so I head to that, only to find its closed. The new bus station is called Center Square or something. I find a path and ask how to find the bus station. I start getting a very long winded description of where to go, and start to go. I do ask a couple of more times and find the entrance to Disney Springs to the bus stations. I ask for the Bus station for Art of Animation. I am told its 29. Guess how many bus stations there are.... 29. Yep, the last one. I make a joke to the waiting guests.. I thought A is the first letter, not the last.
Back at my resort, I see a sign describing how the bus system now works for the water parks.  Need to remember this for later in the week.  We plan to go to Typhoon Lagoon.
<![if !vml]>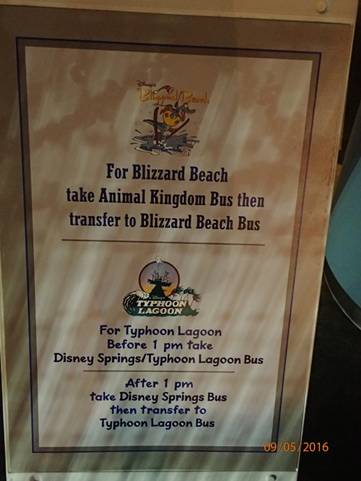 <![endif]>
I head back to the room, backup all the videos and photos I took today to a external portable drive. The photos I back up to three different clouds, including a personal cloud storage on my home network.
Sleep time. Tomorrow I introduce my mother to Tonga Toast while I have steak and eggs <![if !vml]>

<![endif]>