Ooctober 1, 2017 Monday
Day 1
I find myself to the check in counter and my room is ready.  I am by the football field.  I walk my luggage over, and its always a happy sign that my Magic Band opens the door.
I paid for a preferred room, which means close to the main hall.  I wouldn't call this close, but I guess Disney does.  I do look up online what rooms are preferred, and this is.  The light bulb in the bathroom, one nearest the tub keeps flickering off and on.  Will need to call up about this later.
I head to luggage services and go for my scooter.  I am looking for a Best Price scooter with a canopy, then find my name.  I cant.  I ask for help, they find my name on a scooter without a canopy.  I call up Best Price and it should have one.   I make plans to have their rep call me while having dinner at Coral Reef.
I change from my traveling shirt to my Coral Reef dining shirt.
<![if !vml]>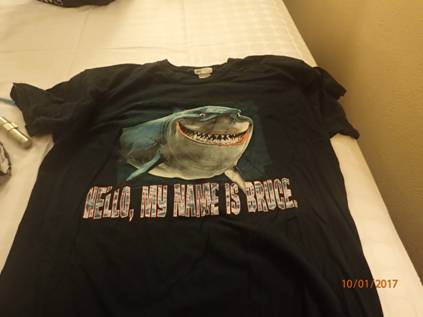 <![endif]>
I head to the bus station for Epcot and confused where the scooter line is.  The bus comes in and points to the area that had a sign for Blizard Beach.  There are also people already on the bus.  And since it is mid day, we stop off at the other two All – Star resorts before heading to Epcot.
Things for this trip start to look up.  One of my dining choices, Coral Reef, which I have been eating at for every trip, even twice the same trip, I wasn't sure tradition was to continue.  But with few choices left where to eat, I decided to keep the adr.  See, I always get the NY Strip Steak here, but the online menus no longer show this as a option.  But once seated at the table, it was listed.  I ask about this.  I was told they had a two week test, they had substituted another meat option for the NY Strip, that the two week test period was over and they serve the NY Strip again
<![if !vml]>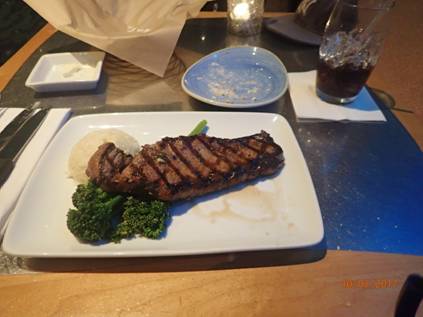 <![endif]>
For dessert I ordered the usual molten lava cake.  For being the 35th anniversary, they also included a white piece chocolate that said Epcot 35 on it.
<![if !vml]>
<![endif]>
<![if !vml]>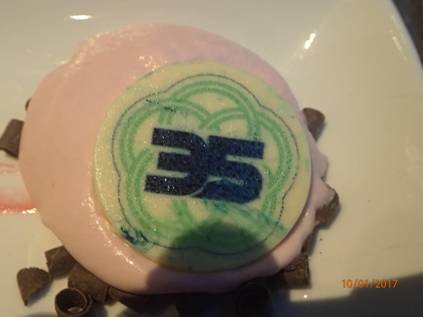 <![endif]>
Since I am on the dining plan, I still get a regular bill.  Here is a copy of it.
<![if !vml]>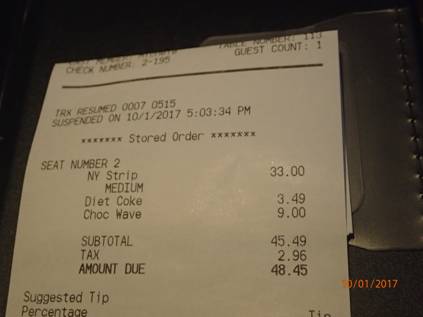 <![endif]>
After eating, I went to my scooter, which now has a canopy on it, the key does work, but the led lights are still broken, I don't mind.
I met my friend from pervious trips, Virginia.  She surprised me with a gift, she stood on the merchandise lines and bought me two t-shirts.  One saying I was here on the 35th anniversary day and a different version of one I already have… Stand clear of my vacation.  Same saying, different design.
We rode Spaceship Earth.  We entered through the exit area for wheelchair party and their guests.  The wait was longer then usual.  The ride was down for a bit.  We decided to wait.  Other guests started to board, we went up to the CM, to see if they forgot about us.  They didn't, and soon after, we were boarding the ride.
And yes.. I wore my NY Yankee cap… and yes, they electronically erased it, with most of my face…. As usual.  I gave up complaining.  Didn't even bother to look for the post ride video to share.  I did record it using my own camera.
After that we went to Guest Services to see if she can still book a seat for the dessert party, but no availability.
We rode Soarin together using my DAS pass, which they added her Magic Band to my account.  Then we parted ways till we will meet again till Not So Scary in a couple of days.
I head towards World Showcase to check into the Frozen Ever After Dessert Party.  I look for the dessert party.  I go to the trading posts and make a left to head towards Mexico.  Since its Food and Wine, plus Epcots 35th, it is very crowded and less space since they have the Food and Wine kiosks. 
I stop one worker, he first sends me towards Norway.  Another worker sends me back towards Mexico.  He then finds me, and sends me towards a building past Canada.  I go.. the old Millennium building, he goes yes.  So I head towards Canada, dodging guests.
Just to be sure, I see two people overlooking things, and ask them.  They look at me and say they are police.. not Disney Workers.  Oh well.  I keep going towards Canada
I find the building and there is no line to get in.  I am one of the very last people to enter.  They check my name off, place a band on wrist and show me to my table.  There is one chair with no one sitting there, but there is a 3d viewer glasses there.  I ask the person, anyone sitting there? No, everyone is getting the 3d glasses.  I get some cupcakes, assorted cookies, and some popcorn stirred in liquid nitrogen which freezes them.  They all have Frozen themes, including the popcorn.
<![if !vml]>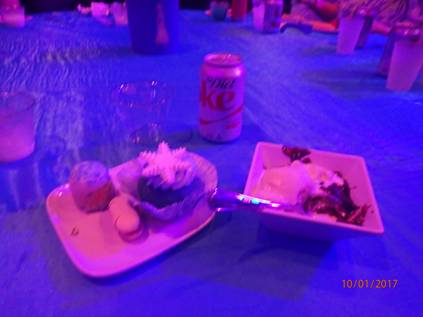 <![endif]>
<![if !vml]>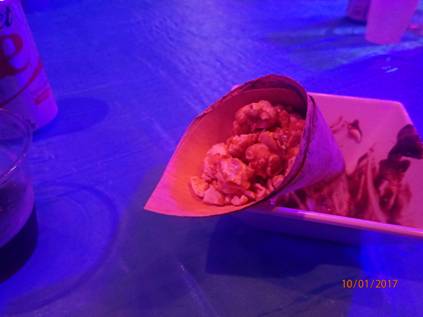 <![endif]>
One nice thing they have that they didn't have from the Illuminations Sparkling Dessert Party, they have cans of soda.  On the bad side, any alcohol is being served by a single line and there is a tips glass.  Very turned off by this.  I did enjoy some.. not sure what it was.. but hot chocolate mush with ice cream on top.
There was still time to have more desserts.  I took two cans of soda and headed to the viewing area.
Here is the video of Illuminations with the 35th Anniversary tag.
I also did a live Facebook broadcast of the show.  But due to copywrite concerns, FB wont allow people to view it after the initial broadcast.  With software, I captured the video on my laptop, including the comments people were making to me while doing the broadcast.  The balloon alerts happened while I was capturing the video.  Here is the FB video broadcast.
Once that was over, we waited for the crowds to thin out before we headed to Norway to ride Frozen.  They took photos of us while on the ride.
<![if !vml]>
<![endif]>
And here is the video of the ride itself. 
After the ride, the park was almost empty.  Went to the park entrance and looked for the bus station for All Star Sports.  Kept wanting to go to Pop bus station, but not staying there L
End of day 1