October 2, 2017
Monday
Day 2
I wake up, wear my nathans hot dog champion t-shirt, my shirt of the day.
<![if !vml]>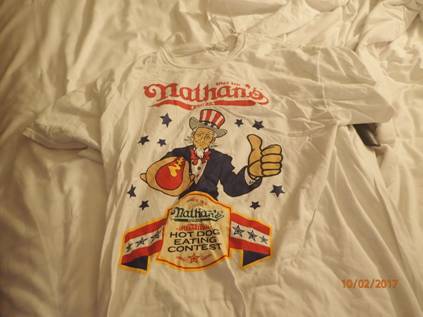 <![endif]>
I add this Coney Island pennant to the back of my scooter.† Two interesting stories about the Nathans Shirt.† Wearing to Le Cellier one time, the manager asked if I was a contestant. I told them no.† She said, I should say yes, because it would impress people.
I wore this to watch illuminations once.† During the show, I felt things landing on me.† When I got back to the resort, I found brown scorch marks from where small pieces of flaming were landing on me.
<![if !vml]>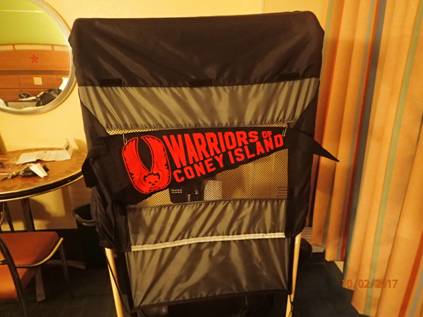 <![endif]>
The way I start my mornings before leaving the room for breakfastÖÖ
<![if !vml]>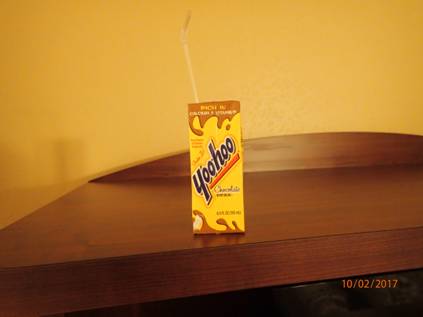 <![endif]>
Here is a video of me leaving my room, heading to the bus station at the resort.
I have a breakfast ADR at the Crystal Palace in the Magic Kingdom, Here is a video of me entering the Magic Kingdom, scooting up to the Crystal Palace
<![if !vml]>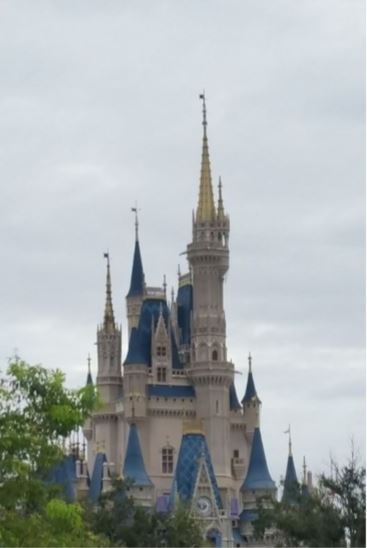 <![endif]>
Obligatory photo of Cindyís Castle
A short wait on the porch and I am shown inside.† I eat here mainly for the made to order cheese omelets, not so much for the characters.
The server sees my shirt and asks if I won.† I tell him I came in third.† No one remembers who came in third J
Only interesting is there is a protein spill. Which they clean up.† They delay the usual character march through the restaurant till they finish the cleanup.
And the price of the meal isÖ..
<![if !vml]>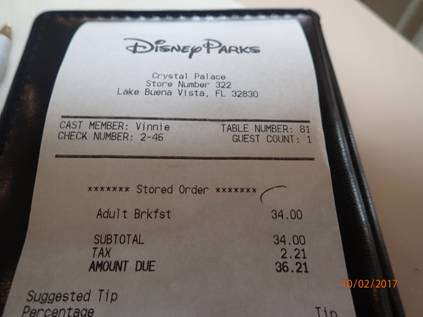 <![endif]>
While riding around in the park, I go see Enchanted Tiki Room.† I usually keep the scooter just outside the attraction, this time, I have it just inside.
Tiki room video preshow
And here is the full show
Next up is Pirates of the Caribbean.† I park the scooter by the exit and walk down the inside queue to go on the ride.
Next.. Winnie the Pooh
I stop by Story Book Treats, looking for milkshakes, but its no longer on the menu.
<![if !vml]>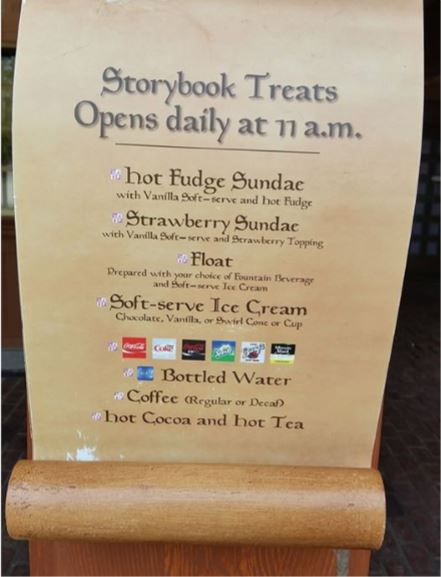 <![endif]>
I take a photo of shaking my fist where the 20,000 Leagues Lagoon used to be.. and recite.. Darn youÖ Darn you all to heck.† Disneyfying Charlton Heston ending quote from the original Planet of the Apes movie.
<![if !vml]>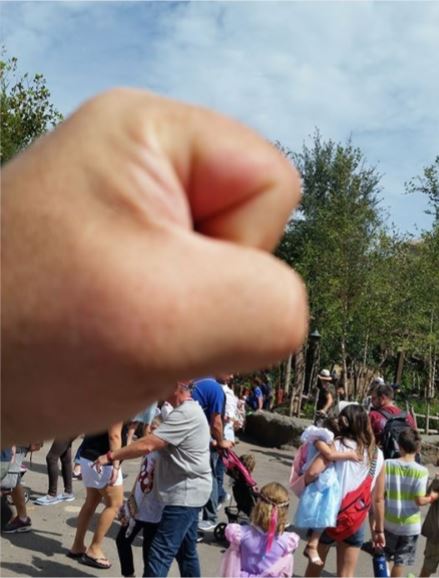 <![endif]>
I go on the little mermaid ride.
I go on Jungle Cruise next.
I leave the Magic Kingdom to park hop to the Studios for a late lunch At Hollywood and Vine which also includes Fantasmic passes.
Here is a video of me leaving the Magic Kingdom
Usually I can check in early at Hollywood and Vine, but not this time.† When I go to check in, they say they cant check me in till 20 minutes before my scheduled time.† They are fully booked and crowded. So I walk around trying to waste time.
One new thing, they have imperial soldiers from Star Wars walking up and down Hollywood Studios main street, which I broadcast live.† People do stop and watch this going on.† Here they are marching up Hollywood Blvd.
Here they are leaving.
I see the lake in the center of the park drained.† Unusal as I donít know any construction going on in this section.
<![if !vml]>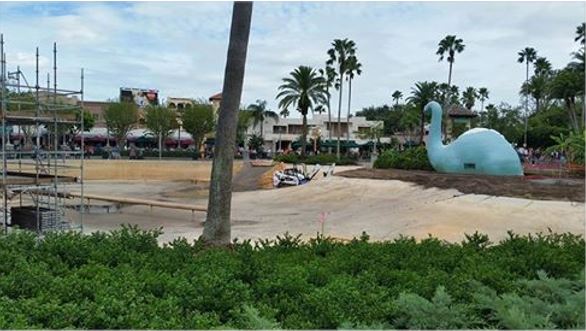 <![endif]>
I waste enough time so I can check into H&V.† I get seated after a short wait.† Inside they have what is known as the Fab 5, Mickey, Minnie, Daisy, Donald, and Goofy.† Some of the character stop by my table to say hello.† I donít bother taking photos with them.
Fantasmic pass
<![if !vml]>
<![endif]>
And the cost of the meal, if paying out of pocket?
<![if !vml]>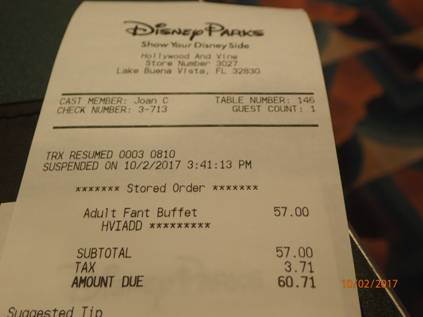 <![endif]>
The food was good here, but I stop before I feel I ate too much.
I head to ride Toy Story after eating.
<![if !vml]>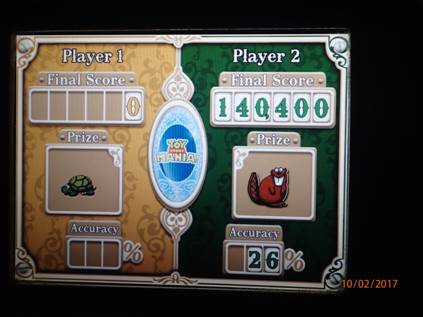 <![endif]>
I go watch Muppetivsion 3d next.† Preshow is different from what I remember, no evil Kermit.† They still have the same 3 Dís with Max replacing one of them.
I head over to Fantasmic Theater next.† Too early so I ride around, looking for things to do.† I go back and wait till they open the theater.† I leave my scooter all the way in the back and head down to the first bench by the water.† I never sat this close.† Figure I would get a little wet. So I use set up my water proof cameras and place my smartphone in a waterproof plastic case to broadcast live the show.
I am nervous about being asked to move.† I am not sure if the bench is reserved or not.† When I was shown where to sit, I was allowed to sit here by the CM who showed me to my seat, a little hesitant.
While waiting for the show to start, I see another guest using a selfie stick.† Disney Security doesnít allow people into the parks with Selfie Sticks.† I wonder how security missed it?
I also see people with meals being seated near me.† I guess this is another one of those deals, buy a certain type of meal, get preferred seating for Fantasmic.†
The show starts and I do get sprissed when they generate the water screens to project things on.† Several times I use my finger to whip the camera lenses clean from water.
Here is the video captured with my 4k video camera.
And here is† the video from Facebook Live I used to broadcast the show.
After the show I sit and wait for a long period of time before I even attempt to leave the park.
I make it to the bus stop faster then usual because I waited for a long time to use my scooter to leave the park.†
I am the second wheelchair party at the bus station.† The bus pulls in and he starts to load guests.† They are supposed to load the wheelchair parties first, then other guests.† The first wheelchair party goes to the bus driver to say.. hey.. what about us.† He says he didnít see us, but keeps loading other guests.† He should have stopped loading guests and loaded us.†
To make matters worst, while waiting for the second bus.† Another guest lights up a cigarette with people around her.† You first start smelling the smoke, but cant spot who is doing it.† A wheelchair party behind me also smells it, and points out the woman who is smoking.† When you ride a Disney bus, you are told you can only smoke in designated smoking areas, the lines by the buses arenít.† I yell at her.† She walks a couple of feet away and hides the fact she is smoking.† There is never Disney security around.
The other party went back to the resort and complained.†† They got extra Fast passes to use.† I was going to go with them with to guest services, but I didnít see them.† Went into the food court.
I get a message from Facebook that due to copyright music issues, they wont allow me to share the Fantasmic footage on Facebook.† I have software loaded on my laptop that allows me to save any video I watch.† So while I cant share the video online, I can view it myself, so I watch it, saving the video before going to bed.
Let me mention this.† For this trip I take a Amazon Dot and Amazon Fire Stick with me.† Like I did on the train, I have both devices connected to a portable router which is connected to Disney Resortís free Wi-Fi service.† Back in Brooklyn I have connected to my cable box, a Sling Box.† It takes the audio video signal and broadcasts it over the internet to a app on the Amazon Fire Stick.† Except for the occasional freeze frame, it feels just like I am at home watching TV.
This is just partially of what I charge nightly.
<![if !vml]>
<![endif]>
What† you see charging is two spare cell phone batteries, 10 amp portable USB battery being charged.† My portable router being charged.† My smartwatch being charged.† And of course my laptop power pack.† Not only do I have a power strip, but power extension cables so power packs like the battery pack charger doesnít interfere with other power outlets.