October 4, 2017
Wednesday
Day 4
This morning I sleep in.  I am going to a water park, Typhoon Lagoon, which opens around 10, so no rush.  Nothing like getting battered in a wave pool after being up most of the night.
<![if !vml]>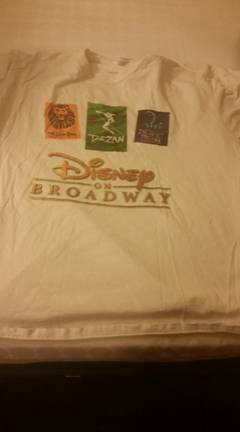 <![endif]>
first shirt of the day
I go have breakfast in the resorts food court.  I do find they have real steak with eggs for breakfast here.  I ask for it, told to come back in 10 minutes, I come back in 3, its ready.  Most likely reheated a cooked piece.  It was ok.
<![if !vml]>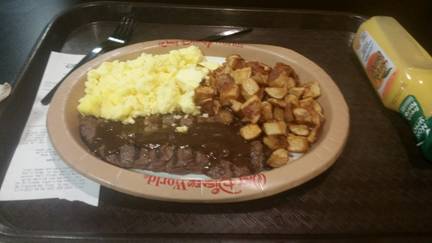 <![endif]>
There is no direct bus service from Disney resorts to the water parks.  You need to take a bus from the resort to Disney Springs.  Then a bus to Typhoon Lagoon.
Entering Typhoon Lagoon, they must be doing a commercial or such as they some sort of sign saying that, with people high 5'ing you as you enter.
I rent a locker.
<![if !vml]>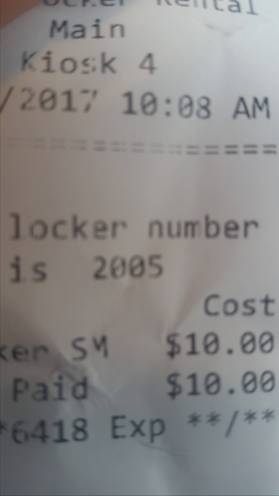 <![endif]>
I head to the wave pool
<![if !vml]>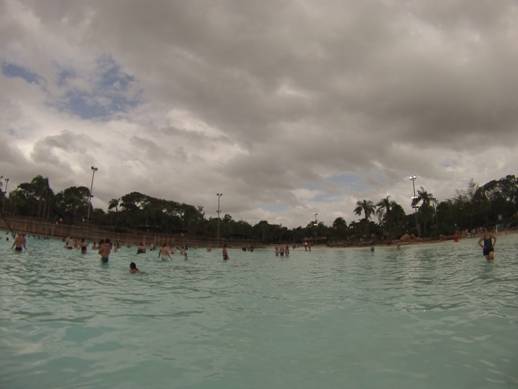 <![endif]>
 and enjoy being battered by wave after wave.  I try to sit down for one wave, but it knocks me around, scrapping my knee.  At first I thought I was ok, then its starts to bleed. So I head to first aid to get it taken care of.
<![if !vml]>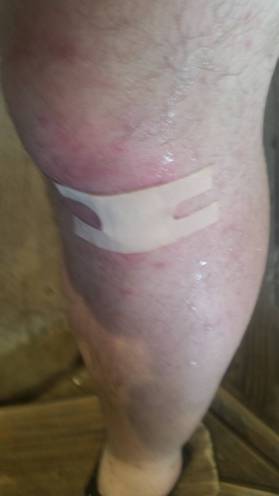 <![endif]>
I get a bandage, have to wait about 10 minutes before going back into the water so the band aid will stay on in the water.
Here is the video of me at the wave pool.. or more like watching the waves hitting me.. including the one that hurt me,
I got some fried donuts as a snack option
<![if !vml]>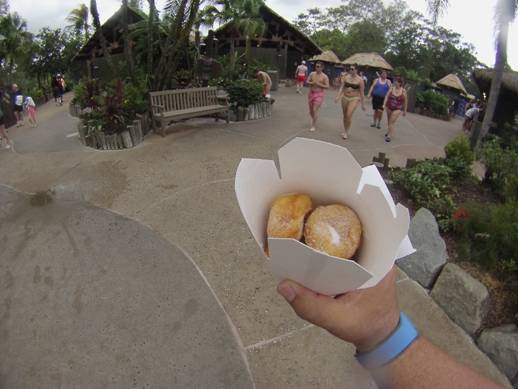 <![endif]>
I leave about to get back to my resort, change clothes, get my scooter and have lunch at Flame Tree BBQ.
Before  leaving I have Dippy Dots as a snack option.
<![if !vml]>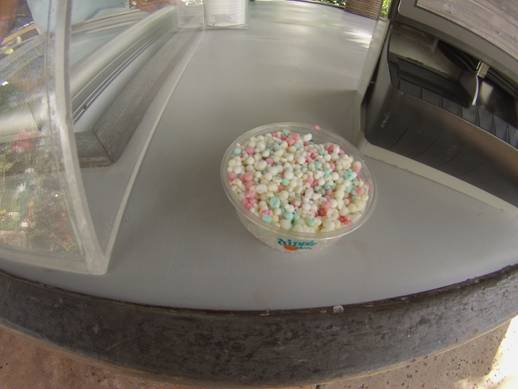 <![endif]>
Back at my resort, I change my clothes, then head to Disney's Animal Kingdom for lunch at Flame Tree BBQ.
<![if !vml]>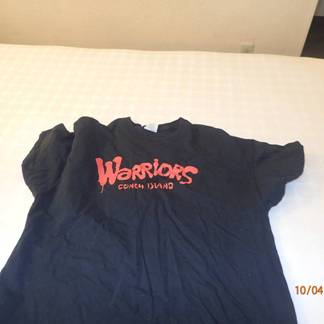 <![endif]>
, I am having a late lunch at Flame Tree BBQ, chicken and ribs.  Its always a project eating here.  First trying to find a table, park my scooter by it.  Order my food, and take my food to the table while not spilling soda all over my hand while walking.  Also getting utensils without birds grabbing my food.
<![if !vml]>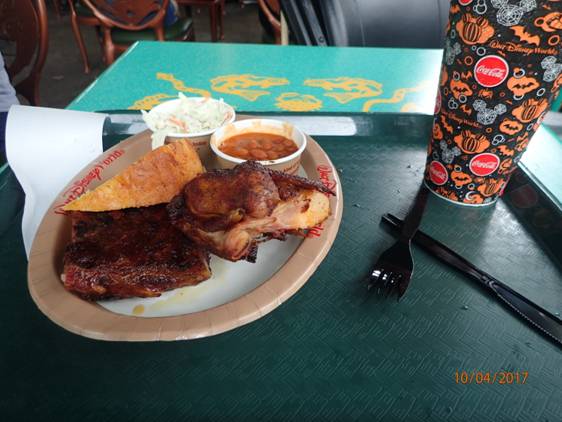 <![endif]>
Its raining while eating my food, so I eat slower
Almost had a coronary.  First let me state what happened years ago.  While waiting to watch Fantasmic, my phone went off, wouldn't power on.  I was connected to a large 12 volt battery with a USB charger.  It showed it being charged, so it couldn't be that.  Well I sat through the whole Fantasmic think I had a broken smartphone.  After Fantasmic was over, I used a different USB charger and the phone showed life, it wasn't broken, just the 12 volt battery I was using was to weak to do anthing but show the phone was charging, but it wasn't.
While eating the phone started to reboot constantly.  The battery was low, but I didn't think that could be the issue.  Well, I have several spare batteries for my smartphone. I took apart my smartphone, swapped the battery and the phone worked good.  The battery died badly.  After my phone powered up, and stayed on, I felt relieved.
I headed to Kali River Rapids.  When I got there, they were putting ropes up closing the ride, it was down.  Sure enough I get a email on my phone telling me about the ride being down, that I can choose just about any other ride to use my Fast Pass Plus instead of riding Kali.  The only ride I couldn't do was the new Pandora ride, Flight of Passage or something.  I decide to wait.  They reopened the ride in a couple of minutes.  Its raining again, but I am going on a ride that gets you wet, so whats the big deal?  Well while on the ride.. it started to rain heavy, oh well.
Video of Kali
I tool around the park, find my way to the new section, Avatarland/Pandora.
Video of tooling around the park set to music
 The main new ride is Flight of Passage has a wait time of 150 minutes.  Also a sign saying there is no bathroom between this point and going on the ride.  I find the minor ride, Naval river Ride.  Get a GAC (or DAS, cant remember which it is now) for the ride.  I tool around till I head back to ride it.  I park my scooter and enter the FP entrance.  Big mistake here, I use a camera for the first time in a dark ride. I don't like the results.  Oh well.  Also the sound is muffled from being in the waterproof case.  I can fix this post production hopefully.
Here is the video of the ride…
I then go on Its Tough to be a bug. I leave Disney's Animal Kingdom to have dinner at Boma.  I wont ride the safari ride, but its ok, not going to sour my vacation if I miss it.
Boma is mostly empty, including the waiting area,  but I am still seated all the way in the back.  I spoke up to my server.  He says hold on, and a minute later I am moved closer to the buffet. With a different waiter.  They rotate new guests to different servers.  I feel bad for the first server I had, but I don't like sitting in the back.
Now I don't know about buffet waiting line etiquette.  You pick up your plate and first stop by the cutting board person, then pick up other items.  The other item areas were empty, yet there are 8 people in front of you for the cutting board area.  I don't know if bad etiquette or not, but I jump the line and get other food items.
<![if !vml]>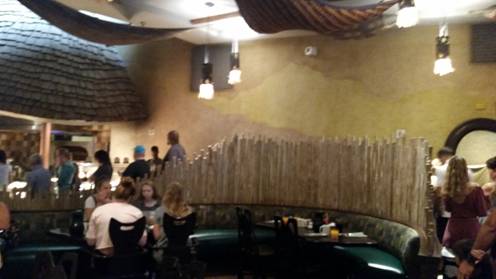 <![endif]>
I do go to the carving station so many times, the carver sees me, and just cuts me a piece or two of meat for my plate without asking what I want.
After eating, I see the Magic Kingdom is open till .  Should I ?  Oh heck,. Sleep on the train and I head to the Magic Kingdom.
When I get to the Magic Kingdom, I know I am close to fireworks time, so I look to find a location that I can watch the shows.  I wind up on a new(er) path between Tomorrowland and The Plaza Restaurant which has no obstructions between me and the castle.  First up is the new Fireworks show, Happily Ever After.
Video of Happily Ever After
The Facebook broadcast of Happily Ever After
some show I am not familiar with,  Broadcast it live.
Once Upon a Time castle Projection show video
The Once upon a time Facebook live broadcast
I then went to do some rides I haven't done yet, Country Bear Jamboree
Video of Country Bear Jamboree
, It's a Small world
, Peter Pans Flight
, Mickeys Philharmagic, and Winnie the Pooh again.
Slight problem with Winnie the Pooh, they close the Fast Pass line and I had to enter the normal queue ride.  With the wheelchair option not available, cant wheel myself, I had to stand for the queue.
Winnie the pooh video
And I ended my night riding Buzz Lightyear.
<![if !vml]>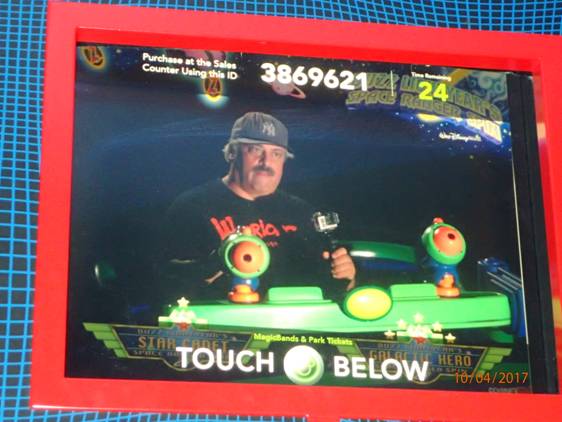 <![endif]>
<![if !vml]>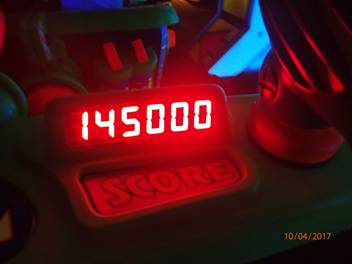 <![endif]>
I called it a night and headed back to my resort.  I was at the bus stop around .  I got back to the resort about .  Another late night.  Yes… sleep on the train ride home in a couple of days.