October 5, 2017
Thursday
Day 5
<![if !vml]>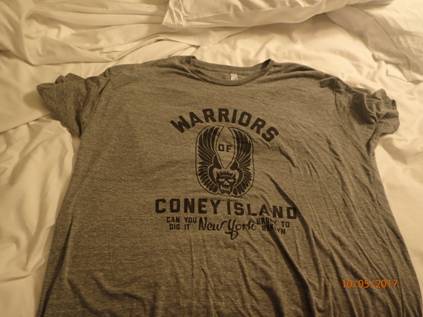 <![endif]>
Shirt of the day
This morning I have a breakfast adr at Trails End.  While I have eaten there before for dinner, this is the first time eating breakfast there.  After  breakfast, plan to spend half the day at the Magic Kingdom, then park hop over to Epcot.
No hot water in my room this morning.  Just warm.  Never had that happen before.
Since I cant go from resort to resort, I cant take a bus from All Star Sports to Fort Wilderness where Trails End is located.  I take the bus to the Magic Kingdom and then the boat to Fort Wilderness.
At the bus station at All-Star Sports, a CM on portable PA systems starts going….. Warriors.. come out and play a ya, just like in the movie.
Its raining.  Not a quick then sunshine rain, but a constant rain.  Story of my trip so far.
The Magic Kingdom had evening Extra Magic Hours last night and early morning hours today.  I couldn't get up to do anything, so I just went to the resort to have breakfast.
The bus was no incident.  I was out on the front part of the boat taking live video of the boat ride.
Video of the boat ride from Magic Kingdom to Fort Wilderness. This is the Facebook live broadvcast.
  Sad to say when I got back inside a woman traveler was on the floor of the boat.  She had a seizure of some sort.  At the dock medical technicians were rushing inside.  I don't know any more about what happened.
<![if !vml]>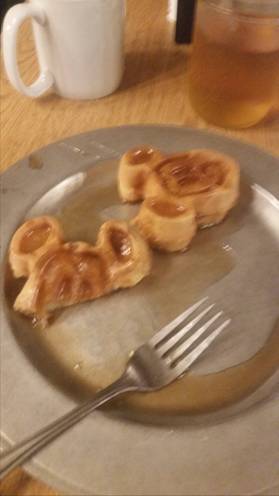 <![endif]>
obligatory mickey waffles photo
Breakfast was ok, nothing to write home about, nothing unique or special. After eating, I head to Magic Kingdom.
I ride Carousel of Progress, Buzz Lightyear again,
<![if !vml]>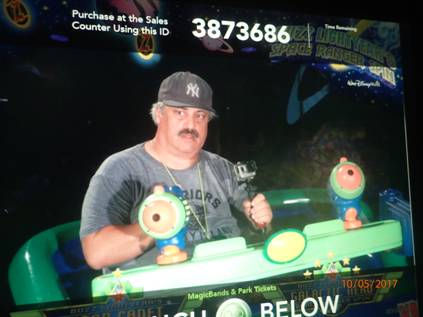 <![endif]>
<![if !vml]>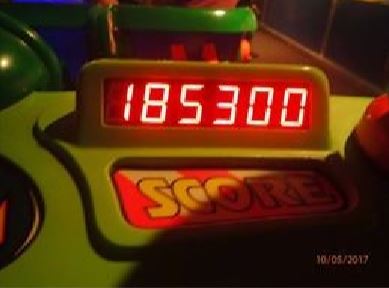 <![endif]>
video of ride
 then park hop to Epcot via monorail.
I have lunch in the Land at Sunshine Seasons food court.
<![if !vml]>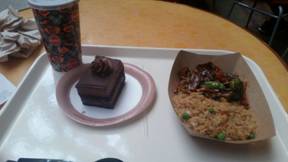 <![endif]>
The cake was good.. not so much the Chinese food.  Like the knight says in Indiana Jones and the Last Crusade.. I chose poorly.
Run into Red Sox Nation, yells go sox when he sees my NY Yankee hat.  Didn't even know who Bucky Dent is.
I ride Soarin, Mission Space.
Mission Space video
I have a early dinner at Le Cellier.
<![if !vml]>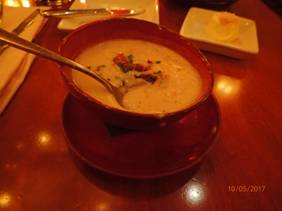 <![endif]>
start off with Chedder Cheese Soup
<![if !vml]>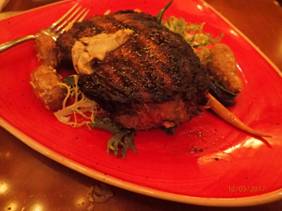 <![endif]>
rib Eye
<![if !vml]>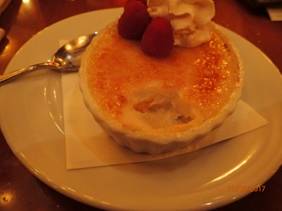 <![endif]>
Maple Crème Brulee
 While eating, another internet friend is waiting to meet after I finish eating just out side Le Cellier, Lori Hope Fries.  She posts a photo of my scooter with the Warriors banner on the back. 
<![if !vml]>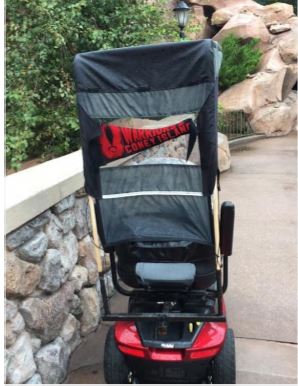 <![endif]>
We sit and chat for a bit.  She gives me a home made Grape Soda pin, just like from the movie Up.
<![if !vml]>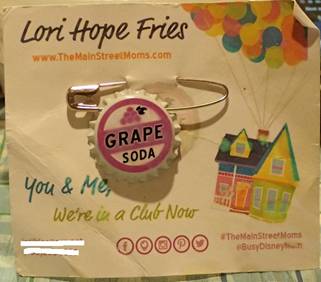 <![endif]>
After saying our byes, I go ride Test Track.  I have a little trouble with finding the whole for the buckle and get a little nervous that I am not secure for the ride, but I do and have a good ride.
Test Track video
After Test Track I call it a early night, head back to my resort and take a swim in the pool.
<![if !vml]>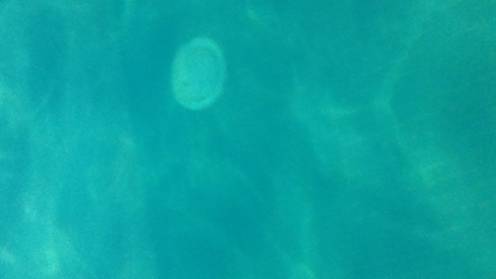 <![endif]>
photo taken underwater with my smartphone
 While swimming, I see fireworks, but no music.  I ask one of the lifeguards what we are seeing.  Most likely something from the studios, Star Wars.  When they close the pool, I head back to the room and make it a early night.