October 6, 2017
Friday
Day 6
<![if !vml]>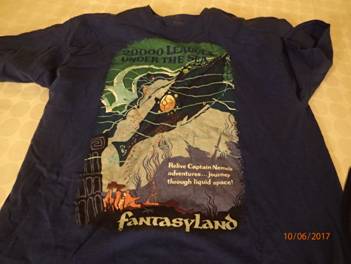 <![endif]>
shirt of the day
I have a breakfast ADR at Boma.  It is very humid this am.  When I leave my room, my sunglasses fog up.  I take a bus to Animal Kingdom, then another bus to Animal Kingdom Lodge where Boma is located.
Boma is very crowded this morning.  Something new.  Instead of giving me a pager, then will text message when my table is ready.
<![if !vml]>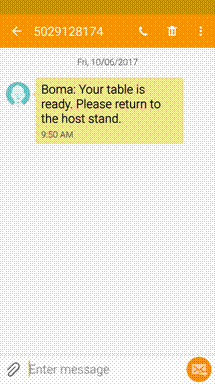 <![endif]>
After breakfast I go to Epcot and ride the boat ride in Mexico.
 Then American Adventure.  I am in contact with another internet friend, CJ Patterson and her husband.  We sit and chat in the restaurant by American Adventure.
After parting, I stop and watching the outdoor train layout.  I do a live Facebook video.  Here is what I shared.
Rode Frozen again.
Then I ride Journey into Imagination with Figment.
 Clam Ride in the Living Seas ride. 
Here is a video of me scooting from The Living Seas in Future World to Morocco in World Showcase.
I then go eat in someplace new, Spice Road Table.  I have the Garlic Shrimp,
<![if !vml]>
<![endif]>
followed of course with a NY Strip Steak.
<![if !vml]>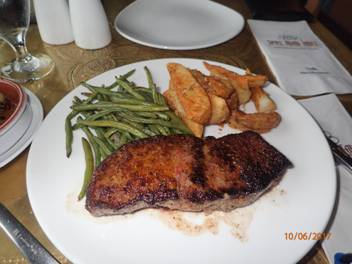 <![endif]>
And for dessert
<![if !vml]>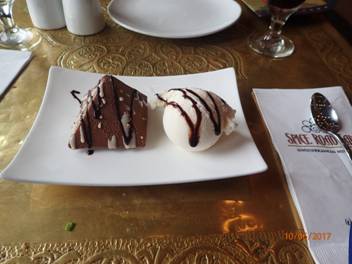 <![endif]>
Chocolate Pyramid with ice cream.
While eating it starts raining.  There is also a bar inside the restaurant.  The bar area fills up and becomes noisy. 
I leave Epcot and take the path to the studios.  Here is my scooter video.
I have 50 minutes before my DAS return time for Toy Story, what to do.  So I tool around the studios.
 I look at the new place, Baseline Tap House.  Nothing interests me.
so i am wearing my 20 k leagues ride shirt. a cm finally went for it. said nice shirt. i said thanks, cant wait till i am in the magic kingdom tomorrow to ride it, real seriously enthusiastic like. he looked at me.... said you do know it's not there anymore. paused.. gave him a long like with my mouth open.... i go.. your kidding, right? he stammered for a moment, not knowing what to say. smiled at him, said.. yes i knew
Now I am in a scooter.  Entering the ride through the Fast pass return time, I usually make a left turn after getting the 3d glasses to enter the ride by a special boarding area.  This time they send me to the new 3rd track by making a left turn.  I am in the normal queue line with the scooter before I get into the car.
I then head to the Star Wars Galactic Dessert Party.  Even though I got there right on time when it was supposed to start, at the Star Wars Launch Bay Building, everyone is inside and the place is in full swing.  They must have let people in already.  They hand me a lanyard to wear saying I am part of the dessert party.
I slowly creep my scooter through the maze of people, the place is packed, to try and find a table.  Did I mention the place is packed?  I feel so overwhelmed.  I find a server cleaning tables and ask for help.  He finds me a table to sit and eat.  They have the same layout as they did in the Frozen dessert party, some different type desserts.  Cans of soda, alcohol served with a tips glass.  I have some desserts and soda.  There are also some meet and greets, which I don't do.
Part of the party are gifts they give out.  Reading about the party it is supposed to be a Chewbaca stein.  Before leading us out to watch the fireworks show, they hand us Star Wars pop corn buckets.  They have storm troopers leading the dessert party guests out with the scooter parties going first.
The area is roped off for the dessert party guests.  Besides seeing the old Great Movie Ride building, I have no real reference to understand where I was.  The park is very crowded.  I would think we would have better viewing area.  We are a good distance away from the building.
They first have a generic show projecting different movies onto the buildings façade,  it is called Disney Movie Magic.
This is the live Facebook Broadcast
following with Star Wars scenes and fireworks.
This is the Facebook broadcast
Then I head over to the Epcot to watch Illuminations: Reflections of Earth for this trip
Here is the FB Broadcast
This was my last night in the parks.  Tomorrow I check out.  I head to the buses for the last time this trip.