September 30, 2017,
October 1, 2017
Travel days
No last minute Amtrak cancellation phone calls or emails. No storms running up the east coast from Florida. So it really looks like I am really going to Walt Disney World this time.
I wake up Saturday morning. I finish packing, which is just my laptop. I head towards my local train station to make sure my train is running. It is. One less concern out of many I have today. I place money on my Metrocard. I figure it will be one less thing to worry about when I drag my luggage up the 2 flights up to the train station. After placing more money on my Metrocard, I leave the train station. Walking down the stairs, I really feel excited for the first time about my trip.
It will take me about an hour to go from my home in Brooklyn to New York Pennsylvania Station in Manhattan. My train, The Silver Meteor, leaves NY Penn at . So I do have time to leave my home. But I rather sit at the Acela Lounge waiting, then sitting at home waiting. I leave my home and head to the local subway elevated train, Neptune Ave on the F line. Its before , figure I would go to NY Penn about 11. Plenty of time.
I do have my traditions when I go to Walt Disney World.† One of them is wearing this t-shirt I got at the world some years ago.
<![if !vml]>
<![endif]>
Itís a take off of the famous monorail spiel, please stand clear of the closing doors in Spanish.† It says, please stand clear of my vacation.
Now I always went to Walt Disney World in early September, shorts and t-shirt weather. Going in early October is a different story. I wake up and its 50 degrees out, 60 when I am ready to leave not shorts and t-shirt weather. So I am wearing long pants and a light zipper sweat shirt with Coney Island on the back on it of course.
<![if !vml]>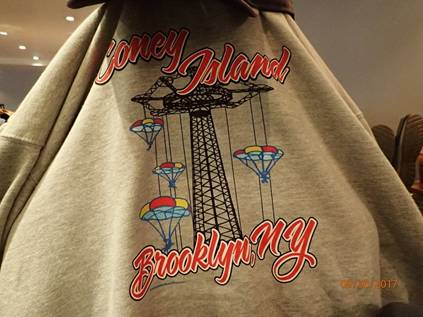 <![endif]>
†I figure to change on the train to shorts and pack the sweat shirt.
Funny story. Last night I charge over a dozen batteries for all my cameras except for the battery for the camera I carry on my belt. Guess what battery died when I went to take my first photo of in the morning of the approaching subway train? Yep, but I have 2 spare batteries, so I replaced it.
<![if !vml]>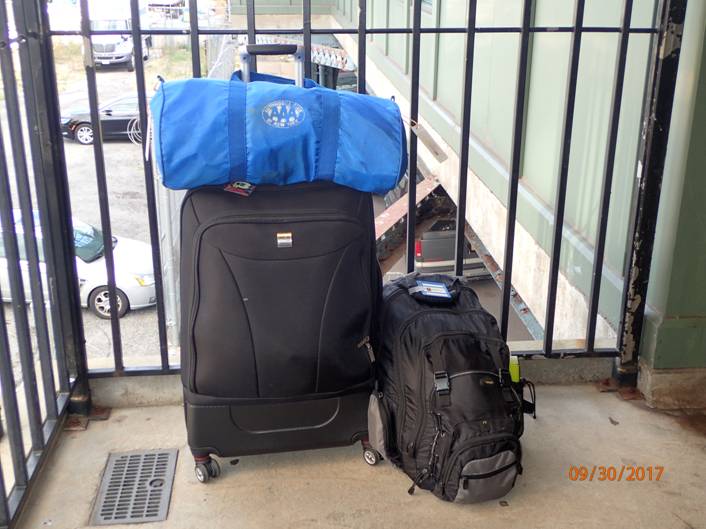 <![endif]>
My traveling luggage.† Backpack full of electronics, main piece for clothes, roll bag for excess
This is concourse level of train station near my home
The F train takes me from my home stop, Neptune Ave
<![if !vml]>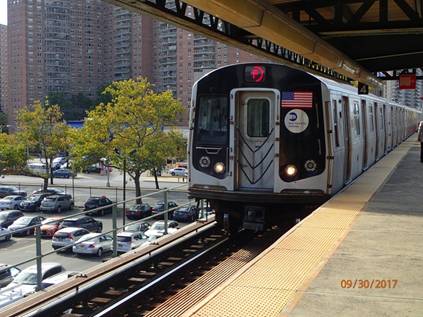 <![endif]>
†to 34th and 6th ave. I could switch to the A train at Jay Street, Boro Hall, which will drop me off in Penn Station. There will be some stair cases to deal, so i figure this is better, easier.
<![if !vml]>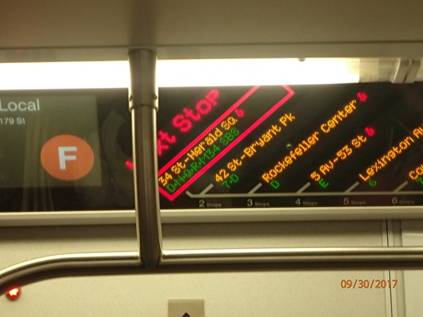 <![endif]>
I get off the F train at 34th/6th little before and I head towards the front of the train to find a operating escalator that takes me up to the main concourse. I exit through a gate and walk towards the elevator that will take me to the street.
<![if !vml]>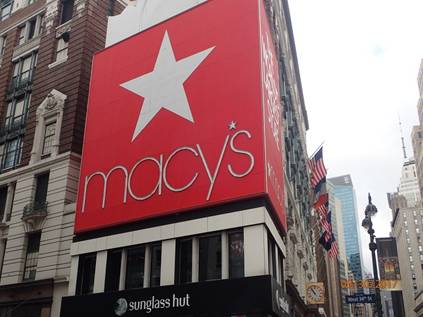 <![endif]>
Once on the street, I head south to 33rd street and walk towards 7th ave.
<![if !vml]>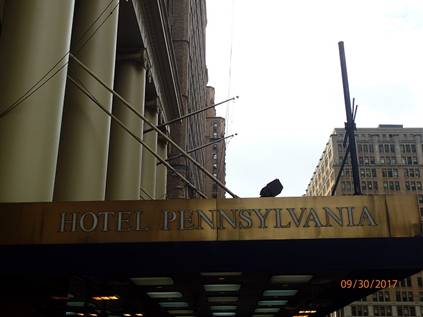 <![endif]>
I cross the street to enter Penn Station
<![if !vml]>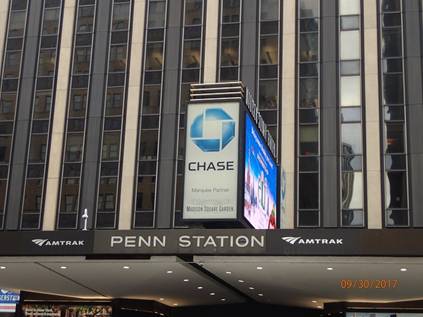 <![endif]>
There is a billboard advertising VisitOrlando,
<![if !vml]>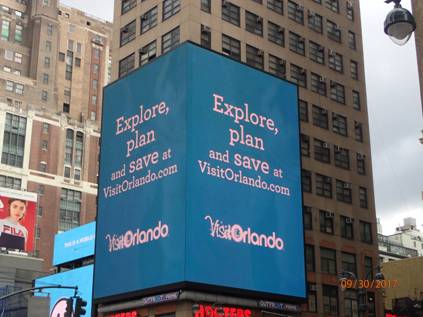 <![endif]>
I take a photo and post it online saying I will.
I take the escalator down at 32nd and 7th to enter Penn Station. I walk towards Acela Lounge.
<![if !vml]>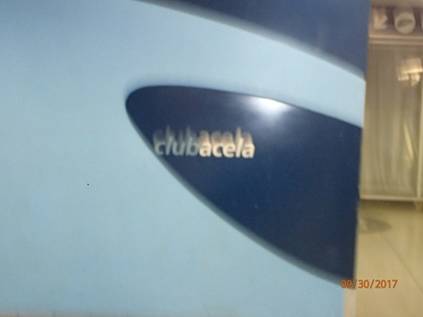 <![endif]>
†The Silver Star must have left on time, , since its not posted on the departure board anymore.
I have plenty of time to hang out in the Acela Lounge. They had snacks, Danishes mainly and a electric cooler with juices. I have a orange juice with a danish. They used to have a soda fountain machine, but not anymore. After the juices were used up, they did put in small cans of Pepsi products.
To pass the time, I watch some movies, including The Warriors which I usual watch waiting for the train. I go have some lunch at Nathans inside the terminal. I then head back to the lounge to wait some more. I keep waiting for my train to show up on the departure monitor.
About , I see they posted the Silver Meteor on the departure screen.
<![if !vml]>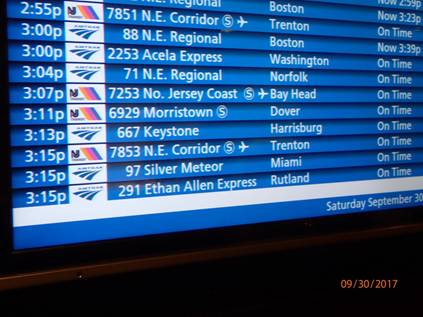 <![endif]>
About , they have all the passengers going on the Silver Meteor get together by the door. They usually take us down via escalator, but because the crowd is small, they take us down via the elevator to the train platform.
Once on the train platform, I find the entrance to my sleeping car
<![if !vml]>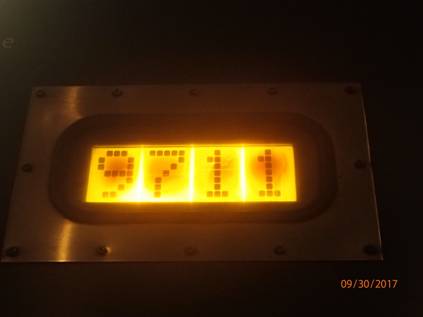 <![endif]>
†and I head towards my roomette. This is something new, they have a place card with my name on it, welcoming me to my room.
<![if !vml]>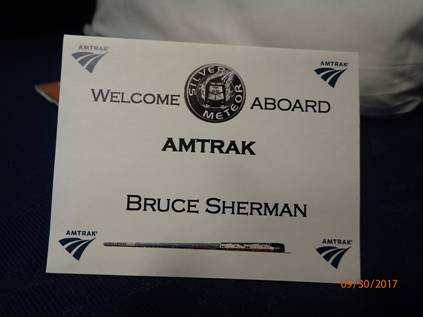 <![endif]>
My sleeping car steward is easy going. As soon as I said I know how everything works inside the room, he goes on to help others.
I find the Wi-fi signal on the train good enough to go live on Facebook. I want to broadcast my trains first movement till we arrive in New Jersey.
Here is the video of my trains first movement.
The camera for my laptop is a smile face hidden camera that is made to clip onto your shirt or such. I am having trouble clipping it onto the trainís window curtain, The picture I am getting is a bit bad.. but I keep broadcasting anyway.
<![if !vml]>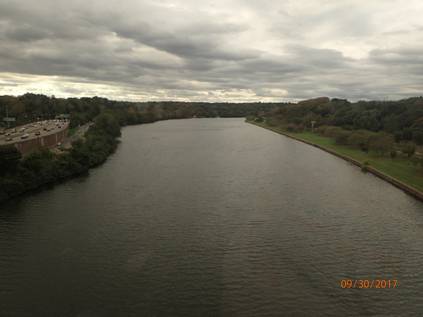 <![endif]>
Schuylkill River
Philadelphia, Pennsylvania
<![if !vml]>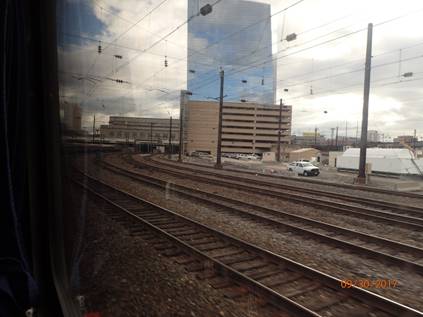 <![endif]>
pulling into 30th Street Station
Philadelphia, Pennsylvania
I head to the dining car at for dinner.† I take my electronics in my backpack and leave it in the area where wheelchairs are kept for people who will be eating. The new dining car has plenty of room.
<![if !vml]>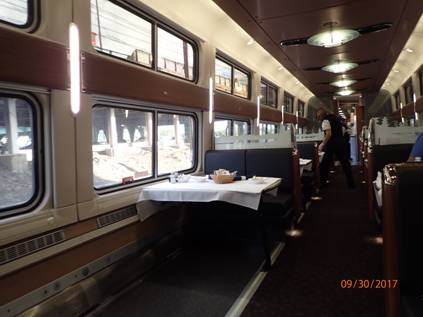 <![endif]>
The new dining cars are named, here is the name of my dining car.
<![if !vml]>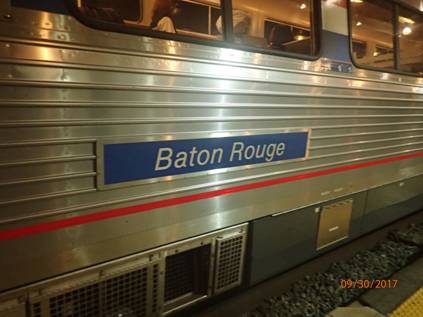 <![endif]>
My meal starts with a salad,
<![if !vml]>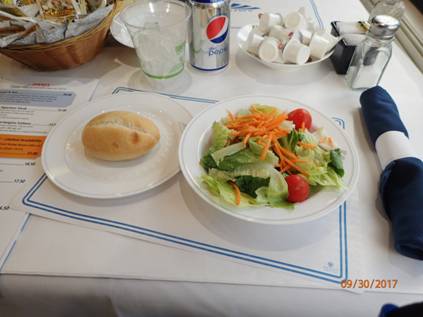 <![endif]>
then my usual steak
<![if !vml]>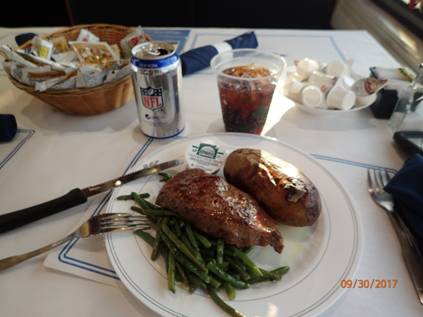 <![endif]>
†followed by a very hotÖ. And I mean very hot.. Pecan Pie
<![if !vml]>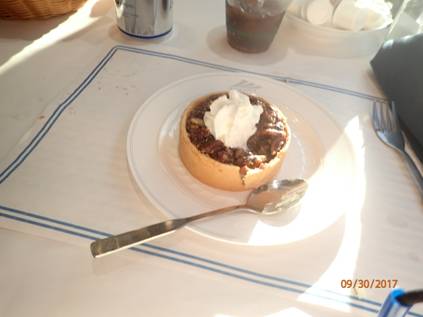 <![endif]>
Meals are included being in a sleeper, here is the price of the steak and dessert.
<![if !vml]>

<![endif]>
<![if !vml]>

<![endif]>
I finish dinner and back in my room as we pass through Baltimore
<![if !vml]>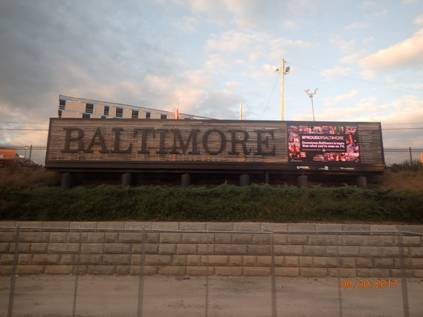 <![endif]>
At Washington DC Union Station, we do what I call the locomotive dance, switching out the single electric locomotive that took us out from NY Penn to Washington for a pair of diesels. South of Washington, there are no overhead power lines. North of Washington to Boston, they can run electric locomotives. I exit the sleeping car and head towards the front of the train to record on Facebook the action that takes place.
<![if !vml]>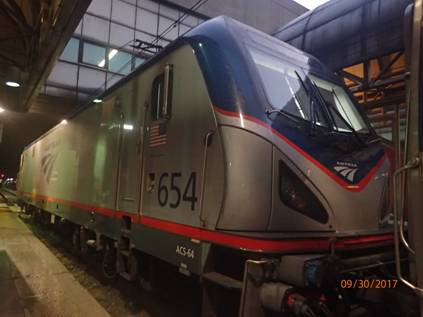 <![endif]>
Bye bye Electric locomotive
Here is the video of the electric leaving and the diesels attaching.
Talking to the one of the Amtrak employees who help disconnected the electric, connect the diesels, tells me that there will be a extra car too. After isolating the electric locomotive from the rest of the train, I watch it pull away. A couple of minutes later 3 train cars, two diesels and the extra car back into our train, and connect it to our train.
After they physically connect the three new cars to the front of our train, I head back to my sleeper car. I panic a bit as where I got off the train, its closed. I start to worry that the train is getting ready to leave. The next car is till open to board, which I did. I get back to my sleeper car and tell the sleeping car steward I got scared that I couldnít reboard the train, he laughed and said, yes, they closed the entrance to my car, but kept the next car still open. A couple of minutes later, we are moving again.
Leaving Washington Union Station, you can see lots of the national monuments on the mall, but I cant get a good signal to broadcast it live. Oh well.
When I first started to plan my trip for early September, I used the Netflix app on my laptop to download things to watch while on the train. What I didnít know was you can only watch things like that for a month. The month was just about up. I downloaded some Star Trek episodes, some other things. The Star Trek episodes only had some hours left to view while on the train. After watching the episode, I deleted it. A couple I couldnít watch.
Some photos of my roomette on board the train.
<![if !vml]>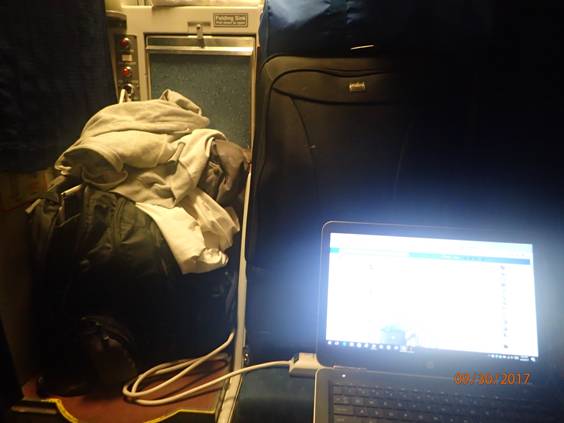 <![endif]>
My laptop on the fold out table.
My large piece of luggage on the opposite seat
Roll bag on top of it.
Fold out sink to the left
My backpack sitting on top of the bathroom bowl
Unneeded sweatshirt on top of my backpack
Behind my laptop is a surge protection powerstrip
With extra long cord
<![if !vml]>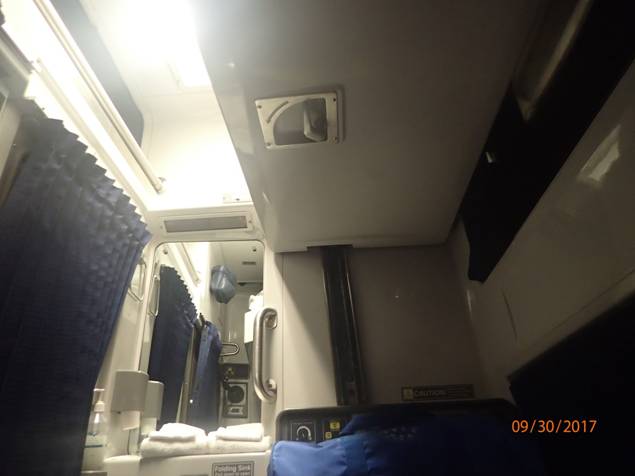 <![endif]>
view of the upper bunk, its track and handle used
to lower it.
Curtain to the left covers the window to the corridor
Curtains to the right, to the outside
Mirror to the left on the far wall.
Another thing I took with me that I used on the train was my Echo Dot. I got it to work and laid down listening to.. what else?? Disney music. I also picked up a new portable DVD player for this trip. I couldnít find my old one. I watched a Columbo episode.
I usually take the earlier train, the Silver Star. Because they donít have a dinning car on that train. I took the Silver Meteor instead. I am monitoring my trains progress online. We are doing good on time.
The train trip was good. I was in the second car from the dining car. The dining car on the train was a brand new one. Very comfy.
The Wifi on the train had better coverage then my smartphone, especially around Georgia. I had to re-signin in a couple of times. It was no good for backing up photos to a cloud, but good enough for email and such.
I was able to get my Echo dot to work and listened to some music to help me sleep. I may have nodded off for a couple of hours. I went in for breakfast at . We are passing through Savannah, Georgia.† When† on the Silver Star, usually eating Breakfast while passing through Jacksonville, Florida. I had a cheese omelet with some bacon and roasted potatoes with some apple juice.
<![if !vml]>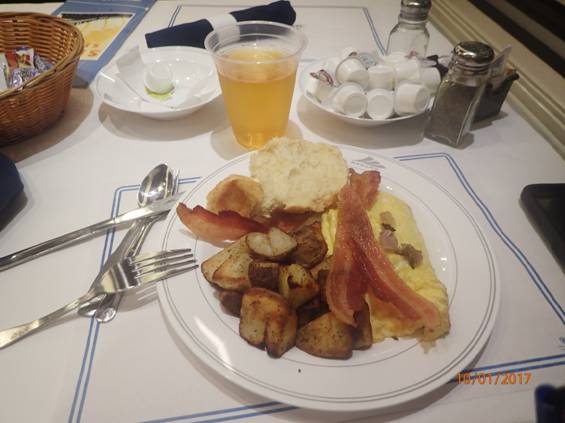 <![endif]>
†Went back to my room and laid down some more.
I notice we are passing the Juice Train. Tropicana ships their Orange Juice in refrigerated box cars from Florida to New Jersey.† Amongst rail fans the train is simply known as the Juice Train.
<![if !vml]>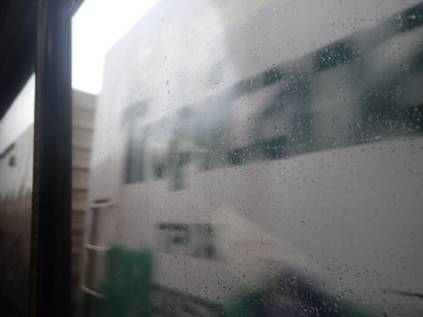 <![endif]>
Jacksonville, Florida 9:39 am
As my train is getting closer and closer to Orlando, I am watching on social media, how packed Epcot is. While I didnít plan this, Today, Oct 1, 2017 is Epcotís 35th anniversary. They have special merchandise for sale. And at the end of Illuminations fireworks, they will add more fireworks to celebrate Epcotís 35th anniversary. Add to that Food and Wine is going on too, the place will be packed. One photo of the area in front of the entrance was a sea of people. The lines for buying special merchandise can be hours long. So I just watch report after report about how crowded Epcot is.
Later on in the morning I was getting text messages from the car service. At this point we are running about 2 hours late. I texted him back.
Palatka 11:37 am
Deland
I head to the dining car again for lunch.† They let people who are departing at Orlando first crack at eating lunch.† I get my usual cheeseburger.† No fries, just chips.
<![if !vml]>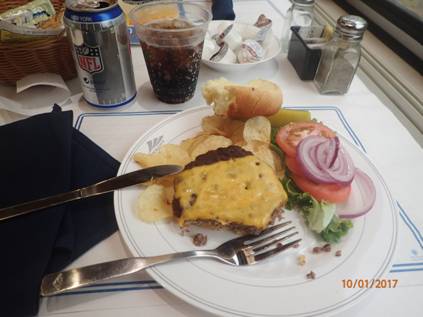 <![endif]>
I get the pecan pie again for dessert.† Not as hot as last night.
<![if !vml]>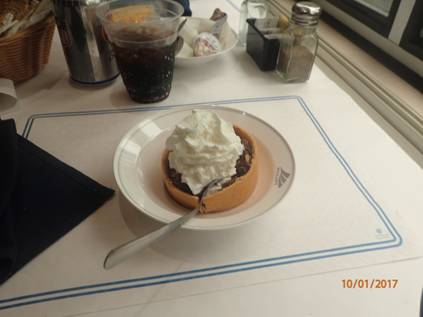 <![endif]>
After eating, I head back to my sleeper room, pack up, and nervously await my arrival at Orlando Station.
Winterpark 10 minutes to go.
†
We were due to arrive at Orlando at , arrived about 35 minutes late.
Orlando Train station† .† Hel lo Or Lan Do J
My car service was waiting for me. He remembered my Yankee cap. We chatted, he dropped me off at All Star Sports.
End of one adventure, beginning of another.
Online website that keeps track of Amtrak trains, my train
<![if !vml]>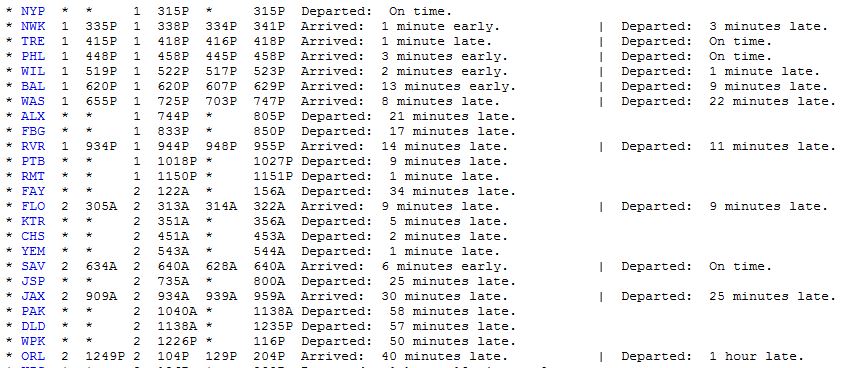 <![endif]>