Day 1
April 6th 2019
Virginia drove me to Art of Animation, no issues.  She parked and went with me to check in.  I went to the online check in.  Using the Travel Agent room discount, I am supposed to show my Travel Agent Clia ID card at check in.  The Clia card tends to get rubbed out the information on it.  So I placed it in my luggage, the roll bag.  I was too nervous to keep it in my wallet.  So I had that and my drivers license ready.  Walking through the entrance, I noticed the Magical Express bus pulling in, so we walked fast as I figured the lines would get astronomically longer.  We made it before they did.  It was my next.  I give them my name, and informs me that my room is ready.  I then noticed I got a text message.
<![if !vml]>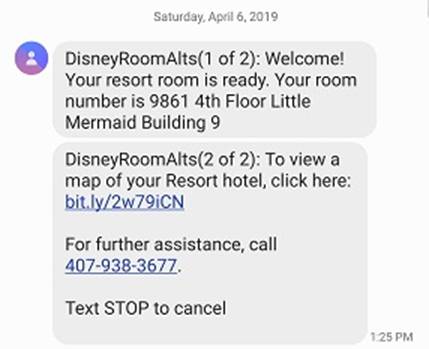 <![endif]>
Now some background first.  I have stayed at Pop Century many times.  The set of buildings I always seem to get, then change to elsewhere are the 80's 90's.  I hate that section of the resort because its so far from everything.  Art of Animation was originally going to be part of Pop Century, the Classic Years.  They stopped building that section of the resort.  When they resumed building those buildings, they made it a different themed resort calling it now Art of Animation.  Art of Animation is a mirror image of Pop Century.  The Little Mermaid rooms are the mirror image, in distance as the 80's 90's are.  Needing a scooter and getting the TA discount only at the Little Mermaid rooms, I knew what I was in for, but without the discount, there wouldn't be any trip.
Virginia and I set out for my room.  I let her move my luggage, which is on wheels.  I carried the roll bag, backpack, and my un-needed winter jacket.
I only stayed in the Nemo suites.  Doesn't my name just scream Finding Nemo?  Bruce the shark, Sherman the dentist.  Well, no suite this trip, too much money just for one person.  So I headed towards the Little Mermaid rooms.  First we pass the Lion King rooms.  Never noticed how long the building is.  And I don't see the Little Mermaid rooms yet.  Finally make it past the Lion King buildings.. and I see in the distance The Little Mermaid buildings.  Ok.. I am exaggerating, but that's what it feels like.  I do see a third Little Mermaid after two buildings, but I am in the first building on the left.  So there is a further building.  If not for the room discount and having a scooter, I would never book these rooms.
We find the elevator, I am on the top floor, then we are walking back the way we came, I am in a corner end room.
Always a good sign, my Magic Band opens the door J  The Little Mermaid rooms don't have interior hallways, just exterior.  Here is the view from my room.
<![if !vml]>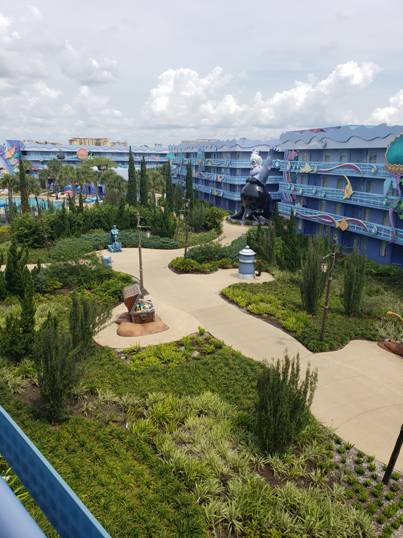 <![endif]>
I have some trouble finding the frig for my Yoohoos.  Its inside the furniture.  Virginia also made me cupcakes for my birthday next week, and a gift too, but the surprise is for my birthday next week.
We head to Luggage Services to get my scooter.  I look and find the scooter with my name on it.  Good, it does have the canopy.  Last trip they forgot to include it.  Or was it good?  I sign the book to get my scooter and the CM drives it to me… with his head at a angle. The company I rented from changed equipment.  There is less space between my head and the canopy.  Will call the company later.
I drive it back to my room and place 'The Warriors" banner on the back.  Lots of people know the cult movie and give me the Warrior Chant.
<![if !vml]>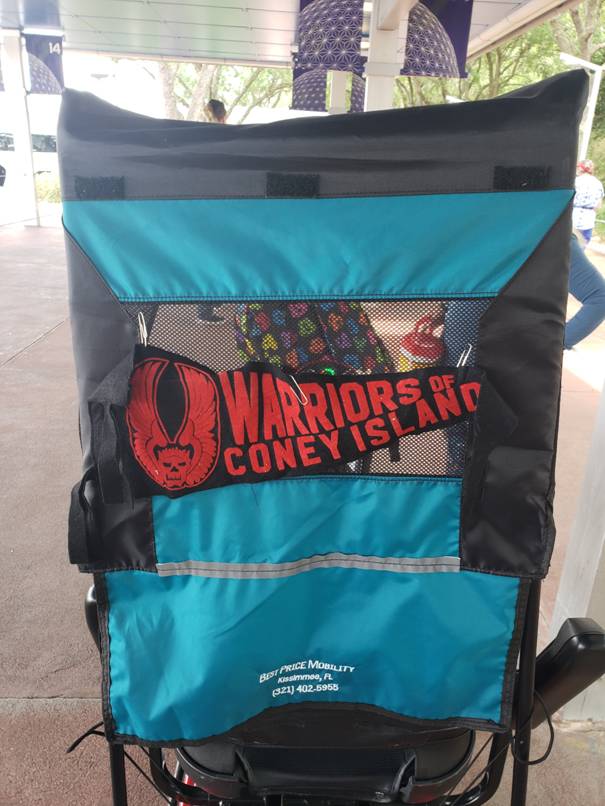 <![endif]>
Tells people where I am from and if you touch this… you will get a beat down, cause this scooter is now under the protection of The Warriors J
We head off to Epcot, have dinner reservations at Coral Reef.  When we arrive at Epcot, we head to guest services.  I need to renew my DAS pass and add Virginia to the DAS too.
First ride we do is Spaceship Earth.  Still a bit too early to eat at Coral Reef.  Handicap people enter the attraction from where people exit, the post ride area.
<![if !vml]>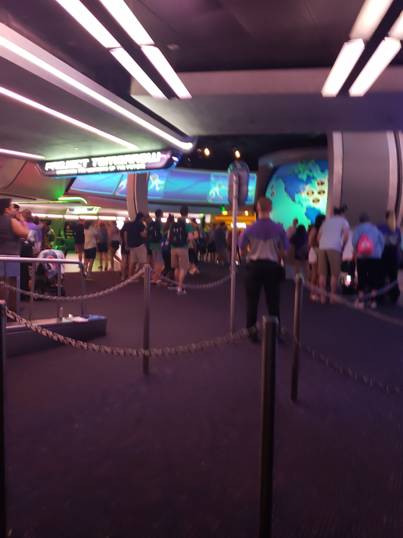 <![endif]>
After the ride, I call up the scooter company and complain about the canopy.  They will have a worker nearby and will swap the canopy for another.  Virginia is a DVC member, so she shows me the DVC lounge on the second floor of the Imagination Pavilion.  We enter the gift shop, she signs in, they call the elevator for us and up we go.
<![if !vml]>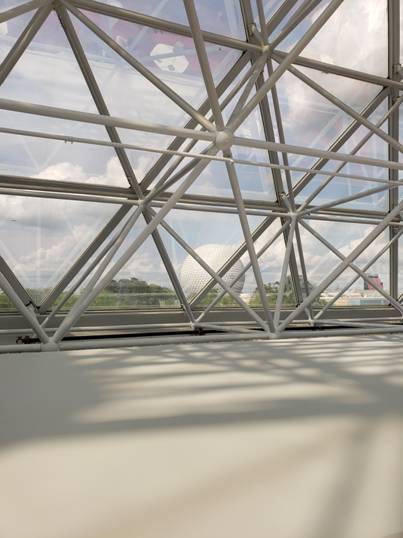 <![endif]>
Spaceship Earth from the
DVC Lounge
I grab some orange soda.
<![if !vml]>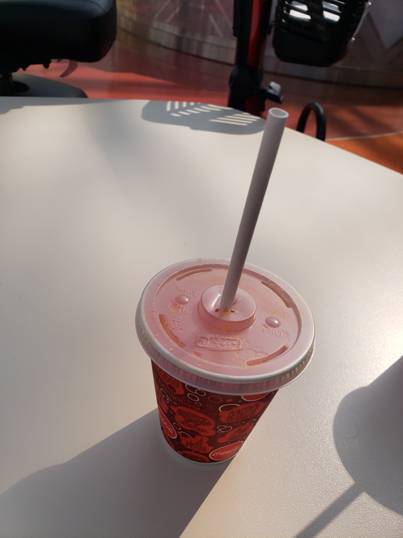 <![endif]>
new thing at Walt Disney World
paper straws only.
And they handed out some potato chips too.  While in the lounge I get the phone call from the scooter company and its hard to make out where he wants to meet me.  Finally figure out by the entrance, so we head there.  After some more confused communication, I get the same canopy with the same issue.  He told me the company has new equipment and that's all he has.  I will deal with it for this trip.  Not going to let it ruin my trip.  Next trip. Will see.
On to Coral Reef.  I go to check in.  Virginia says we are celebrating my birthday.  I am not into doing that much.  But we get a table right by the tank.  Well, at first the seater (the person who shows you to your table) isn't sure what is going on.  The table we are supposed to have, has people sitting there.  Well it turns out, it is my table, people just snuck down to get a closer view of the tank and take some photos.
Oh yea.. I did change to the shirt I always wear when dining at Coral Reef.  A gift years ago from my niece.
<![if !vml]>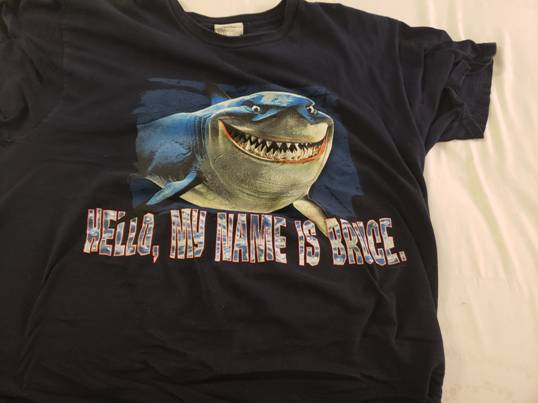 <![endif]>
When checking in at Coral Reef, they looked at my shirt, the name on the reservation and smiled… she got it.
<![if !vml]>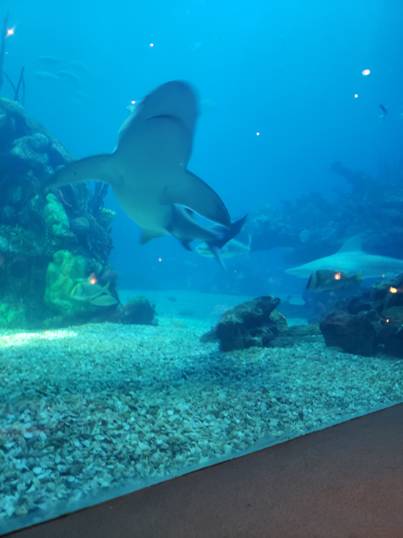 <![endif]>
view from my seat
Now I am on the deluxe dining plan, which also gets me a appetizer.  Coral Reef was one of the few places that I really couldn't find a appetizer that I would enjoy.  So I tell Virginia, what would she like, she picks the house salad.  So I ordered that on my check to give her.  She is paying for herself using her DVC discount.
Years past, I always got the NY Strip Steak.  Back in 2017, they tried a different steak dish, but when I was there, they had the NY Strip Steak back.  No luck this year, I get the Sirloin Steak.
<![if !vml]>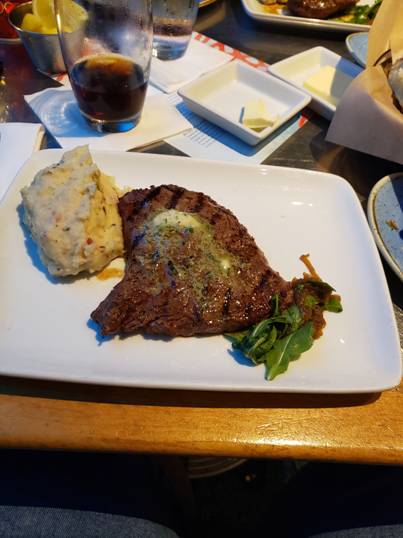 <![endif]>
The steak was good, so was the mashed potatoes.  And for dessert… what would a meal at Coral Reef without the Chocolate Wave.
<![if !vml]>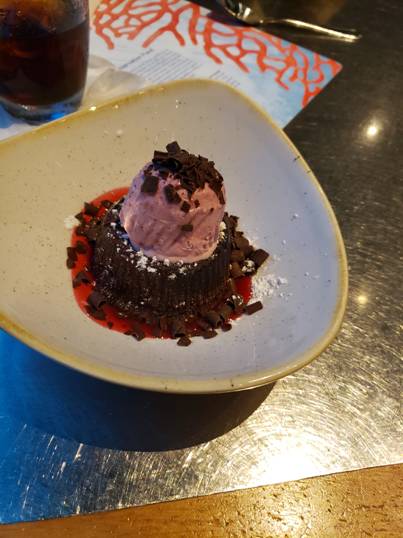 <![endif]>
It's the same thing as previous years, but presented differently.  The small ice cream is now topped on top of the chocolate cake, before it was next to it on a larger rectangular plate.  And the bill…..
<![if !vml]>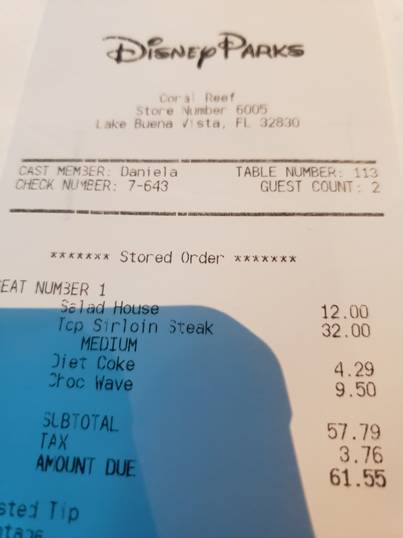 <![endif]>
The cost of the Deluxe Dining Plan is $116.25 per night.  One meal alone is over 50% of the cost of the meal plan.  I feel it is worth it.  Lots of people debate it.
So we just had a 3 course meal, what do we do next?  Dessert Party of course.  Frozen Ever After Sparkling Dessert Party.  We head to Norway in World Showcase.  We found out earlier that they will hold the dessert party in the building on the second floor due to threat of rain.  We get there a bit early and line up near the water falls.
<![if !vml]>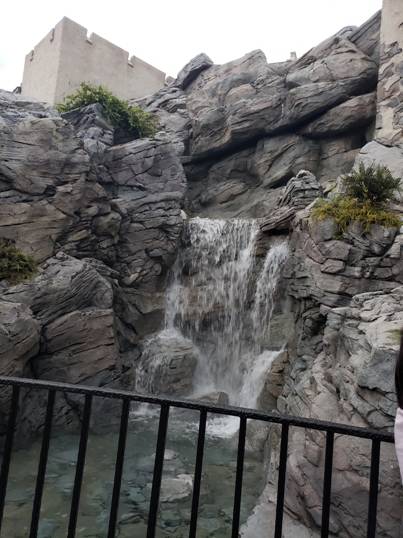 <![endif]>
Once they start to let us in, they check off our names and place wrist bands on our wrists.
<![if !vml]>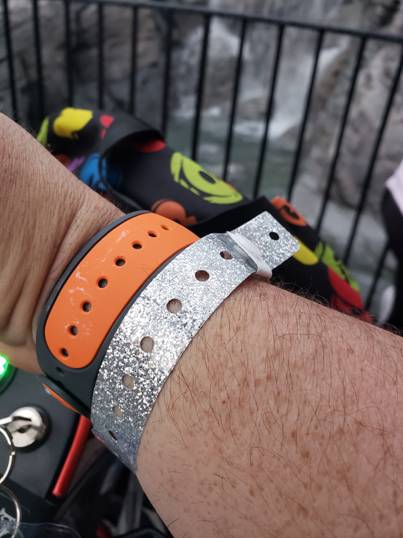 <![endif]>
My Magic Band and
dessert wrist band
We are seated in a room, reserved table seats, so I get some snacks and soda.
<![if !vml]>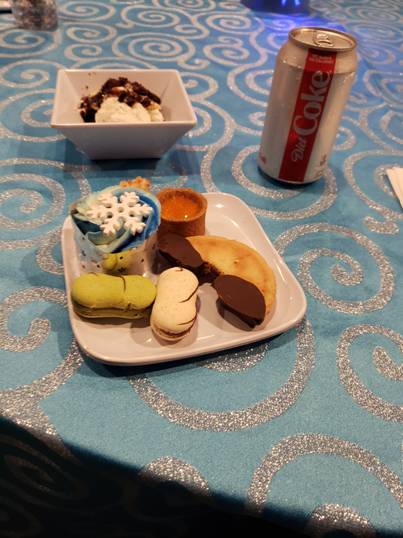 <![endif]>
I am posting these photos to social media, Facebook.  The subject of what I am drinking comes up, why no alcohol?  So I go up and get some red wine.
<![if !vml]>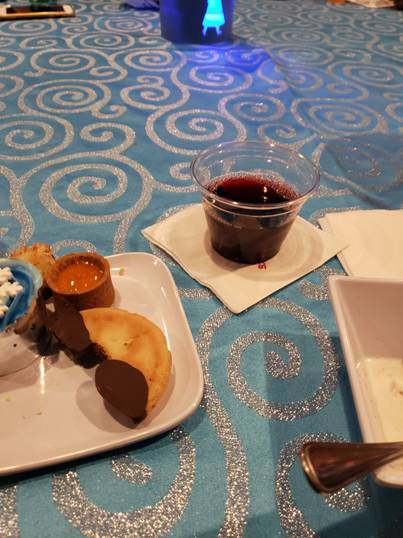 <![endif]>
Remember me mentioning rain in the forecast?  We are now being told that due to the threat of thunderstorms, Illuminations: Reflections of Earth is delayed.  They will take us down to ride Frozen Ever After ride now, which is part of the dessert party.
Lets take another step back a bit.  I bought a new 4k camcorder with infrared light.  So I have been waiting a long time to try this in a Disney dark ride.  This isn't the first camcorder I have with infrared light.  I know Disney keeps track on guest activity on the rides using infrared lights and cameras.  So we are on the boats, I switch on the infrared setting on the camcorder.  Within seconds, on the loud speaker… the person in the second row, would you please switch off the camera light. J  years ago I used to use infrared lights and never got asmonished,  Infrared light is invisible light to the naked eye.  I sheepishly switch off the infrared settings on the camera and use the normal settings.
<![if !vml]>

<![endif]>
Photo pass photo
That's me with the Y on my face
That's Virginia sitting next to me
With her hands up in the air
I felt bad that they didn't know what type of light I was using.  I wish I could have explained to someone what I was doing and not impacting other guests experiences.
We go back up to the dining area and have some more snacks.  We are still waiting for the word they are going to have Illuminations.
We get word that they are closing this area and we need to exit to go outside that they will be showing Illuminations.  When we exit the building, we are told Illuminations is officially canceled for this evening.  I hear another family fuming about this.  They are talking angrily to a worker.  The worker is explaining they fed us, took us on the ride, and cant be held responsible for the show being canceled because of lightening in the area.  I figure later in the week, I will be back at Epcot to see it from the handicap viewing area.  It is raining lightly.  So I am not going to stick around to see what happens.
Virginia and I head to the buses, head back to Art of Animation, I walk Virginia back to her car, make plans to meet up further in the week, and we part, me heading back to my room.
Back in my room, I take some photos.  One thing that has turned me off of staying in Pop Century again is the new lack of theming in the rooms.  When I wake up, I like to see where I am staying.  The recently renovated rooms can be any motel.  Here are my photos
<![if !vml]>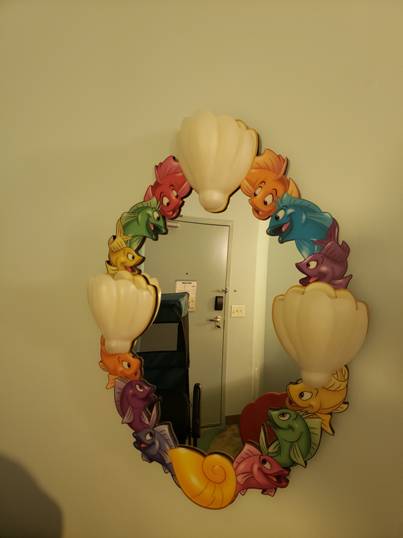 <![endif]>
<![if !vml]>
<![endif]>
<![if !vml]>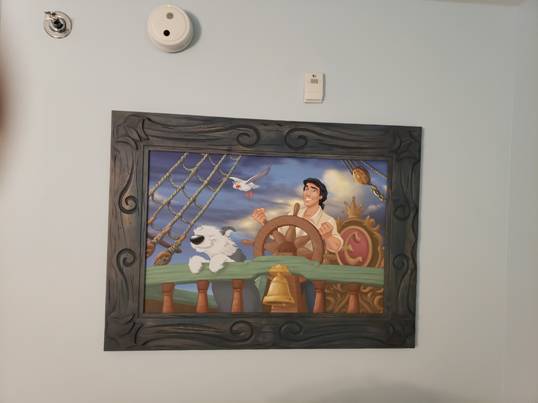 <![endif]>
<![if !vml]>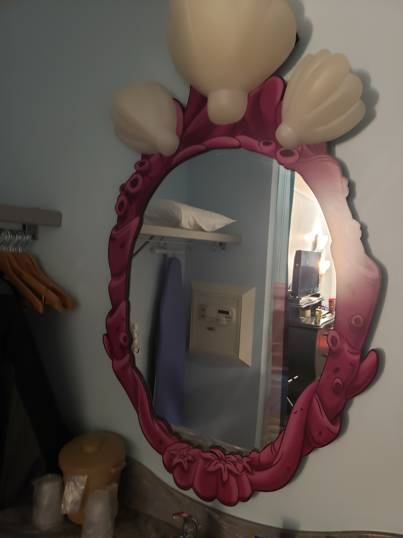 <![endif]>
<![if !vml]>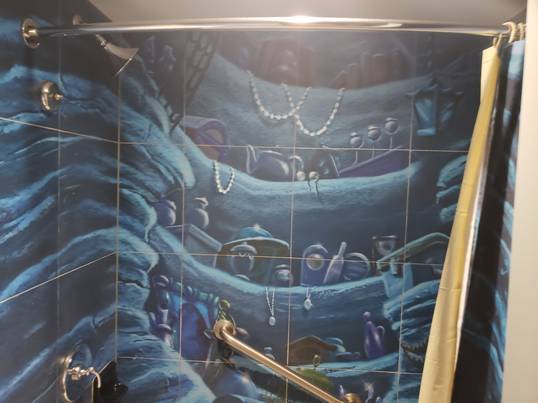 <![endif]>
<![if !vml]>
<![endif]>
<![if !vml]>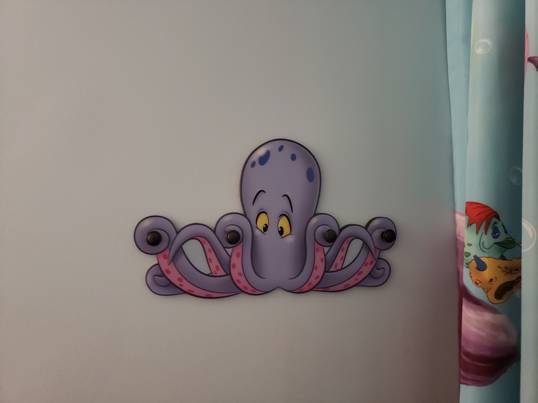 <![endif]>
Another interesting thing I noticed.  Disney is trying to go green.  Since there has been a Walt Disney World, Disney places small bottles of shampoo and soap for guests to use.  The joke is, you keep these as cheap souvenirs to give friends and family.  Going green for Disney is they are no longer giving guests those little bottles.  Instead they have refillable bottles mounted in the shower.  I am surprised to see little bottles and soaps still.
end of day 1