Day 2
April 7, 2019
Going to the studios this morning, so of course my t-shirt of the day is movie themed.. The Warriors.
<![if !vml]>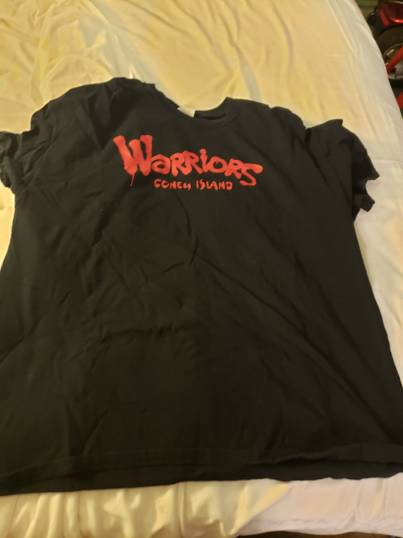 <![endif]>
Shirt of the day
<![if !vml]>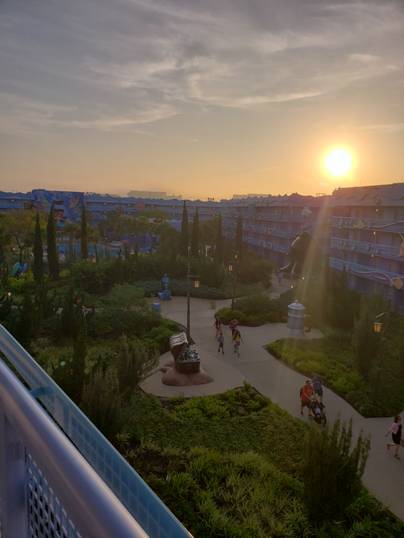 <![endif]>
Nice day outside
One thing Disney is doing to become more 'green' is removing small soaps and such in favor of refillable pump bottles.  My room here in the Little Mermaid isn't 'green' yet, still have small soaps and such.
<![if !vml]>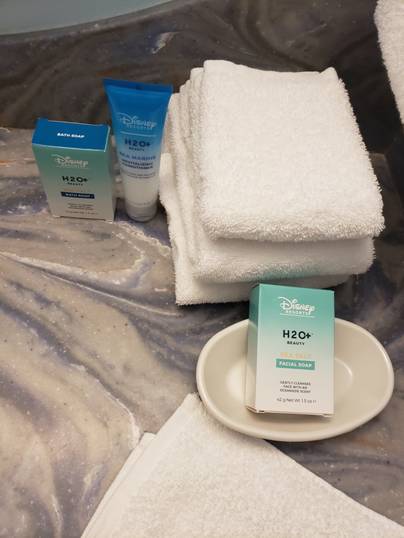 <![endif]>
I have having breakfast at The Wave in the Contemporary Resort by the Magic Kingdom.  So my plans are this, take a bus to the Magic Kingdom and go the path to the Contemporary resort.  Sounds simple enough.
Here is a video of me leaving my room to the bus station.
<![if !vml]>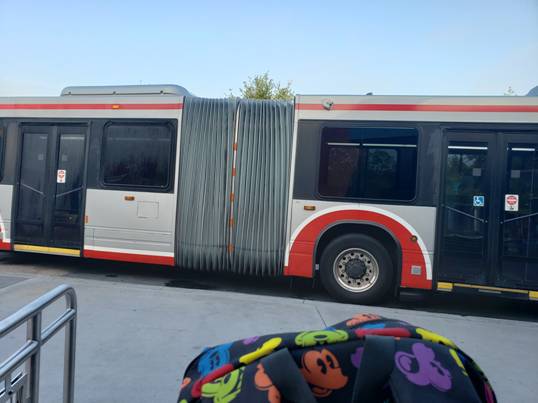 <![endif]>
My bus at Art of Animation
Ok.. what I didn't plan was this.  They moved the bag check before the walkway I need to use.  So even though I wasn't going to the Magic Kingdom, I still need to go through the bag check.
I go through the bag check line, take the walkway to The Contemporary.  Here is the video.
Find my way to the Wave and check in.  They explain how and where I can park the scooter, don't understand, so they drive it to park.   A moments wait and I am seated.  I decide to go for the buffet here.  I am asked for two drinks I want.  I go for apple juice and chocolate milk.  I never know if refillable or not.  I get up and get some food.  Here is a sample plate I get.
<![if !vml]>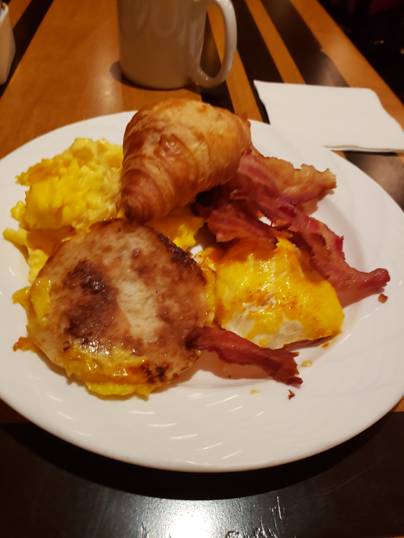 <![endif]>
The round things I try, the egg is a little runny, so I don't try that. Raw egg makes me nervous.  Here is a sample plate I have for some desserts.
<![if !vml]>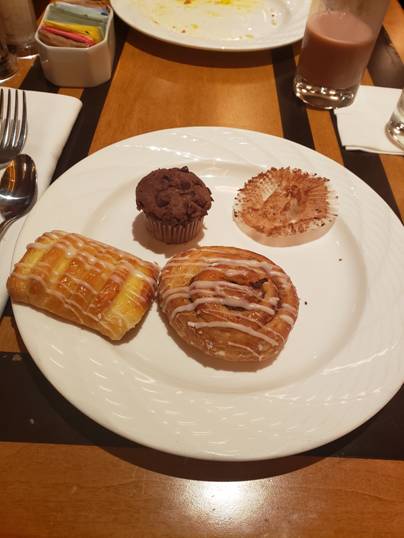 <![endif]>
And the bill…
<![if !vml]>
<![endif]>
$23 for the buffet option, My magic number on the dinning plan is $116 or better.  So now lunch and dinner must be less then $93.
I use the bathroom by the Wave and impressed by the napkins to dry your hands with, imprinted with the resorts name.
<![if !vml]>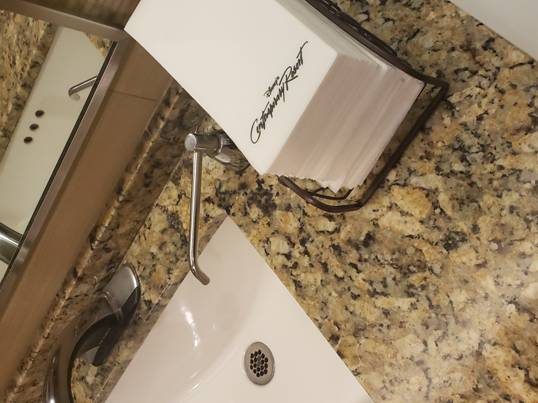 <![endif]>
I am heading to the studios today.  Instead of taking the bus from The Contemporary to Disney Hollywood Studios, I plan on taking the monorail from The Contemporary to the Ticket & Transportation Center, change monorails for the Epcot one.  Travel through Epcot to International Gateway, take the path that goes by The Boardwalk Resort to the studios.  Just curious how long it will take.
What I didn't plan on was bag checks.  To get on the Monorail, they have bag check inside The Contemporary for those going to the Magic Kingdom.  Another bag check to get into Epcot, then another to get into the studios.  Went through 4 bag checks and haven't entered a theme park yet.
Here is a video of me boarding the monorail in The Contemporary, changing to the Epcot monorail at the Ticket & Transportation Center, entering Epcot, making it half way through Future World before my camera ran out of memory.
71 minutes later, I am waiting to go through the bag check at the studios.   Waiting on line to enter the park, I found this Star Wars fan wearing this shirt.
<![if !vml]>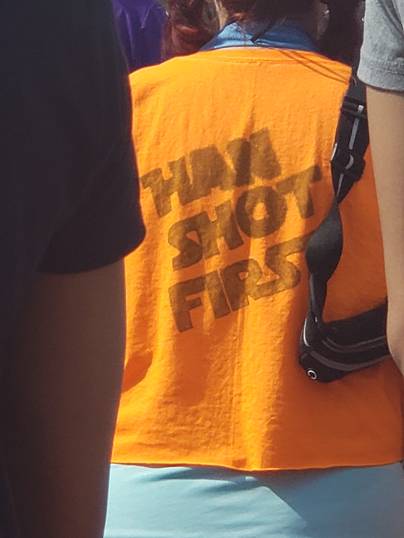 <![endif]>
For true Star Wars fans, this bothers them.  In the first released Star Wars movie, renamed New Hope.  In the cantina scene where we are introduced to Hans Solo.  When the movie was originally released Hans Solo shot and killed bounty hunter Greedo dead.  George Lucas went back and reedited the movie that Hans shot Greedo after Greedo tried to shoot Hans.
The guard at the bag check sees me shirt and gives me the Warriors chant…. Warriors come out and play ayea.  He used to be a neighbor,  he lived in Coney Island by Mermaid and West 16th.
I am in the park heading towards the new Toy Story land.  I get my first snack… Mickey Ice cream bar.
<![if !vml]>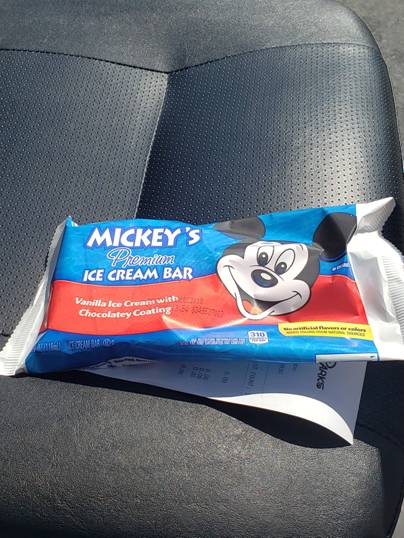 <![endif]>
I get a DAS return time for Toy Story Midway Mania.  Meanwhile Virginia decides to join me again in the park, she texted me, so I will wait to enter Toy Story till she gets there.  I decided to get a Powerade to drink.  I can only find blue, no red, so I get the blue one.  Its cold, its liquid, so its good.
<![if !vml]>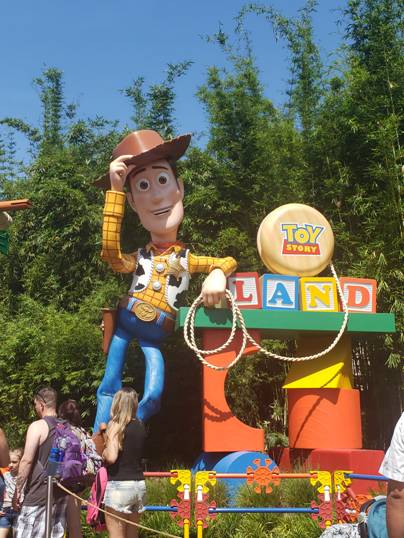 <![endif]>
Entrance to the land
<![if !supportLineBreakNewLine]>
<![endif]>
While waiting for Virginia to join me, they have the Storm Trooper march up the main street to a stage setup in front of the Chinese Theater.  Here is the video I did on Facebook Live
I texted Virginia to meet me near Brown Derby, wait for her there.  She texted me back she is at the entrance to Toy Story Land, missed my text to meet me at Brown Derby.
We then went on Toy Story Midway Mania through the new entrance, the Fast Pass entrance.  I was surprised by the quality of the walk way, seemed a little raw.
<![if !vml]>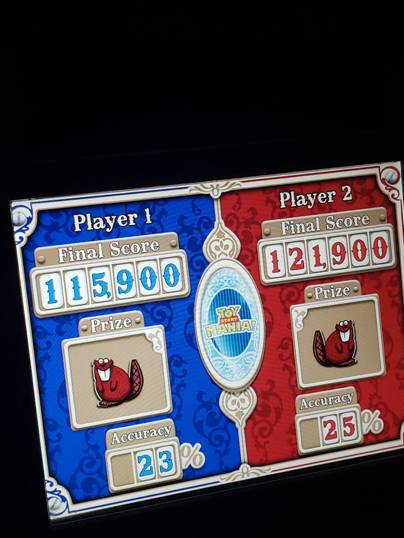 <![endif]>
she beat me L
We then went to eat at Sci-fi Drive in Theater.  They seem to take walk ups as several people came in without a Advanced Dining Reservation and was told just a couple of minutes wait to be seated.  After a couple of minutes, I get this notification via text message.
<![if !vml]>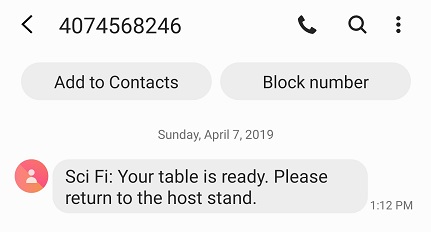 <![endif]>
Years ago, I remember the seating hostess would walk backwards to escort you to your table.  Not anymore.  Virginia pays for herself with her DVC discount, I have the dining plan.  It is very dark inside the building.
<![if !vml]>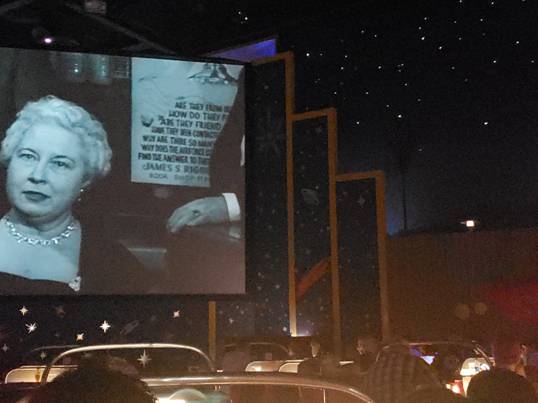 <![endif]>

I start off with onion rings and dipping sauce.
<![if !vml]>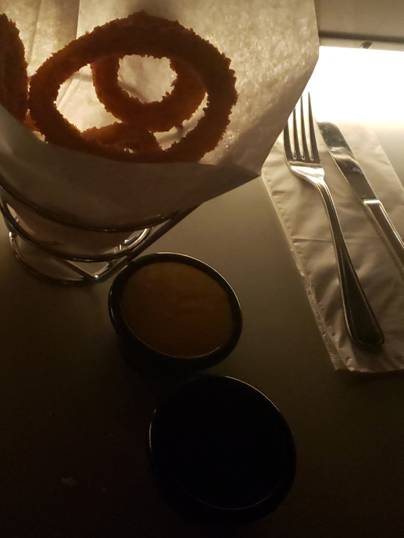 <![endif]>
For my entrée…. NY Strip steak
<![if !vml]>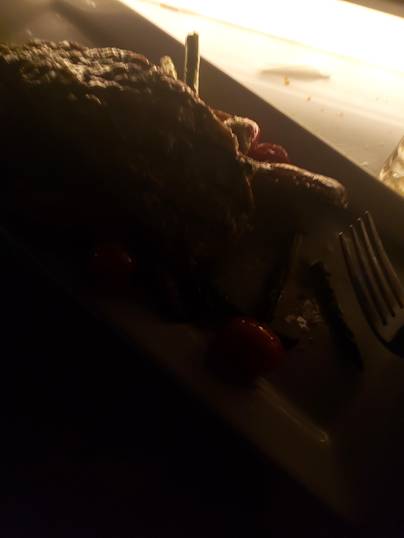 <![endif]>
and for dessert something made with a donut, ice cream, and apples.
<![if !vml]>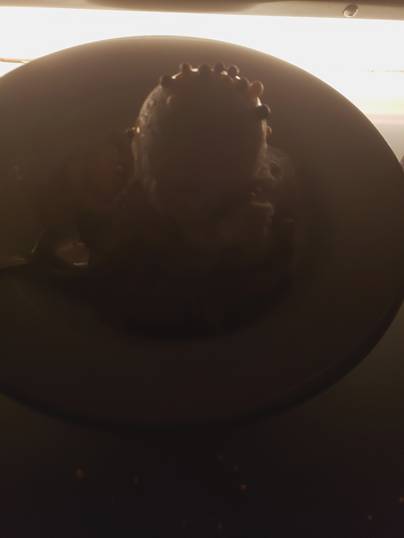 <![endif]>
I did mention it was dark.  Even the people who take your orders wear a little light source to help them take the orders.  And the bill is…
<![if !vml]>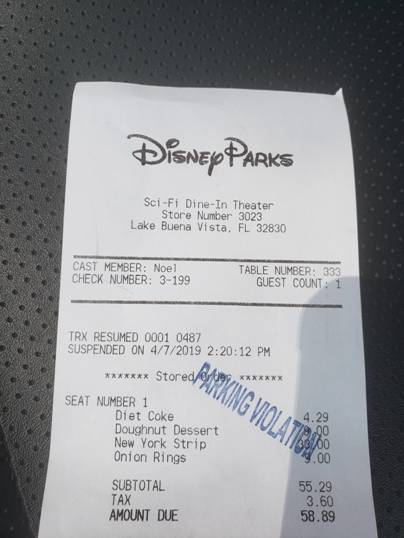 <![endif]>
On the break even point of the dining plan, I was at $93.  Minus this meal brings me down to $37.71.  I have no doubt the dining plan will come out in my favor.
After lunch we head over to Muppetivision 3D.  One of the many jokes about the theater is a sign that says there is a key under the mat.  I jokingly tell Virginia to look for the key.  The CM at the entrance over hears me and presents use with a button.
<![if !vml]>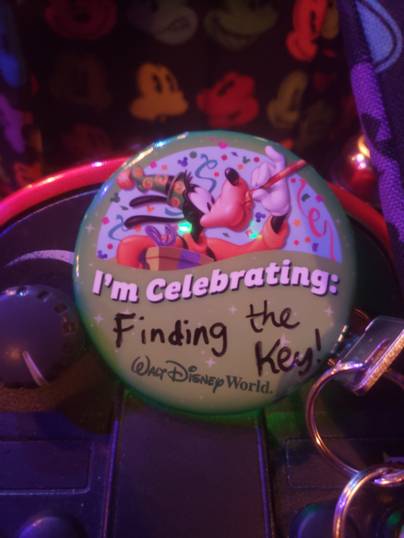 <![endif]>
One thing I always heard about, but never cared to try and find it, there is a mistake, while you see a live Sweetums in the audience, he is also on screen.  Yes, I saw it, after the theater building explodes from the canon, behind the dust is Sweetums on the screen, and he is in the audience asking if everyone is ok.

Now I have three presents to get, two for two great nephews and one for my great neice.
I figure to get this for my youngest great nephew.
<![if !vml]>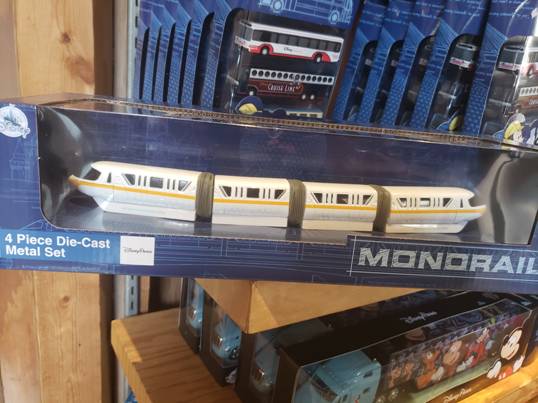 <![endif]>
Will look for this at other locations, should be easy to get.
I am in the studios, they have Star Tours which has a gift shop and my oldest great nephew loves Star Wars, so I head there to look.  After some texting with my neice, I get her son this….
<![if !vml]>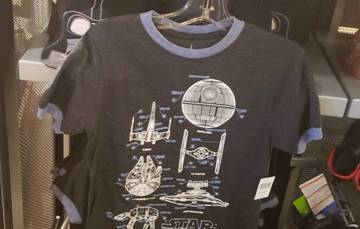 <![endif]>
It shows all the ships in the Star Wars universe.  With my nieces ok, and Virginia allowing me to use her DVC discount, I get the shirt.  1 down, two to go, well just have to think of one.
By the Indiana Jones stunt show, they have all kind of props.  One being a well with a rope going down and a sign that says don't pull the rope.  I wanted to do a Facebook live broadcast of it.  Virginia pulls it. And it works, but doesn't for me.  We laugh, she thinks she broke it.
My great Niece is celebrating her birthday, so I need two things for her.  I have a idea of what I am getting her brother, so I need to look for her.  We go shopping on Mickey and Sunset Blvds, couldn't find anything.
Here is another video of the Storm Trooper march by the end of Mickey Blvd.


We went into One Mans Dream to look around.  I don't see the Nautilus on display like I have done before.  In the theater portion, they show a preview of Dumbo.  Interesting, but will wait to view it at home one day.  They mention Dreamland in Coney Island having something to do with the movie.  Will explore it one day when watching the movie.
It is too early to go eat dinner at Hollywood and Vine, so we sit down on the bench just outside One Mans Dream and witness a woman falling and hurting herself.  Family and Disney employees helped her to stop the slight bleeding and finally took her for more medical treatment I am sure.
We make it over to Hollywood & Vine for dinner, as part of the Fantasmic Dinner Package.  My original ADR was for one, when I checked in and told them two, they didn't blink a eye and adjusted the number of guests in the ADR.
After a plate or two of other food, I noticed the childrens section had small corn dog nuggets…
<![if !vml]>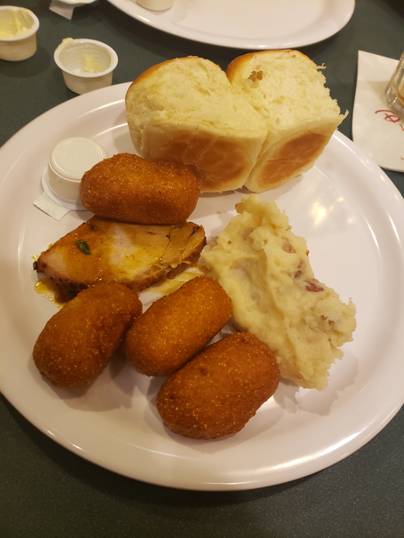 <![endif]>
Again, I used a meal credit from my dining plan, Virginia paid for herself including her DVC discount.  Here is the bill.
<![if !vml]>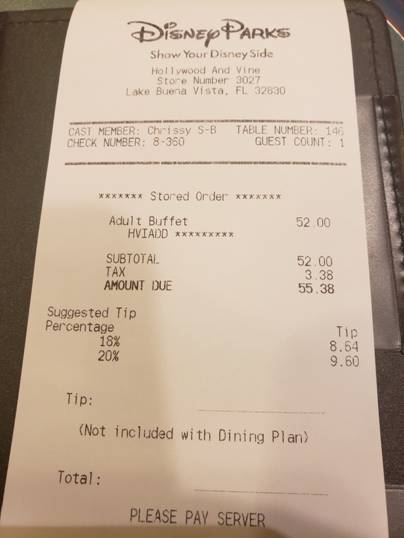 <![endif]>
So I had $37.71 left on the dining plan, with this meal, I came out ahead $14.29.  And that doesn't count the snacks I had.  $14 isnt allot when it comes to the cost of the whole trip, but its in my favor.
<![if !vml]>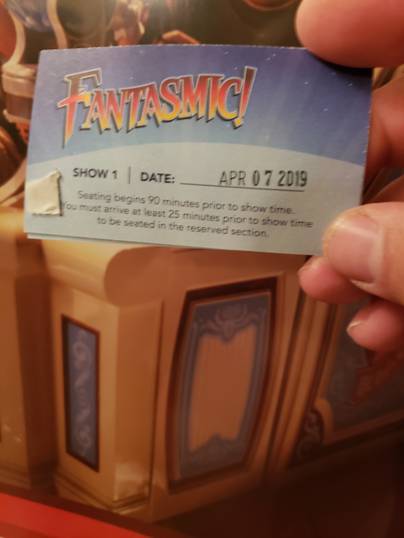 <![endif]>
Fantasmic passes
<![if !supportLineBreakNewLine]>
<![endif]>
After eating, we head over to the Fantasmic amphitheater.  Strange, they didn't look at our passes, instead had us just scan our Magic Bands.  I don't understand it.  We get to the top of the theater and sit down all the way.  I know and explain to Virginia that we will get wet when they use the water screens, she doesn't mind.

I am using a camera in a waterproof case.  Every so often I had to clean the lens from water.
Here is my video from Fantasmic.
Here is the video I posted to Facebook live.
After the show was over, I usually sit for a bit to let the large crowds before trying to leave myself. The theater seemed to empty out quicker then I can remember in the past. So we left quickly, it was pretty empty till we turned from Sunset Blvd to the main street Mickey Blvd. We parted company in the large crowd outside the theme parks gates.
It took me a bit to find the gate for my resort, then to find it and enter the queue line. I had a little wait for a bus, but I was the first party on the bus. First party on, last off.