Day 4
April 9, 2019
Today is a Magic Kingdom Day. So I wear a MK themed shirt.  This is from my friend Tammy.  A Mickey's Not So Scary Halloween Party t-shirt.  Sadly no Halloween party in April…. Yet.  You never know, they keep extending the dates of the parties.  So who knows.
<![if !vml]>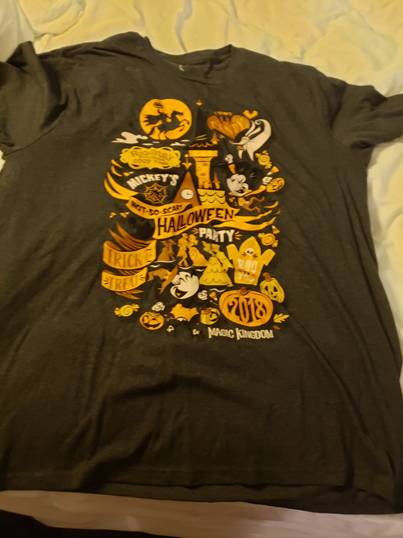 <![endif]>
shirt of the day
Leaving my room, it is.. dare I say the word….. chilly??
<![if !vml]>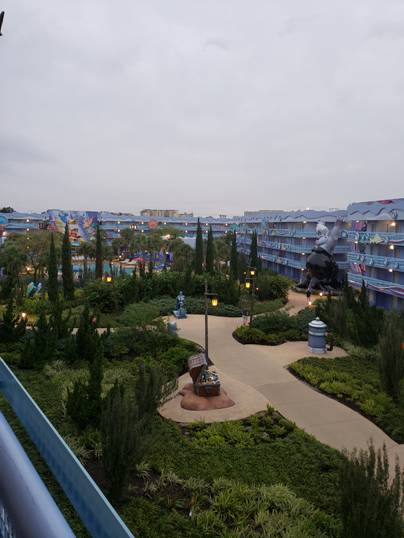 <![endif]>
cool day, rain drops?
So I head back to my room to get….. a hooded sweat shirt.
<![if !vml]>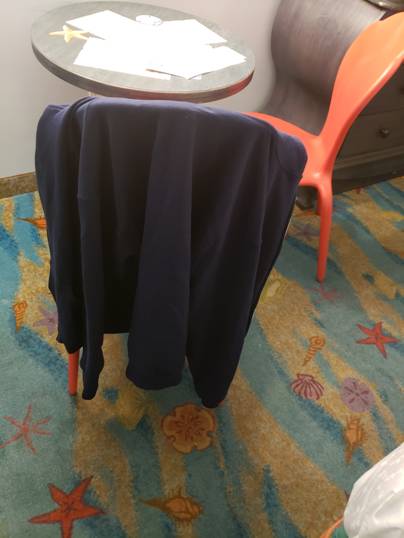 <![endif]>
Getting to the bus station, it is raining off and on.  There is a bus already loading, so I wait for the next one again.
Breakfast is something new, The Plaza Restaurant.  Planning my trip, I found out they added breakfast to the Plaza.  So I try it.  I am meeting Virginia there for breakfast.  We are in communication.  As I am going through the bag check, she is on the ferry from the Ticket & Transportation Center.  She had a problem with using her Annual Pass, they make her go to Guest Services, which gets her in to the park.
This is the first time I am eating at The Plaza.  I see the place is on the small side, but we are seated shortly after checking in.
While it's the first time eating here, I get a old favorite, Steak and eggs.
<![if !vml]>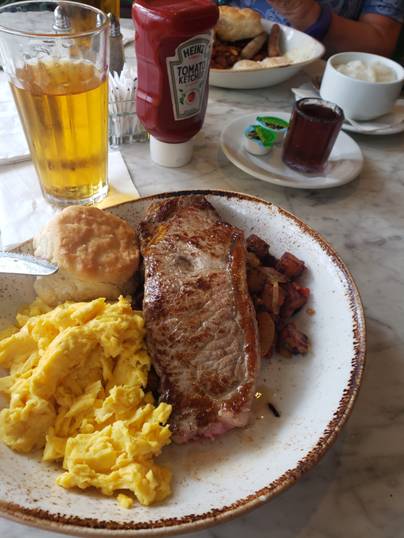 <![endif]>
with apple juice.  The meal was good.  Good piece of steak.  Here is the price of the meal.  Pretty cheap.
<![if !vml]>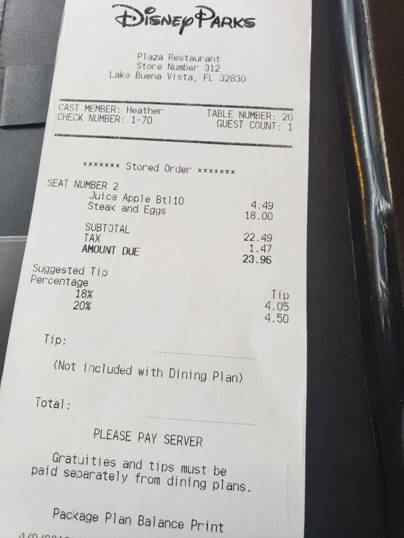 <![endif]>
$116 – 22.49 = $92.51
After breakfast, we go to City Hall to add Virginia to My Disney Experience so I can add her to my existing Fast Passes.  We do some shopping on Main Street.  Still looking for presents for my great neice.  We go into the candy ship on Main Street and I tell Virginia, she cant leave without getting something to use with my snack credits.  She gets Gummi Bears for her grandchildren and I get a large chocolate chip cookie.  We then head to Adventureland and ride The Jungle Cruise.  Here is the video of the Jungle Cruise.
Then go on Pirates of the Caribbean.  Here is that video.
Hey.. its almost three hours since I ate last.  We head over to the Wilderness Lodge to have lunch at Whispering Canyon Café. This is a boat ride from the Magic Kingdom to the Wilderness Lodge.
<![if !vml]>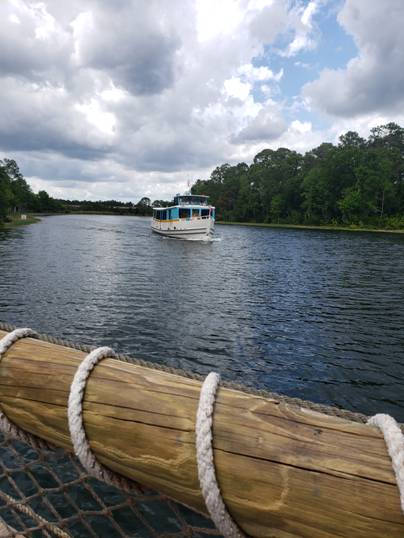 <![endif]>
 For those that don't know, Whispering Canyon Cafe is a themed dining experience.  The servers interact with you, like bringing you 10 bottles of ketchup if you ask for ketchup.  Or if they see you on the phone, they will scream for everyone to be quiet, he is on the phone.  I like a good meal, not be part of the entertainment.  When I check in, I ask for the quite section.  This is the area they leave you alone.  They usually don't open that area for lunch, but they seat us there anyway.
We are seated by the fireplace.  The server says there is a hidden mickey as part of the fireplaces iron works, challenges us to find it.  With a help of a light, I find it.
For a beverage I get the bottomless shake (2 to 3 glasses) and water too.  For the appetizer I get corn bread.
<![if !vml]>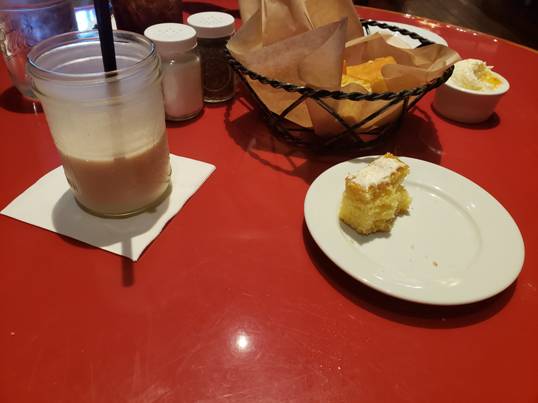 <![endif]>
Now they have a all you can eat skillet, but I go for a normal plated meal, pulled pork sandwich
<![if !vml]>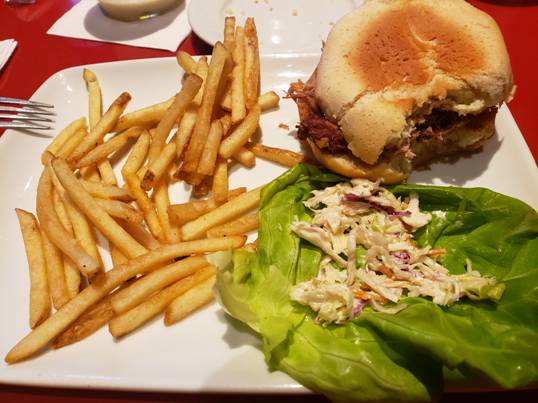 <![endif]>
yep, those skinny French fries again.  And for dessert…..
<![if !vml]>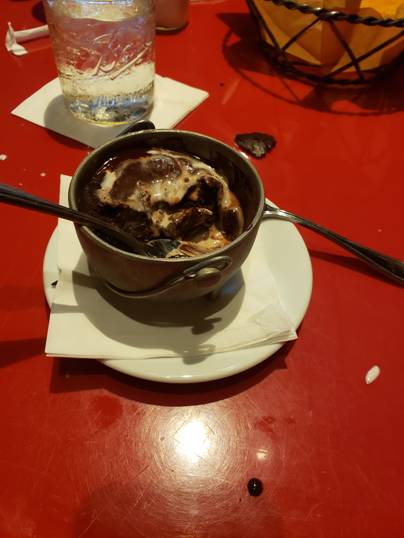 <![endif]>
Whispering Canyon Pioneer Chocolate Cake.  It is chocolate cake with hot sauce inside, topped by ice cream on top.   I forgot to take a photo of the bill, so here is the price of the menu… bottomless shake $9, corn bread $9, pulled pork sandwich $14, and chocolate cake $8, for a total of $40.  Not my usual standard of a cost of a meal.  $92.51 - $40 = 52.51 to be used for dinner, should be easy to do.
After eating we take a walk to the DVC section of the Wilderness Lodge.  There is a room that houses Walt Disney memorabilia dealing with his love of trains, even items from his father's work on the railroad.  Here are some photos.
<![if !vml]>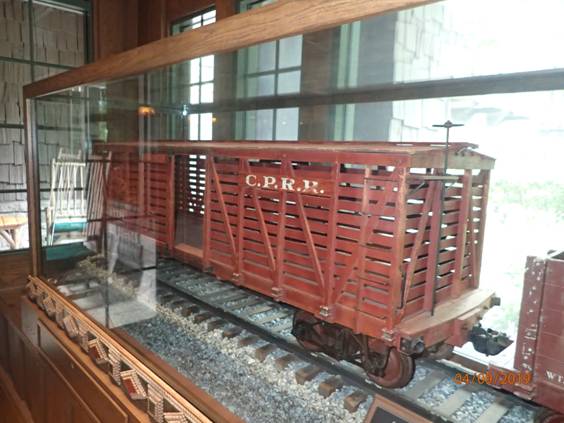 <![endif]>
<![if !vml]>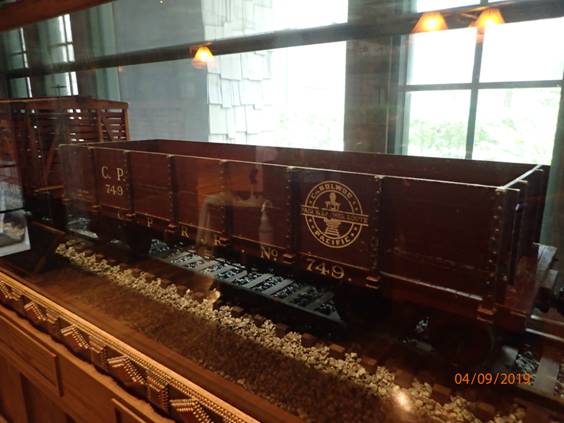 <![endif]>
<![if !vml]>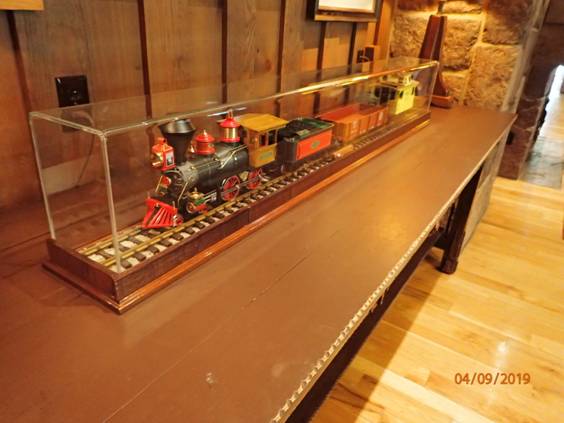 <![endif]>
<![if !vml]>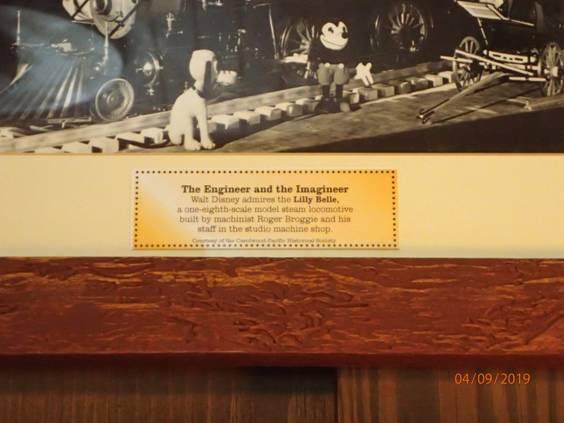 <![endif]>
We then take a ferry boat back to the Magic Kingdom. Here is that video.
We head to watch the afternoon parade.  We use the handicap space across the street from Hall of Presidents.
Its raining while waiting for the parade to start.  Here is a video of the rain.
They finally announce the parade will start shortly just about a half hour late due to the rain.  The fire breathing dragon, the highlight of the parade, doesn't breath fire anymore since it caught on fire some months ago.  I am disappointed to not see that, but understand why.  Here is that video.
I go live on Facebook, here is that video.
After the parade we head to Tomorrowland and ride the Tomorrowland Transit Authority.  Here is the video I took of the TTA.
Then my favorite, Buzz Lightyear Space Ranger Spin.  Here is this video.
Then we leave the Magic Kingdom, take the monorail over to the Grand Floridian to have dinner at the Grand Floridian Café.  I used to enjoy having lunch over here, but when they made it a brunch menu, stopped eating here.  But for dinner, I expect to have a good meal.
For my appetizer is of course the Onion Soup.
<![if !vml]>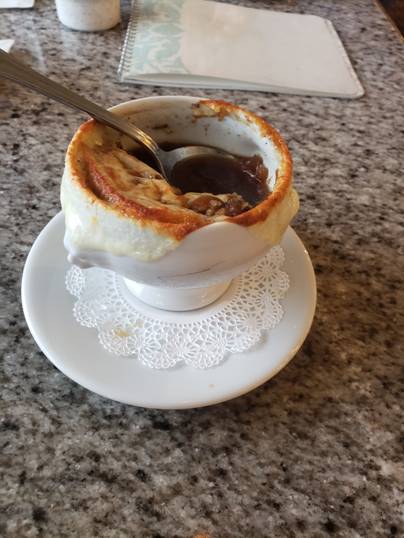 <![endif]>
for my entrée.. do I need to say what I ordered?  Starts with where I live…
<![if !vml]>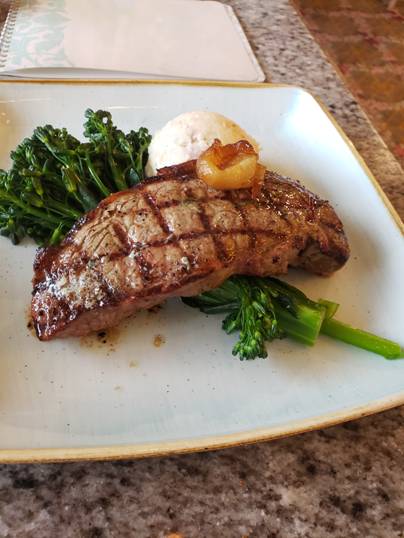 <![endif]>
At least no stupid thin fries
And for dessert, something new, called a Mickey Dome.
<![if !vml]>
<![endif]>
had a ear before remembering
to take a photo
The bill….
<![if !vml]>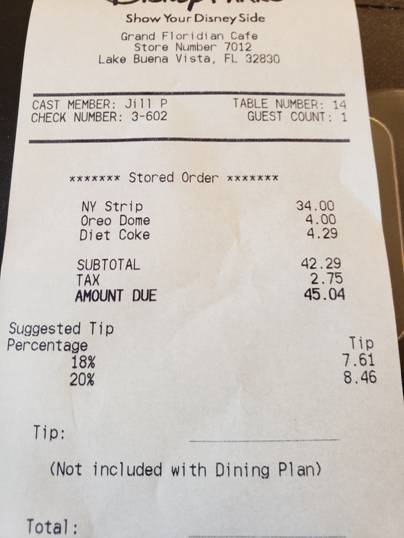 <![endif]>
Its missing my appetizer, Onion Soup, so I get a new bill.
<![if !vml]>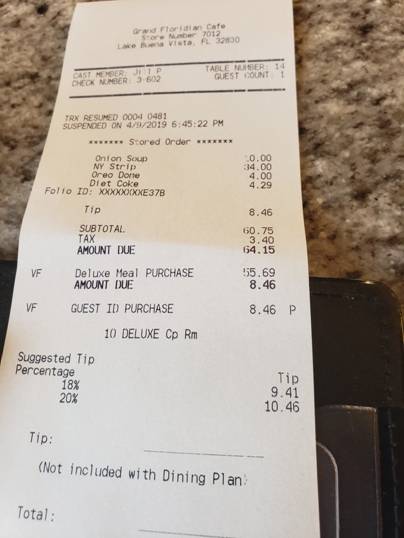 <![endif]>
since I am on the dining plan, it doesn't bother me to have the bill corrected.  This meal was $60.75.  I have $52.51, so I can out ahead $8.24.  Not allot, but its in my favor.
On the way back, my dining choices was bothering me.  I ate at 'Ohana yesterday, and have a adr to eat there tomorrow too.  I like to eat at 'Ohana, but maybe not tomorrow.  I see there is availability at Spice Road Table.  I try to do it on the My Disney Experience app, but cant, so we stop by City Hall for guest services to help.  They have some problems, but she gets help and now I have Spice Road Table.  I thought they also deleted my adr for 'Ohana, more about that later.
Due to time, the only thing I could do was head to the Tomorrowland Terrace for the Wishes Dessert Party.   I parted company with Virginia.  She went to ride the TTA, I checked in for the dessert party. 
Something new this time.  The past times I went for the dessert party in the Magic Kingdom, it was always reserved seating.  Getting there first or last, you get the same table.  This time they reserve the table when you check in.  I had some sparkling Apple Wine, small desserts, and ice cream.
I post my activities to Facebook.  Brandy Dunbar mentions cheeseburger wraps.  I go what? She tells me where to find it.  I get some of those too,  They are good.
I never had a good experience doing the Magic Kingdom dessert party.  One of the problems I have, due to leg injuries, if I stand too long, my legs hurt.  Years ago, you are only permitted to stand by the railings.  You cant really sit at your table and watch the fireworks show as you are covered, which is good, since it is still raining.  Now you are permitted to move a chair to sit at the railing.  Part of Happily Ever After Fireworks show is they also now project images on the castle.  So before the show starts I scout out a location that the castle isn't blocked by trees.
Now I know what I am about to say maybe controversial, but it happened and feel I should mention it.  While eating some desserts, I am hearing what I interpret a child crying constantly.  I am surprised the family is just letting the child cry.  When I moved to the railing, I see the person who is crying, a special needs child who alternates between crying and howling like a barnyard animal.  And the parents just let him do this.  I just feel I am paying a premium price for a premium experience, and this is ruining my experience.   This is so very irritating that I am so very tempted to turn around and yell at the parents to do something, but I bite my tongue and try to enjoy the show.  The child was so very loud that it isn't a question of finding another place further away from the child.  Here is the video, you tell me.
Here is a video I did on Facebook Live.  You do see the castle better.  Here is that video.
After the show is over, I do complain to the person in charge of the event, all she can do is apologize.  Another dessert party, another bad experience.  Maybe the last time I will do it.  I never had a good one trying this.
I filled out a online complaint form, figure all I will hear is more apologies.  If they offered me a return visit, impossible this trip.  (to date of writing this, never heard back).  Leaving the park, I hear the same kid crying screaming.  I pray he isn't going to my resort.  He didn't.  At the bus station, I have to wait for the second bus, heading back to my resort.