Day 5
April 10, 2019
<![if !vml]>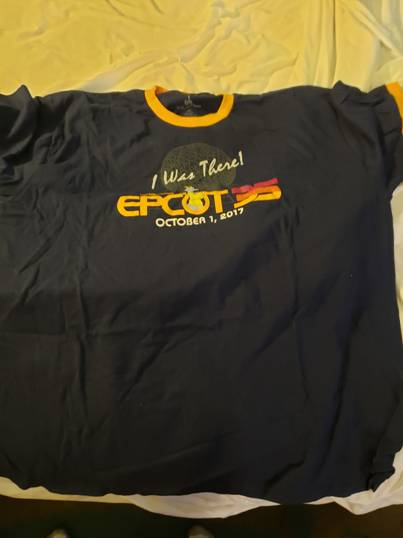 <![endif]>
shirt of the day, a gift from Virginia
2 years ago, I was there J
<![if !vml]>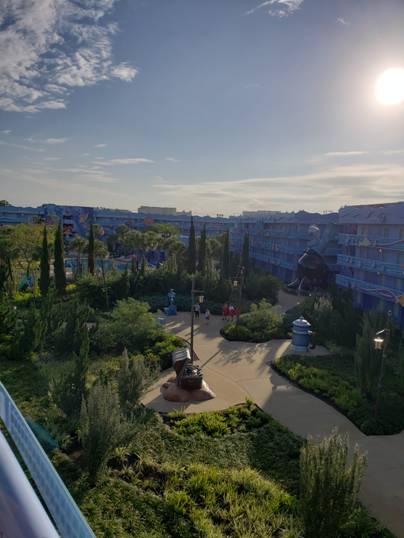 <![endif]>
nice day out
Today is a Epcot day.† Wearing a Epcot t-shirt.† When I upgraded to deluxe dining, I added and trying for the first time Garden Grill inside The Land Pavilion.† This is a character dining experience on a rotating platform.† This is all you can eat served family style.† This is one of the few places inside Epcot that serve breakfast.†
<![if !vml]>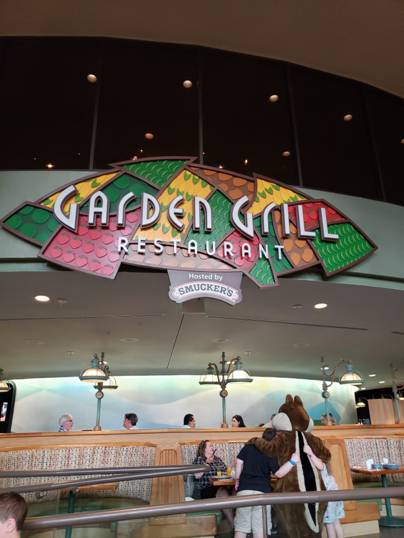 <![endif]>
They bring a bowl of fresh fruit and a large plate of sticky buns.
<![if !vml]>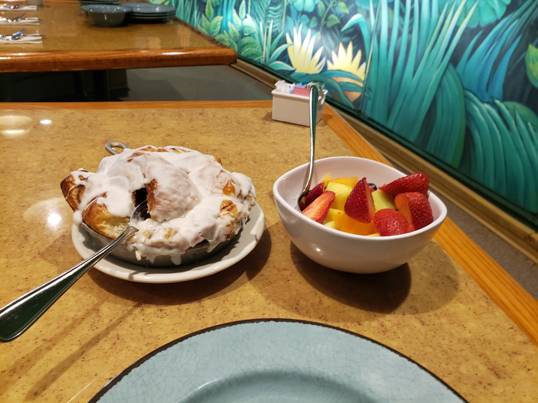 <![endif]>
Later on they bring a skillet of scrambled eggs, bacon, tator tots, sausage, and mickey waffle.
<![if !vml]>
<![endif]>
Even though I like to drink Orange Juice better then Apple Juice, when eating out, I always get Apple Juice because I like Pulp free Orange Juice and always afraid that it will have pulp in it.† Apple Juice never has pulp.
<![if !vml]>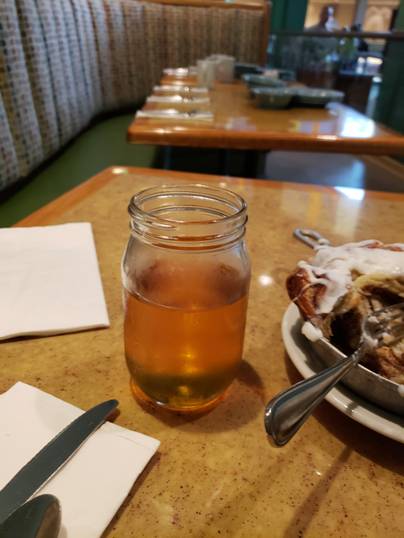 <![endif]>
†I have one mickey waffle, cause you need to have at least one.. donít you?
<![if !vml]>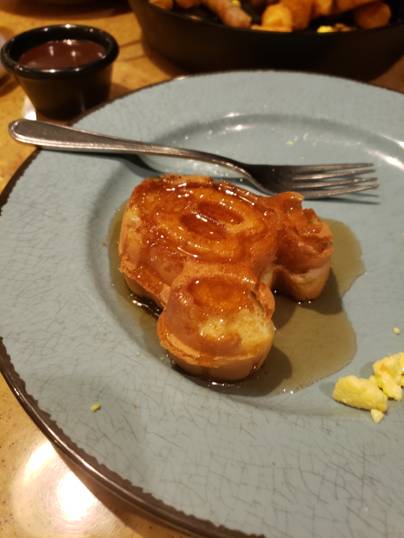 <![endif]>
†Other wise I stick to the scrambled eggs and bacon. I just have seconds on the eggs and bacon, I donít keep eating till I am ready to puck, I take care of my bill and head off.
<![if !vml]>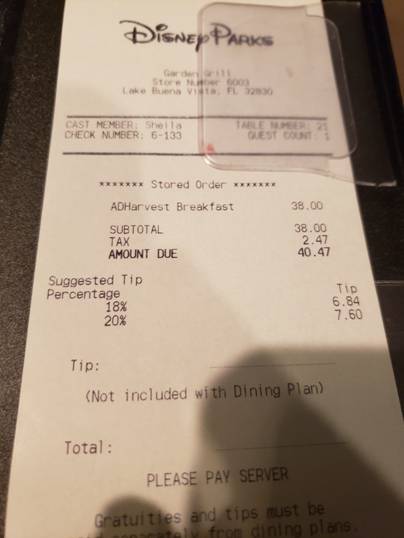 <![endif]>
Bill talk.† $116-$38=$78.† This is little on the expensive side for a breakfast.† I guess because it is a character meal.† Some characters stop by. I just waved and kept on eating.
I cross to the other side of the park and ride Test Track with a Fast Pass. I wear and take video with my sunglasses camera.
<![if !vml]>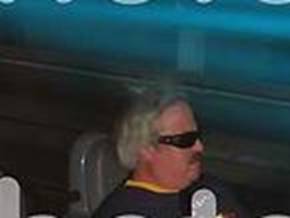 <![endif]>
I go to Mission Space to get a DAS return time, instead they allow me to ride right then. Here is that video.† I again use my sunglasses camera.
†I do some window shopping Mouse Gears, nothing interests me.† One of the things I like to look for is a prop from the original Journey into Imagination, the first opening day attraction.
<![if !vml]>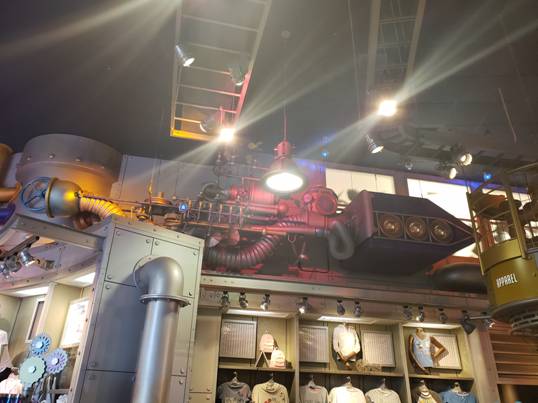 <![endif]>
Still there.† Itís the Dreamcatcher.
Itís a little early to head to Le Cellier for my ADR, but not enough time to do anything else, so I head off. I get there about . They allow us in, but cant check us in till the restaurant opens at . The check in hostess said she remembers me, the guy with the NY hat.† I doubt it, but who knows.† About 12:25 they check us in and in a couple of minutes I am seated. I get the usual, Chedder Cheese Soup and Rib-eye steak and Maple cream brulee for dessert. The steak was heavily charred, but it was fine for me.† The soup is a must have every trip.
<![if !vml]>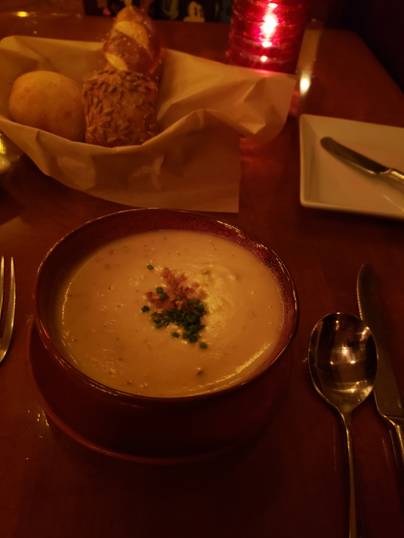 <![endif]>
<![if !vml]>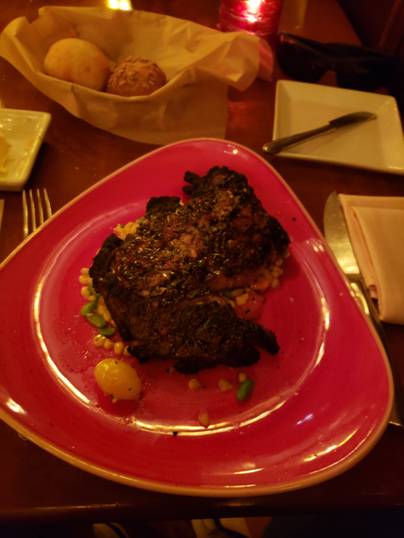 <![endif]>
<![if !vml]>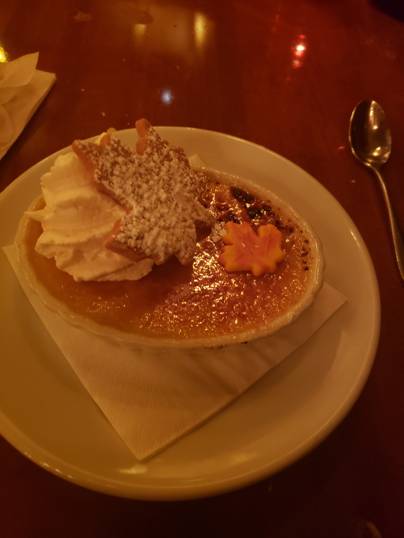 <![endif]>
and the billÖ.
<![if !vml]>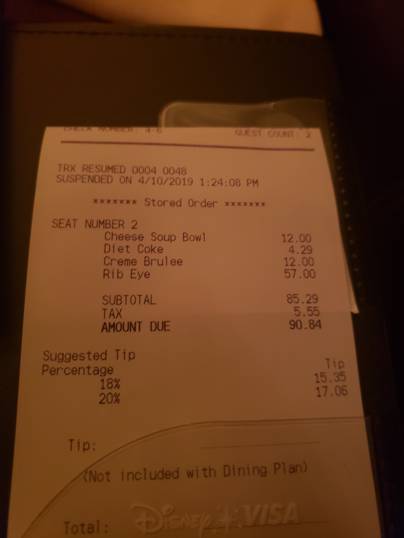 <![endif]>
Le Cellier is a two credit meal. So I will be using two meal credits for this meal.† So I have to redo my math.† $116 for 3 meal credits is $38.67.† Times that for 4 credits usage today is $154.67.† $154.67 - $38 = $116.67.† Subtract lunch leaves me $31.38 for dinner before I come out ahead.
I start traveling around World Showcase, so first up is the American Adventure. † Here is Scootercam video leaving Canada to American Adventure.
†As usually, I park my scooter all the way in the back, sit second row. First row was closed off. I do find myself nodding off, its not that I was bored, just not sleeping enough.. like doing these recaps till 1 am.
I stop by Norway and get a DAS return time for Frozen Ever After. They give me , not bad, enough time to ride Gran Fiesta and return.
Next up is Gran Fiesta Tour. While the Mexican Pavilion is open, only when you get to the ride entrance, you are told the ride is currently down due to a technical issue. So I leave the pavilion, not sure where I am heading next.
One of the hot items for Flower and Garden this year is a little orange bird one of the booths are selling. Stories of 1 hour plus waiting to purchase this item has been floating for weeks. I walked by the stand and within 10 minutes, I was drinking from it. I asked the worker, she said yes, when they first started to sell it, demand was crazy, but has since quieted down.
<![if !vml]>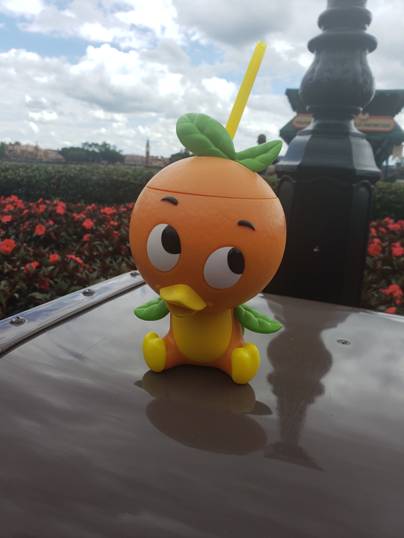 <![endif]>
I go and ride Frozen. There is a party of 2 wheel chairs in front of me. One is allowed in, the second is refused, the worker said she has no FP for Frozen, so she cant ride. I donít pay too much attention, but I donít believe she rode. Here is that video.
Leaving Frozen,† I get a new Fast Pass for Journey into your imagination with Figment. But for some reason when at the attraction, I tell them no, I donít have a FP for it. There was no line and rode that. I do have some technical difficulties recording it, here is that video.
I create a Fast Pass for Living with the Land, stop by Soarin to get a DAS return time, then enter Living with the Land. LWTL is one of the few attractions handicap are allowed to ride right away with DAS or anything. So I ride that. Here is that video.
Afterwards I cancel my FP for LWTL and create a new one for Soarin again, and ride that again.
I say on Facebook that I will do a live broadcast of Illuminations: Reflections of Earth tonight.
<![if !vml]>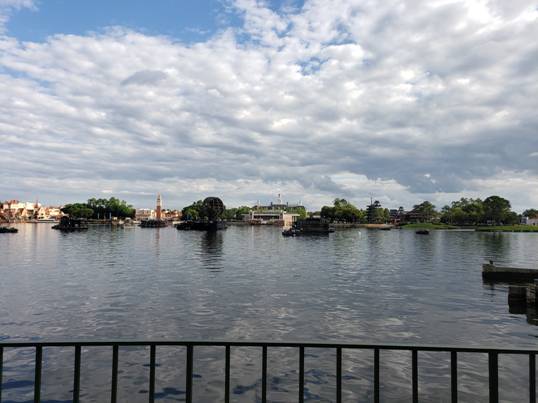 <![endif]>
I ride around world showcase trying to waste time before I eat at Spice Road Table, give up and check in about 40 minutes early. Here is the view of World Showcase Lagoon from my table.
<![if !vml]>
<![endif]>
<![if !vml]>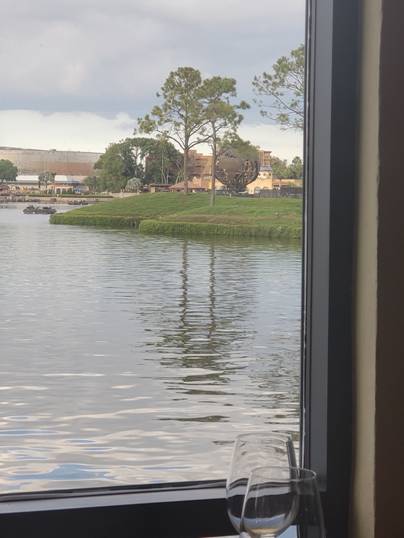 <![endif]>
While I got the same items I had last time,
<![if !vml]>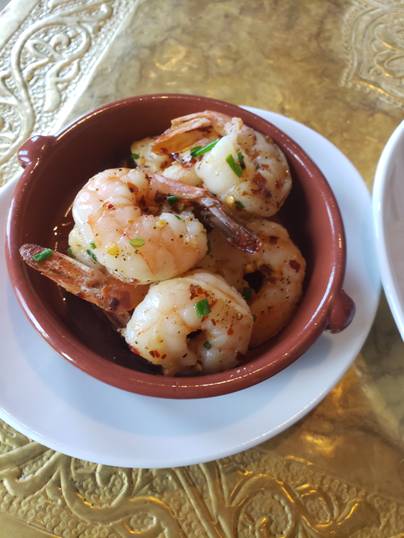 <![endif]>
Garlic Shrimp
<![if !vml]>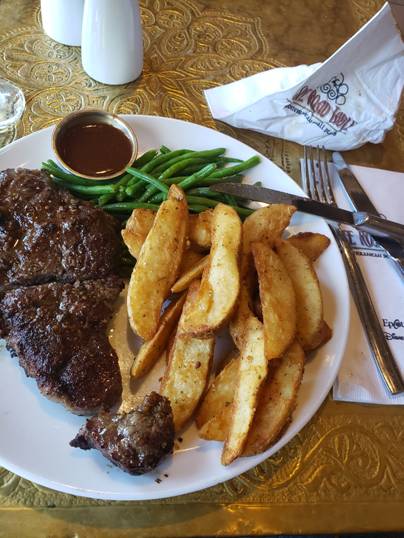 <![endif]>
NY Strip
<![if !vml]>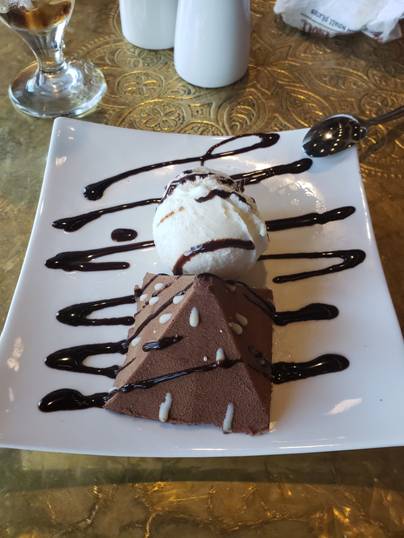 <![endif]>
Chocolate Pyramid with
Ice Cream
.. wait a minute, let me back up what I did yesterday. My original plan was eating at ĎOhana on Monday and Wednesday. On Tuesday, started to rethink my plans and changed eating at ĎOhana to Spice Road table for Wednesday. I am also eating at Spice Road Table on Friday. Well.. for reasons I cant figure out why, I didnít enjoy the meal like I did when I first ate there in 2017. I think I will try to change my ADR for Friday to another restaurant. I just cant think of anyone that the appetizer, entrťe, and dessert interests me to go eat there. Coral reef is a close double play, but no appetizer. Will sleep on it.
And the billÖ
<![if !vml]>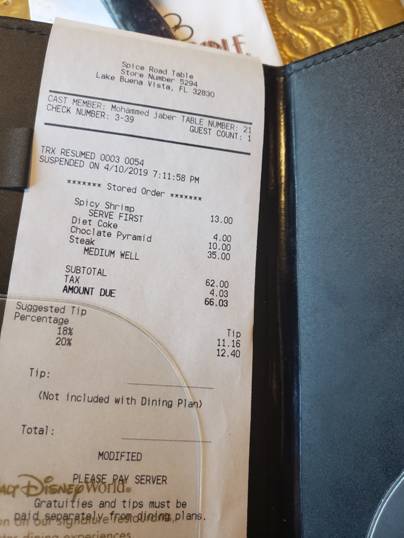 <![endif]>
I had $31.38 left on my dining plan.† This meal cost $62.† I came out ahead over $30 using the dining plan.
I stop by the outdoor train set and watch it. Rumors are saying this land will be a new future pavilion minus the trains.
Gran Fiesta Tour is working now and go inside and ride it.
†The last scene you have three audio animatronic figures singing. There is a problem with how it sounds. So this must have been what kept them from opening the attraction. So they either got it partially working, or couldnít fix it totally now.
I am feeling a little run down, not sick, just not enough sleep, so I decided instead of watching Illuminations tonight, will head back to my room. I went for a little swim in the pool near my resort building. It was a little chilly tonight, so I went to my room and raised the room temperature to 80. Just to make sure I donít get sick. As soon as I didnít feel a chill, lowered it back down to 65.
Tomorrow is my one and only day for Animal Kingdom. Not sure what shirt I am going to wear for that. I am having breakfast and dinner at Boma. Lunch at Yak N Yeti. Then Rivers of Light dessert party. Second from last day for this trip Its only Wedneday, but feeling depressed that the trip is almost over.