Day 6
April 11, 2019
The first thing I like to do when waking up is stretching out. It seems when I am at Disney most of the time, my leg starts to cramp. This morning, after waking up, I start to stretch.† I feel my muscle starting to cramp, so I immediately get up and start to rub the muscle to stop the cramp and relieve the pain. Yesterday it was my bad right muscle, today my good left muscle. I even take a hot bath to help the muscle. But anyway, on to my day.
Another problem, I forgot to charge my scooter last night. I am just so very tired, keep forgetting to do things.
Today is my Animal Kingdom day. I have breakfast at Boma. To get there from Art of Animation, I will take a bus to Animal Kingdom, then another bus to Animal Kingdom Lodge.
<![if !vml]>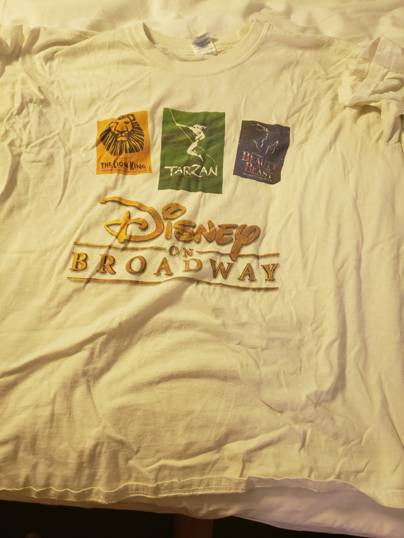 <![endif]>
shirt of the day
I know people havenít been able to sleep not knowing what shirt I will wear to Disneyís Animal Kingdom.† I pick this shirt I got from J&R Music World (been closed for years) that celebrated Disney on Broadway.† There is a show in DAK based on The Lion King.† Not that I will go to that show, but figure its close enough anyway.
<![if !vml]>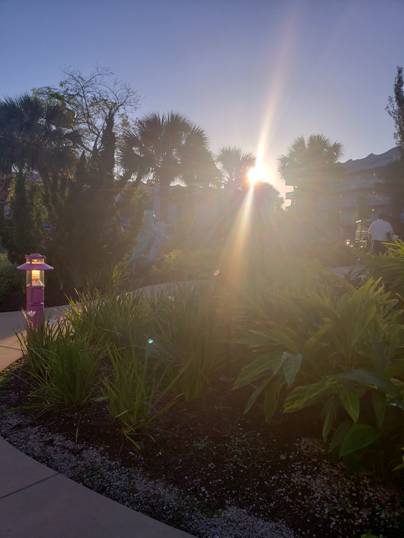 <![endif]>
Bright day out
No bus issues, make good time to Jambo House at Animal Kingdom Lodge.
<![if !vml]>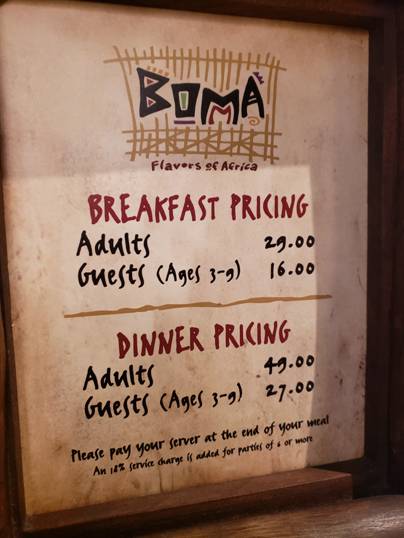 <![endif]>
†I check in, they take my phone number and I get a text message right away that they will seat me.
<![if !vml]>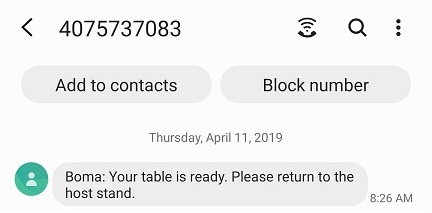 <![endif]>
As usual, I am seated all the way in the back, any further, I would be on the other side of the wall to the restaurant. I have one made to order omelet, some scrambled eggs, toast, bagel with lox and cream cheese. Sounds more then it actual is. The bill, like the signÖ$29.
<![if !vml]>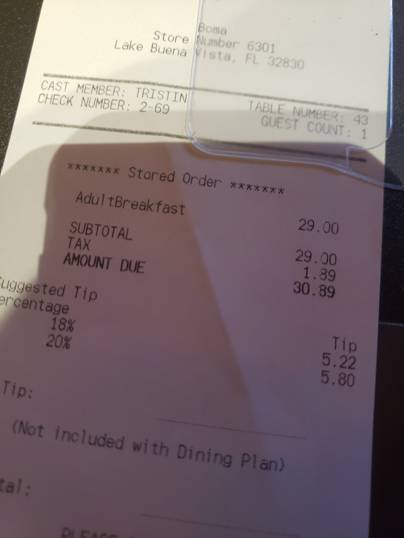 <![endif]>
†Made my way back to Animal Kingdom.† Once in the park, head towards Avatarland.
<![if !vml]>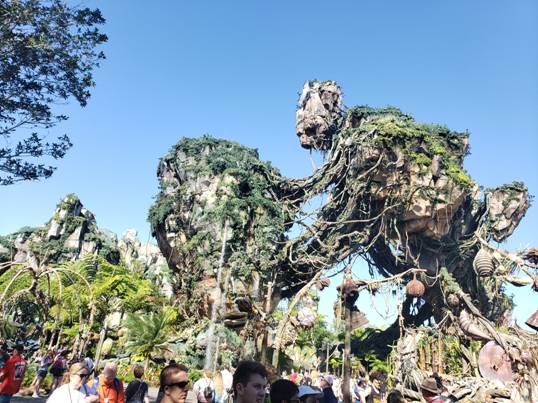 <![endif]>
Once in the Animal Kingdom, I am surprised how crowded it is. The walkways are full of people.
<![if !vml]>
<![endif]>
†Makes it very hard to make it to my first thing, Naívi River Journey. I have a fast pass for it.† I get there a little earlier, so I kill time till itís a couple of minutes before I thought I can show up. I ride it just to say I rode it.
I still have too many credits to burn up in a couple of days, so I get a mickey pretzel with melted cheese and a blue Powerade. Its hot, but find a place to sit and eat this.
<![if !vml]>
<![endif]>
I still prefer the red over the blue Powerade, but the red is harder to find.
Next up is Kilimanjaro Safari. Again I am early but I am able to board. Ride that too. It seems shorter then pervious rides.
<![if !vml]>
<![endif]>
Obligatory photo of the
Tree of Life
Next up is lunch at Yak N Yeti. I get there and check in about 30 minutes early, I am warned I probably wont be seated till my ADR time, but called and seated about 10 minutes later.
I get the pot stickers,
<![if !vml]>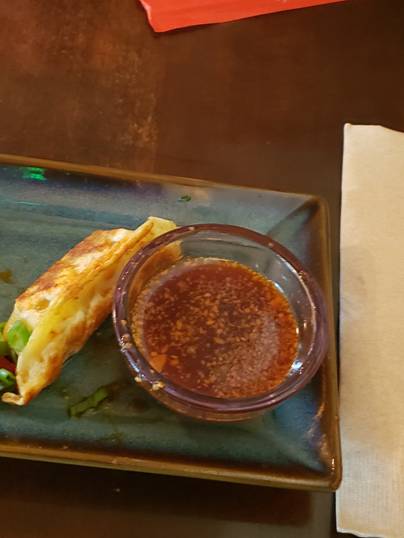 <![endif]>
†which was ok. The main entrťe was Ribs over a bed of fries.
<![if !vml]>
<![endif]>
I hardly touch the fries and finish off the ribs. Dessert is cheese wontons with ice cream and vanilla sauce. Best part of the meal.
<![if !vml]>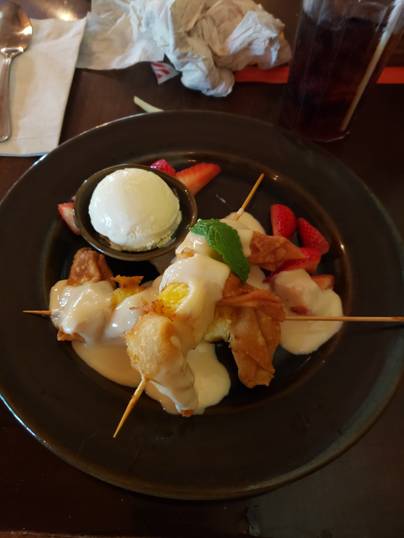 <![endif]>
<![if !vml]>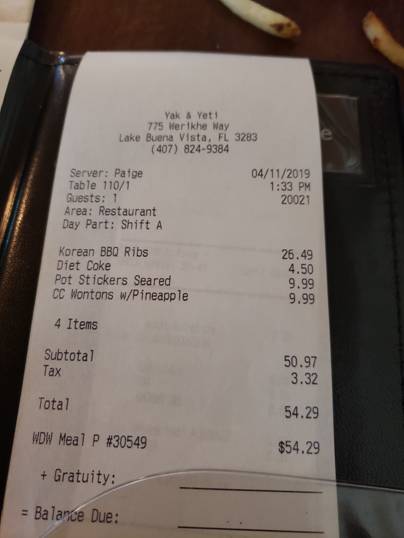 <![endif]>
$50.97
I go to Its tough to be a bug. The person before me was the last person allowed into the theater, no room,. So I will wait for the next show. I park in the rear and move down one row. Seen the show before, its ok.
Now I am very tired, my scooter battery is showing several LEDís turning off indicating the battery is getting low. So I head back to Animal Kingdom Lodge, Jambo House. I find a place to plug in my scooter to charge.† I find a sofa for myself to sit on in the main lobby.† I try to close my eyes for a bit. There is some entertainment going on with a drum beating and I cant close my eyes. Finally it is over. I close my eyes, but donít fall asleep. My adr is for , about , I take my scooter down, plug it into wall outlet by Boma and go check in. The restaurant closes after breakfast at . It reopens at for dinner. So I check in and the restaurant isnít open yet. In a couple of minutes, I am texted to return to the check in desk.
<![if !vml]>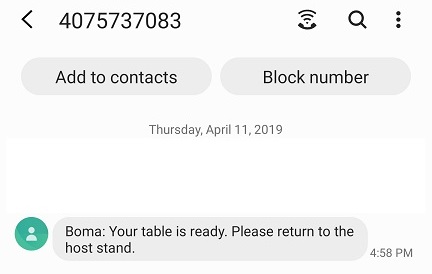 <![endif]>
I am the second person to be seated. Something is wrong, I have a table way up front. I am usually brought to the rear. I am seated up front, first row of tables. No one is seated yet which is a good thing. There is either a normal chair and the other a long sofa. I realize something is wrong as when I move to and from my seat, I am moving the whole section. So I switch to the chair, my server notices and calls over some help to try and fix the seat, they do, I am not sure, but maybe I moved it, I stay and sit in the chair. Again, not eating allot I take care of the check and head back to Animal kingdom.† But I do have some Zebra Domes.
<![if !vml]>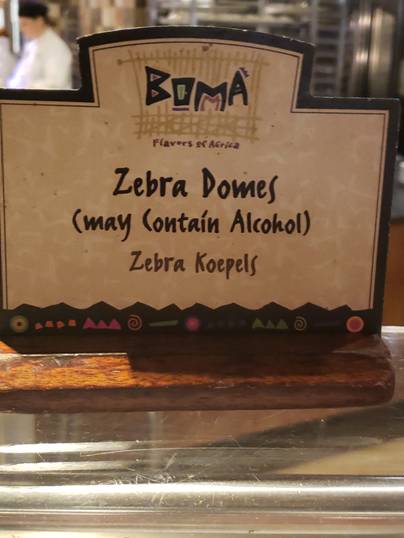 <![endif]>
<![if !vml]>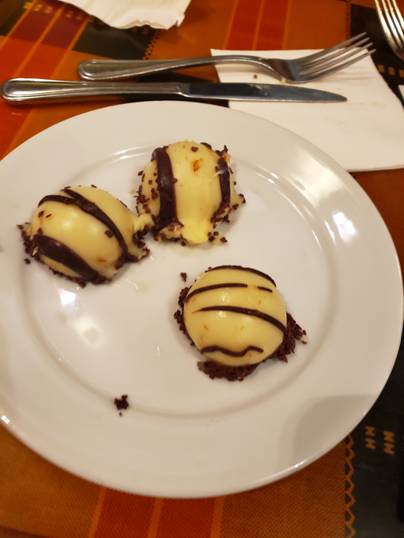 <![endif]>
<![if !vml]>
<![endif]>
$49
Dining plan talk.† Cost of todays plan $116 - $29 (breakfast) - $50.97 (lunch) - $49 (dinner) = -12.97.† I came out ahead about $13.
Maybe had one too many Zebra Domes (they may contain alcohol).. as I swear the wall moved in front of my scooter,
<![if !vml]>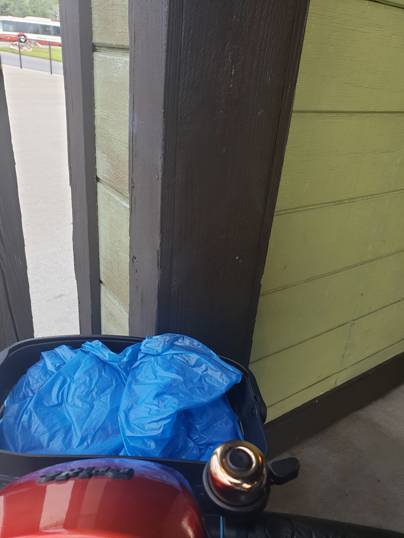 <![endif]>
Offical Police photo of crime scene
Once back in the park, I go to Guest Relations to find out info about the Rivers of Light Dessert Party. I get the location and time and head to the location about an hour earlier. They wont allow people in for about another 45 minutes. Other people come and go. They finally start letting people in. I am the second group to be let in, problem, I am in a scooter, but this entrance there are steps involved. I thought to leave the scooter outside nervous about taking the time to use a alternate entrance. But it works out good as they have two tables reserved for handicap, I claim one.
They have some usual sugar dessert made special for this dessert party. Boma for breakfast serves what they call Jungle Juice,
<![if !vml]>
<![endif]>
†I tried it years ago with my parents, I didnít like it. I tried it tonight, it tasted good. They must have changed the recipe. I also had some red wine. They served ice cream, I had a cookies and crŤme ice cream sandwich.† I am posting on social media what I am doing.† The question comes up, why arenít I drinking any alcoholic beverages?† So I get a glass of red wine and post it.
<![if !vml]>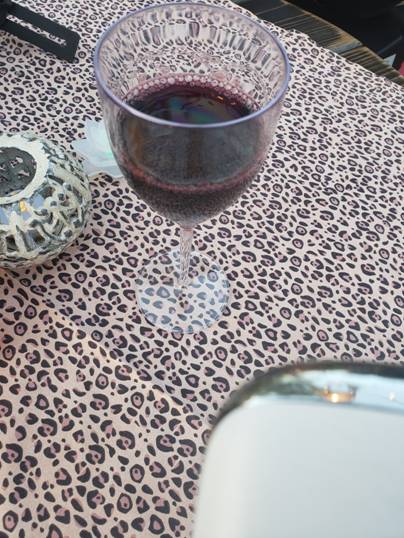 <![endif]>
not grape juice
†As the show was getting ready to start, I setup my cameras, 1: my smartphone to broadcast live and a action camera to record it in 4k. Interesting show. Will see it again one day I am sure. The manager of the show was chatting with a family behind me. Said something about a preshow, so I started to record about , not .† Here is my video.
I broadcast the show live on Facebook, here is that video.
After the show was over, just called it a night and headed back to my resort