Day 7
April 12, 2019
<![if !vml]>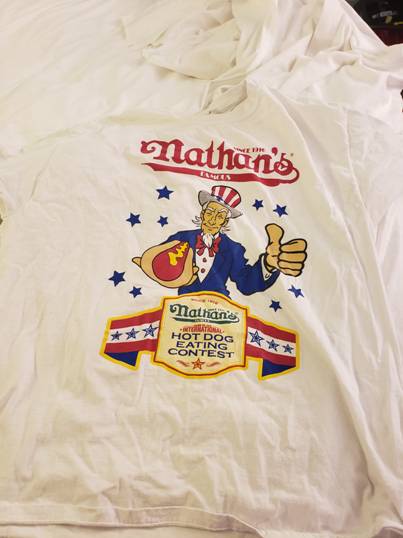 <![endif]>
Shirt of the day
Last day in the parks, head home tomorrow am.† Today I am starting out at Magic Kingdom, and finish my day at Epcot with viewing of Illuminations. The first time I wore my Nathans Famous T-shirt was at Epcot.† Watching Illuminations, I felt debris falling on me.† When I got back to my resort, I realized it was flaming debris because I had small burn marks on this white shirt.
<![if !vml]>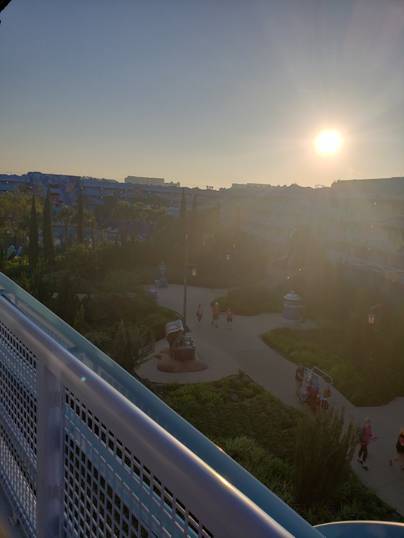 <![endif]>
nice day out
My last morning trip from my room to the bus station at my resort.
Breakfast is Magic Kingdom at Crystal Palace. While planning my trip, I planned on eating twice at several locations, only to make changes. The only location I ate at more then once is Crystal Palace. I like the omelet station. It is the only restaurant that is in a park that has a omelet station. I eat so light, the server thinks I didnít like the food. Just eating allot, thatís all. As luck would happen, they sit me at the same table as I did earlier this week, but a different server.
<![if !vml]>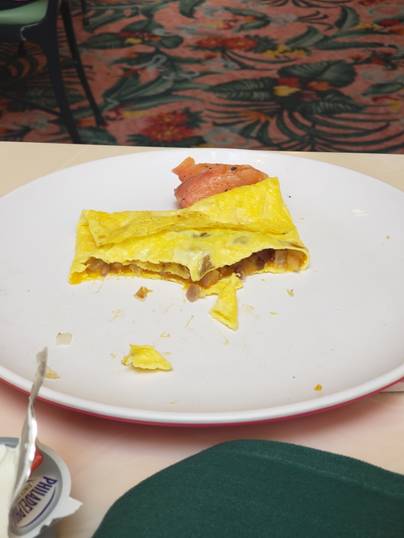 <![endif]>
made to order omelet, favorite
<![if !vml]>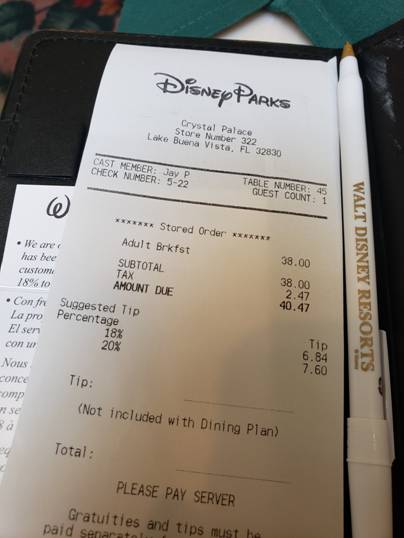 <![endif]>
Bill, $38
After Crystal Palace, I juggle my Fast passes around and go to Buzz Lightyear one more time. Now at this point, I present my ride video.† Well, I couldnít find it.† I looked at my Facebook post when I checked into the ride, I noted.. no video.† I guess it is true.. the world wouldnít end if you donít video every moment.† But I still video other rides today.
<![if !vml]>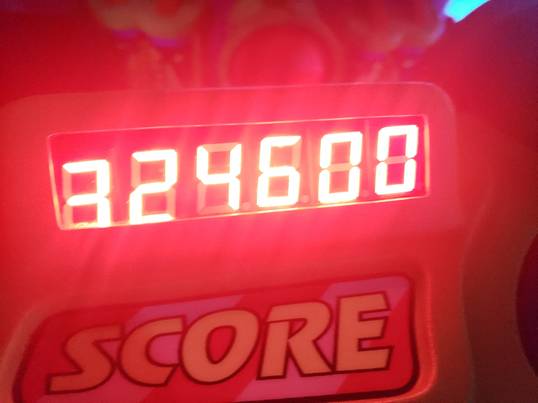 <![endif]>
my score
†What to do next? My lunch adr is for Chefs De France at . Its . Somehow even the thought of resting 90 minutes in my room sounds better then staying in the Magic Kingdom or park hopping to Epcot, so I head back to my resort and rest.
†There should be some sign saying the room is occupied, in case housekeeping comes in, but I cant find any sign. So I hand write the note and attach it to the handle. I make a wake up call through the hotels phone system for . Figure that should be enough time to make it to Epcot, go through bag check and make it to World Showcase in time.
My next door neighbor left a plate of food outside their door which attracted birds to snack on things like ketchup.
<![if !vml]>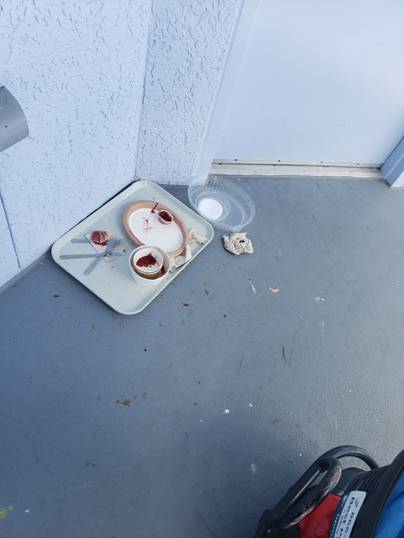 <![endif]>
I lay down and fall asleep till the phone rings with my wakeup call.† Get dressed and head back out to the buses and Epcot.† Bus comes, I board, get to Epcot, go through bag check scooting my way through World Showcase to World Showcase, make a right (usually go left at World Showcase) and go to check in at the podium.
I make it to Chefs about 5 minutes late, no big deal. I am seated in less then 5 minutes. I have a window seat right by the path around World Showcase Lagoon.
<![if !vml]>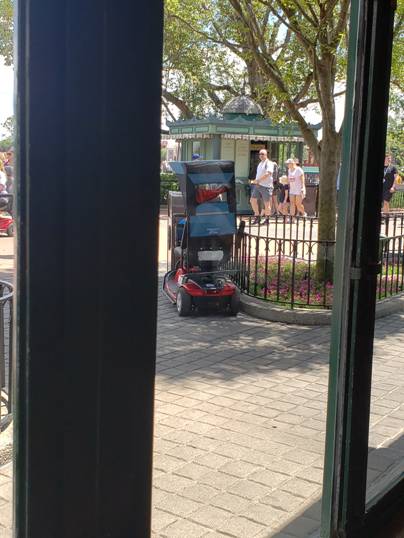 <![endif]>
my scooter
†The onion soup is very large,
<![if !vml]>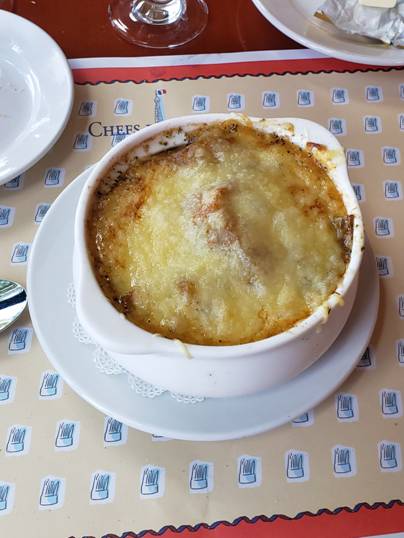 <![endif]>
†I leave half of it over. It was good.
<![if !vml]>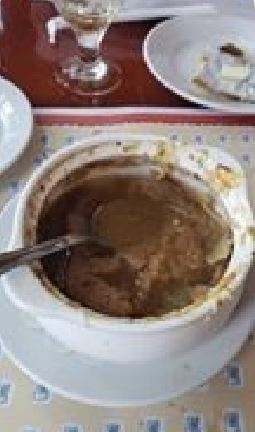 <![endif]>
†The steak is good, comes on a large bed of shoestring fries.
<![if !vml]>
<![endif]>
†Hardly touched the French fries. Dessert was good.
<![if !vml]>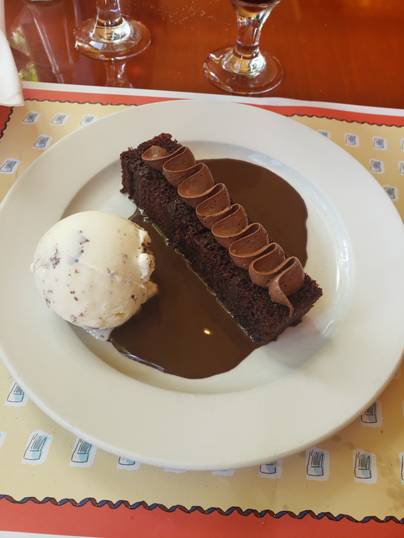 <![endif]>
Gateau au Chocolat:
Chocolate Layer Cake with Chocolate Mousse,
†Chocolate Sauce, and Mint Chocolate Ice Cream
†My table was right by the window of the restaurant. So I had a good seat to watch the entertainment. A gentleman stacked chairs and climbed to the top chair before climbing down.
<![if !vml]>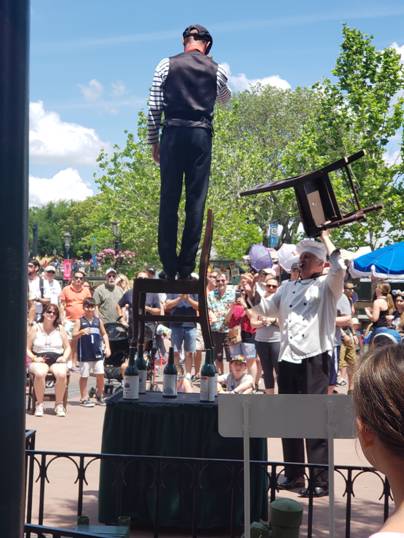 <![endif]>
<![if !vml]>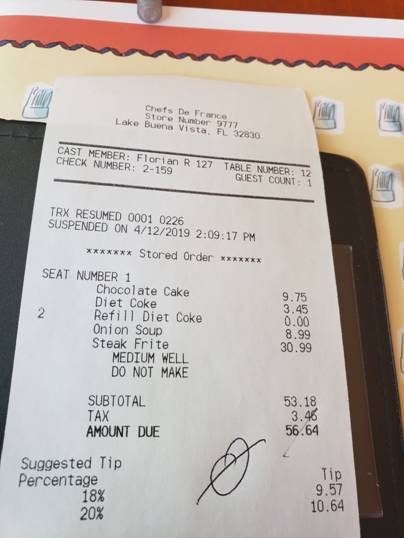 <![endif]>
I go ride Mission Space. Here is the first part of the pre-show.
†The CM manning the ride sees my Nathans t-shirt and asks if I won. Told him came in 3rd, no one remembers who comes in third. Here is the second part of the preshow.
And here is the ride itself.
I then crossed the plaza to ride Soarin again. Between getting the DAS return time and using it, I burnt off two more snack credits, nice chocolate mouse with oreo cookies and chocolate milk.
<![if !vml]>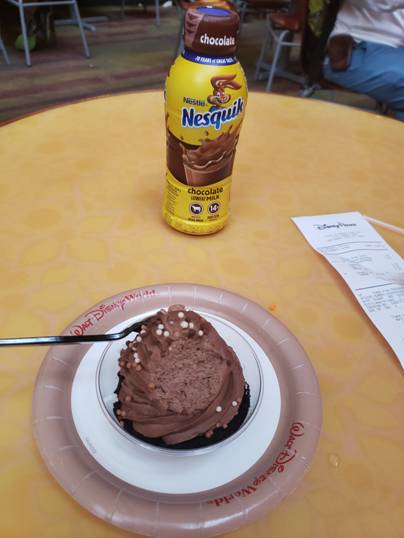 <![endif]>
†Then I rode Soarin.
I then head to and ride Spaceship Earth.
The post ride video.. no editing of my NY Yankee hat. Stop the presses type of deal.† You see, for as long as I am coming here, they always seem to edit out the hat, parts of it and such.† I just gave up trying to fight this.
I head to ride Gran Fiesta Tour,
I meet my friend Virginia who took her grandson to visit with me. We watch the trains at Germany. It is getting late for my adr at Tappen Edo. Instead of repeating Spice Road Table again, I switched plans and decided to eat Tappen Edo for the first time this trip, second time overall.
<![if !vml]>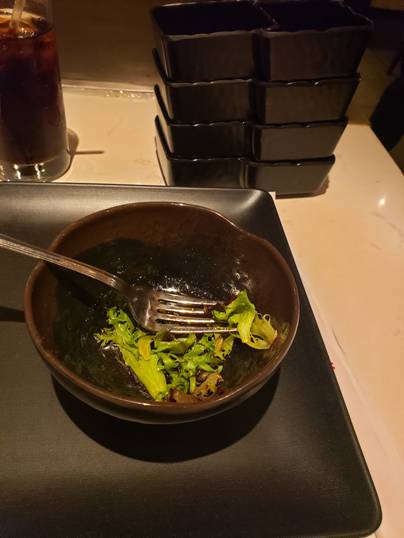 <![endif]>
little salad
<![if !vml]>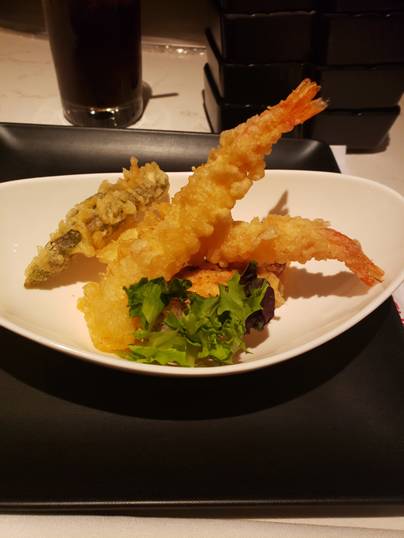 <![endif]>
Tempura
<![if !vml]>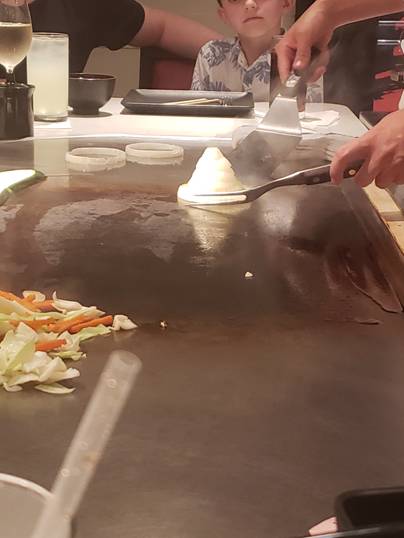 <![endif]>
<![if !vml]>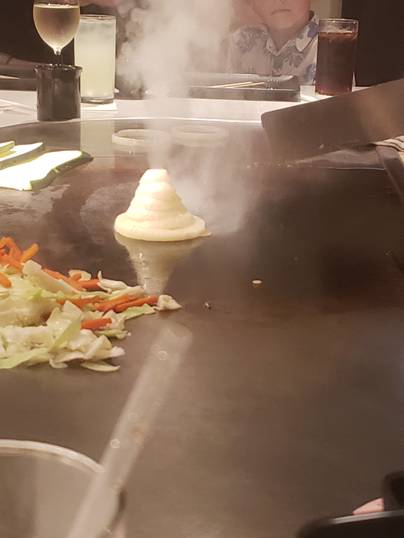 <![endif]>
smoking onion
<![if !vml]>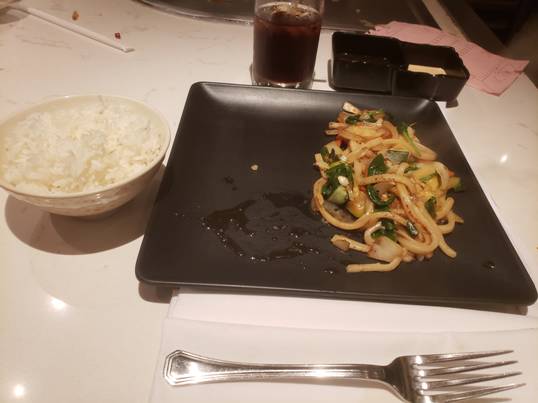 <![endif]>
<![if !vml]>
<![endif]>
Nihonbashi
steak and chicken
<![if !vml]>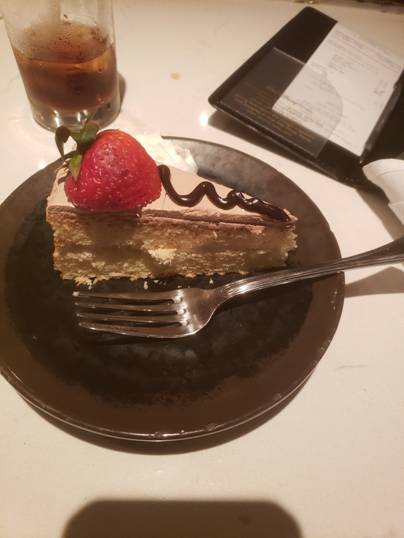 <![endif]>
Ginger Cake
<![if !vml]>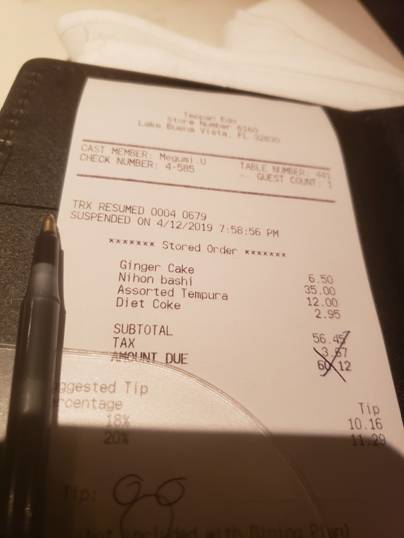 <![endif]>
Bill $56.45
Dining plan $116 - $38 (breakfast) - $53.18 (lunch) - $56.45 (dinner) = $31.63
Virginia and her grandson eat at the American Adventure. After I finished eating, we meet up and go to the special viewing area for Illuminations: Reflections of earth as this show is going away the end of September, so this will be the last time to watch this live.

We get to the handicap area and I am second to last person to get a front row seat. Only one person after me will have a front row space, then everyone else who shows up will sit behind the first row.
As we wait, we see the fireworks from the studios. When Illuminations starts, I notice there is no blowing out of the lights. I use that sound as my text alert message on my phone. Here is the video.
Here is the Facebook live broadcast.
After it is over, I walk with Virginia and her grandson till the park exit, she heads towards the car, I head to the buses.
Being in a scooter, there are several ways they treat us when the park closes. Mostly they want us to go through the normal queue line till we get to the final row, then go through a gate and wait to be boarded. When the bus shows up, the bus driver motions to me, that I should bypass the queue and enter the bus first. I am in the queue and tell the bus driver to just load other passengers and I will take the next bus. He goes.. are you sure? I go yes.
I maybe had a 10 minute wait for another bus. We had plenty of standing room, but no other passengers, so we headed back to the resort.
Interesting thing to note. Every morning I leave $2 for mousekeeping (house keeping) The last two evenings, when I returned to my room the money was left untouched. Tonight they took it.
I check out tomorrow. Then the train trip back to new york. Plan on just sleeping, not sure if I will even bother to eat.