Trip Planning
Sept 16, 2018.
Been playing around with dates, wanting to go to WDW for the week of my birthday, April 16.  For a TA discount room.  All I keep seeing is the All Star resorts.  Nothing for Pop Century, or Art of Animation even.  I really didn't like All Star Sports when I went there in 2017.  So I decided the previous week, arrive April 6, depart April 13.  Bingo… Little Mermaid standard room at Art of Animation.  So I put a hold on it, submitted the paperwork to secure the TA Discount.  Emailed my job, saying I am planning on doing this.  With 6 plus months out, I don't see that as a issue.
Sept 18, 2018
Job asked me if I could delay it a week for Passover, so I don't use too much PTO time, responded back, no availability.  I did go ahead and place a deposit on the room.  For transportation, I still enjoy Amtrak.  I have enough points to ride down for free, but pay to return to New York.  I cant do that on the website as part of a round trip.  So I call Amtrak, explain what I am trying to do, suggested I call Amtrak rewards.  He transferred me.  I spoke to someone, I can buy points, but not with her, on the website. So I book a ticket from New York to Orlando with her.  On the Amtrak rewards website, I purchase points and then on Amtraks website, purchase the return ticket back to New York.
Every trip I create a unique email address, which I did bruceatwdw2019@earthlink.net.  I email Vicki who does the trip count down on the travel-wdw yahoo group giving her the dates.  Now I wait to do my dining.
Oct 8, 2018

I am sure this has happened to everyone at least once, more likely several times in their lives. Something in the house beeps every 20 or so seconds. Usually its your smoke detector saying your batteries need to be changed. About , I am hearing something beep. Cant figure out what it is. Not my smoke detector. If anyone knows me... have lots of gadgets. So where is this mystery beep coming from. About a half hour later, one of my amateur radio HT's (Handy talkies.. hand held units) was accidently turned on, and the battery was almost dead. So I just went back to bed, constantly hitting snooze every 10 minutes. Do I need to be reminded what I need to do? Nope. You see, I self host two audio streams, both Disney based. My alarm is listening to the ride and show sound tracks. At , I am listening to Illuminations : Reflections of Earth. A good omen. As it's the only night time show I see more then once in the same trip. One trip, I didn't get to see it at all for different reasons, and that was a thumbs down for that trip.
At on the dot, laptop is on, MDE is on my browser. Ready to choose. Now I choose in terms of harder to get to easy to get. Well.. not at first, I do it in order of days.
April 6, Coral Reef While I wrote down the ressie number.. forgot to write down the time. Hey.. still half asleep, can find it out later.
April 8, 'Ohana (notice where the ' is, pet peeve when they make it a Irish, not far eastern restaurant <![if !vml]>

<![endif]>) Couldn't get a ressie for 1, got one for 2, NBD (No big deal)
April 10, Le Cellier (lunch)
back to doing it daily
April 7, Fantasmic Dinner Package at Hollywood & Vine. This used to be tough to get, but not for the last couple of years.
April 9, Boma (dinner)
April 11, Boma (breakfast)
April 12, Crystal Palace (Breakfast) Spice Road Table (dinner)

Honorable mentions I like to eat at.. but no time to eat there. Trails End for dinner. Been a couple of years since I ate at Cape May for breakfast or dinner. Captains Grille was enjoyable for breakfast buffet, but its replacement Ale & Compass (or something like that) doesn't interest me anymore. Places I don't like to eat at anymore cause of menu changes, Grand Floridian Café, Yak N Yeti.
Then I decide to add BOG for lunch. Do that day 3... or so I thought?? I look at my plans in MDE.. and I realize I made the ADR for today, 10-8, not 4-8. Hey.. still asleep. NBD, I change the date, keeping the same ressie number.
Then I turn my attention to dessert parties. I never seen Rivers of Light yet. Instead of doing the dinner package like I do for Fantasmic, I do the dessert party. Sadly.. no availability yet for April. I may also repeat Frozen dessert Party. Maybe try Magic Kingdom dessert party. Probably not Galactic again (subject to changing my mind). Enough for today. Going to lay down for another half hour before needing to get ready for work.
I did make a ADR for the Tomorrowland Terrace Dessert Party.  Still nothing on the other two.
Dec 20, 2018
Still looking at booking a dessert party for Frozen and Rivers of Light.  So I called Disney dining to inquire.
Funny side note.  I called at night.  I use my cordless phone on speaker, and lower the volume on the TV.  So I am talking to the CM on the phone, explained what I am trying to book.  He is searching… then this happens.
At one point he goes... what is that show?? Started to Explain about Rivers Of Light.. he goes no.. the theme music he just heard... Barney Miller J
He explains to me that some of the dessert parties don't open for reservations till 90 or 120 days.
On the Disney Now channel, they show the Rivers of Light show.  Its one of the few night time spectaculars that I haven't seen it yet, definitely want to see it next trip.
So looking and thinking.  Should I? Shouldn't I?  I go for it.
I make a ADR for Tusker House on April 10 for the Rivers of Light Dining Package.  I am hoping to get the dessert package and delete the dining package.
Dec 22, 2018.  I felt like trying The Wave again for breakfast.  Made a ADR for
Jan 11, 2019
Ok.. I have Rivers of Light dinner package at Tusker house April 10.  I really rather do the dessert package instead.  Well, they finally opened up the dessert party for April.  The time I am there, they only show it for April 8 and 11.  Not the 10th.  I don't understand that. But whatever.
I am doing the Tomorrowland Dessert Party on the 11th.  On the 8th, I am doing 'Ohana at .  I don't want to do a dessert party after a all you can eat, especially 'Ohana.  I usually just go to my resort room and sleep off BBQ Shrimp Coma.  Move the Magic Kingdom dessert party another night?  But I also want to do Frozen dessert party, which hasn't opened yet for April.

I just keep staring at my planning spreadsheet.. looking for a answer…. Add another night to my trip? Too hard to do.
Ok.. I was doing Boma on the 9th for dinner.  Moved that to the 11th.  Doing Boma for breakfast too that day.  On the 11th, was doing Whispering Canyon Café for Lunch, moved it to the 9th for lunch.  Was doing Tomorrowland Dessert party on the 11th, moved that to the 9th too.
Tried booking Rivers of Light dessert Party.. no available tables…….. don't know whether to jump out the window.. or just cry.  I am guessing they just opened it up on the calendar, still have to make tables available.  I doubt all tables are booked.  I tried all table sizes.  I still have ROL dinner package on the 10th  .  When I get the dessert party booked, will cancel the dinner package.
Jan 12, 2019
Just was able to book the dessert party.  This morning, went to the website, it showed as available, clicked on it, got a website saying the time is no longer available.  Tried a second time, it went through.  Once I had it booked, I canceled the dinner package.  Now just the Epcot one left to book.
Jan 15, 2019. 
They populated the calendar for April with dates for the Frozen Ever After Dessert Party, but when I click on the date and look for a table, shows no availability.  I call Disney dining and they find the same thing.
Jan 16, 2019
I try it again, and I find a table,  I book the ADR.  I am going on my first night there.  Its ok for me.
So with the booking of the Frozen Ever After Dessert Party today, it looks like my plans are 99% done.  So here goes my plans.
Arrival day 1:  Dinner at Coral Reef, Frozen Ever After Dessert Party  (need I say.. its Epcot Day)
Day 2:  Breakfast at The Wave, (this is going to be fun)  Going to the Studios (leaving the Contemporary to Magic Kingdom, express monorail to Ticket & Transportation Center, Epcot Monorail, travel through Epcot to International Gateway to the Studios (yep.. I am crazy.. but its fun)) Lunch at Japan Counter Service. Dinner at Hollywood and Vine, Fantasmic Dinner Package.  Fantasmic (Studios Day)
Day 3: Breakfast at resort, Lunch at Be Our Guest, dinner at 'Ohana (Magic Kingdom)  maybe evening at Disney Springs… maybe not.
Day 4: Breakfast at resort, lunch at Whispering Canyon Café, Dinner at Cosmic Rays, Tomorrowland Dessert Party (Magic Kingdom)
Day 5: Breakfast at resort, lunch at Le Cellier, dinner at Sunshine Seasons,  (Epcot)
Day 6: Breakfast at Boma, lunch at Flame Tree BBQ, Dinner at Boma, Rivers of Light Dessert Party (Disney's Animal Kingdom)
Day 7: Breakfast at Crystal Palace, (Magic Kingdom) lunch at either Magic Kingdom or Epcot, dinner at Spice Road Table (Epcot) Watch Illuminations
Day 8: Check out L
Depending on the weather, may squeeze in half day at Typhoon Lagoon.  I plan to pay out of pocket for breakfast table service meals and Le Cellier, which looks like I will have a extra table service credit.  Have to figure out my counter service credits.  Also leaving open to spur of the moment, Park hopping to parks which are open very late.
Jan 20. 2019
I agonize how to use the extra credit.  I look at Day 5.  Just lunch at Le Cellier it planned.  It looks so lonely.  Every other day I have at least two things planned.  So I plan to do something else that day.  But what?  Around Epcot, I think about doing Coral Reef a second time.  Maybe Cape May Café, Teppen Edo, or Spice Road Table.  I look at other places like Ale & Compass and other places.  Nothing grabs me.

I then think about park hopping to the Magic Kingdom area.  Places like Kona Café, Grand Floridian Café, or Trails End come to mind amongst other places.  Nothing grabs me.
I finally decide to do 'Ohana.  Getting from the Epcot to 'Ohana and the Poly is a simple monorail ride away.  From Epcot, take the monorail over to the Ticket Transportation Center, then use my scooter to ride over to the Poly using the path from the TTC to the Poly.  Right now I am booked for .  Not sure if I will keep that time or not.  Will see.
Feb, 18, 2019
My dining plans so far because everyone knows people travel to eat at the world, the rides, shows, and other activities are just there to take up time between eating. So here goes my list
Day 1 arrive for dinner at Coral Reef, Frozen dessert Party
Day 2, Breakfast at The Wave, lunch at Sci-fi, dinner at Hollywood and Vine, Fantasmic dinner package
Day 3 Breakfast at Crystal Palace, lunch at Be Our Guest, dinner at 'Ohana
Day 4 Breakfast at Be Our Guest, lunch at Whispering Canyon Café, dinner at Grand Floridian Café, Tomorrowland dessert Party
Day 5 Breakfast at Garden Grill, lunch at Le Cellier, dinner at 'Ohana
Day 6 Breakfast at Boma, Lunch at Yak N Yeti, dinner at Boma, Rivers of light dessert party
Day 7 Breakfast at Crystal Palace, Lunch at (to be determined), dinner at Spice Road Table
March 6, 2019
For the train ride, I buy the following
<![if !vml]>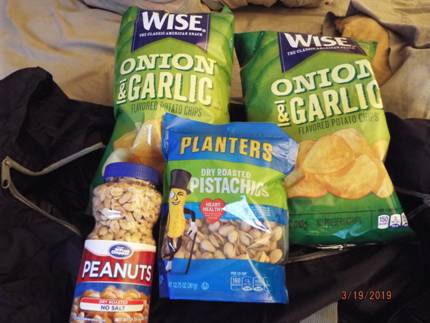 <![endif]>
one bag of potato chips for each way
March 28, 2019
this time next week... there will be only one thought in my mind.... what am I forgetting?
clothing? packed already, well mostly. electronics. will figure out which cameras not to take. Those I will be taking, make sure all the batteries are freshly charged and the date/time set. I call that night.. charging of the batteries. Well.. several nights.
I have snacks for the train ride. Large bags of Garlic/onion potato chips. Keep wanting to open and enjoy... but not yet..
ADR's. I like to slightly modify the times, but at places like 'Ohana, doubtful, but will keep trying. Still cant decided 'Ohana at or Trails End at . I will enjoy 'Ohana better, but not at .
Still need to print out tip papers for mouse keeping. still need to print final trip plans. Make sure my smart calendar is programmed for alerts.
I always felt the short time before leaving to WDW, its like a Kennedy Space Center launch, everything is checked and double checked, everything is programmed, nothing left to do.. except watch the clock count down.
March 31, 2019
When I made my final ADR choices weeks ago, there was three ADR times I wasn't crazy about. One was Coral Reef at . Now . The second was 'Ohana at , now .
The third one is this. I have Trails End at and 'Ohana at . Of course I am not going to keep both, but torn what to do. I rather eat at 'Ohana around 7. MK has evening EMH and I rather not eat so late at night. So my backup plan is Trails End at . Not as exciting for me to eat at, but it allows me EMH that night, and I can drink soda and not worry about sleeping that night.
Will keep both till next week. Before leaving, I will cancel 'Ohana at if I cant get anything earlier. And if I do, cancel Trails End.
I will admit this, I am on the deluxe dining plan this trip. Trails End is a much cheaper meal then 'Ohana, yet both will cost me just a meal credit. Yes, there will be a difference in Tip, but a dollar or two wont bother me, as I will enjoy 'Ohana better then Trails End.
April 2, 2019
The last time I mentioned this. I wanted to eat at 'Ohana a second time this trip, but could only get . Was scared it was too late. I had a ADR for Trails End at as a back up. Well tonight.. nearly jumped up... scored 'Ohana for . Canceled 'Ohana for and Trails End.
Did I mention I have a Nathans Hot Dog eating contest T-shirt? Some people wondered if I was a contestant. I told them I came in 4th... cause no one remembers who came in 4th. Even a manager at a Epcot restaurant was impressed. So when being seated at 'Ohana, going to tell them... in training for a BBQ Shrimp contest... up to 30 Shrimps in 10 minutes. And I suggest they put more shrimp on the barbee
April 4, 2019 
Twas the night before
Doing my usual panic charging all my cameras batteries. How many cameras am I taking?? Forgetting about my smart phone or tablet.. lets see..... 7 or 8... every time I count.. getting a different number. Now some cameras are backups to other cameras.. like two pairs of sunglasses with a built in camera. 2 Hero type cameras. Leaving my Hero camera home. Its only 1080 p. 4k is my new mantra, taking 3 of those. One has infrared technology, cant wait to try it on the dark rides. An old favorite, its only 720p, but it fits nicely in my palm. Oh wait... I see I am packing another camera.. this one is a smiley face. One of the eyes is a camera.
I mentioned the two Hero knockoffs. I recently bought one of those multiple accessories. One I wanted, when in a pool, the handle floats, works good.. have another one somewhere. Its easier to buy new then tearing out my hair trying to find the other. Did the same thing with a portable DVD player a couple of years ago. Even years earlier a monopod with accessories.

Are you one of those people who have a million pens, but can never find one? Me too. I have one pen.. guess what is built into it. Add another camera.
Not going to a water park.. but packing 3 types of water proof cases for my smartphone. Doesn't make sense to me either.
USB chargers?? Lets see, two are also hand warmers. Third slightly broken one. one high capacity one. Medium capacity.. and a solar charger one. I joke.. I carry enough battery power to jump start a jet engine. Reminds me... also have a portable 110 volt portable battery. Got to remind myself to pack it, charged it yesterday. Hey.. they also has a USB port besides the 110 volt plug.
Oh yea.. packing Amazon Echo and Firestick. Need my Alexa while in Disney. I am taking the Firestick so I can watch my home TV cable box at Disney.
I am packing a power strip and 3 multiport USB chargers. Seems like everything gets charged via USB nowadays. Cables? Lots and lots and lots of cables.
Smart watches? Two. Was going to take a third, just decided against it. Backup SW can also be used as a cell phone, in case of emergency, something happens to my smart phone. Also has a camera.. haha.
This years DVD box sets are.... Columbo.... Sopranos.... Hogans Heroes. Also taking my VR headset to watch movies from my smartphone to watch while on this train. Also got this app that simulates a train ride (ok.... who caught the joke?)